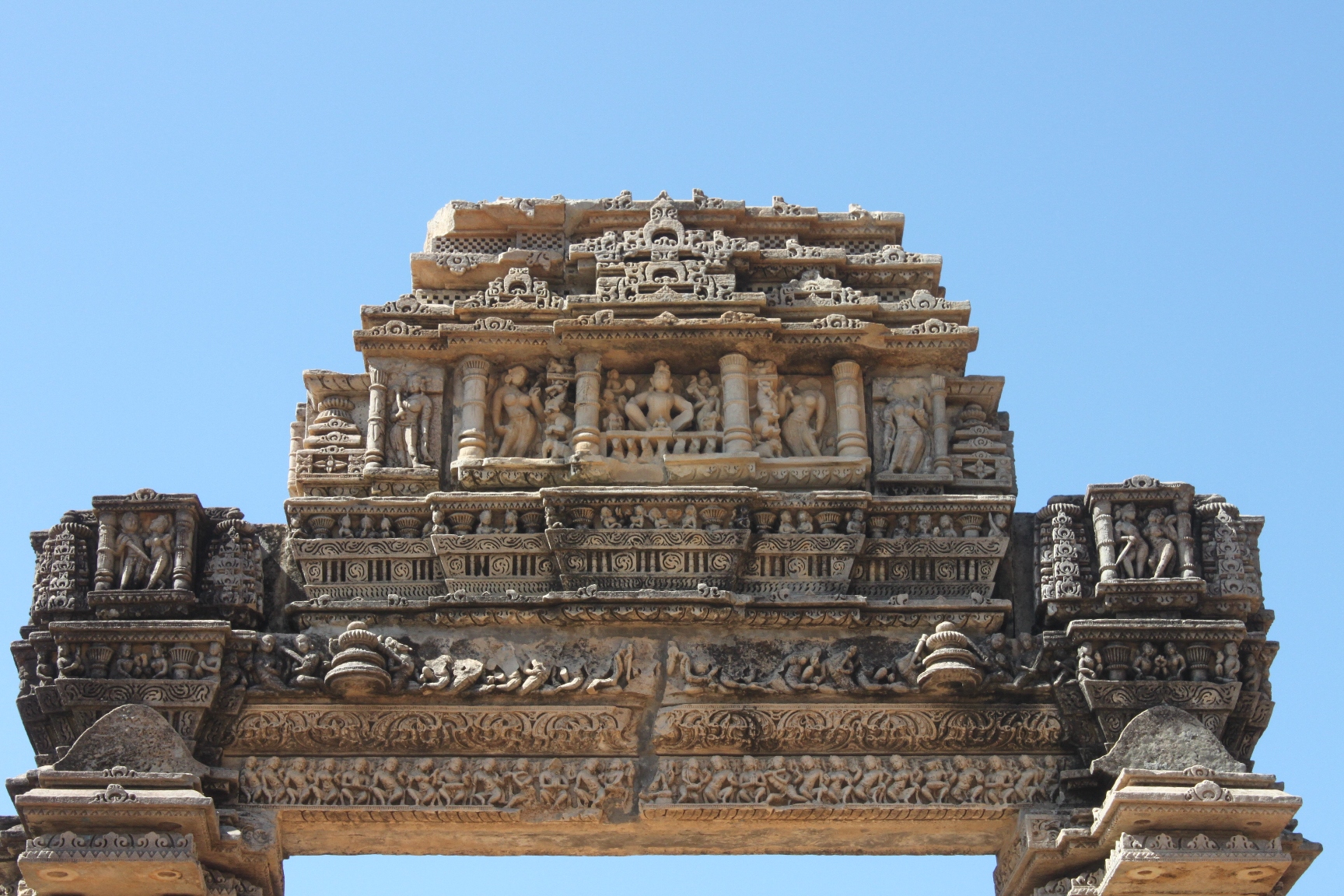 Introduction – Terahi is a small village in Shivpuri district of Madhya Pradesh, situated at the banks of Mahwar river and located very near to Mahua. Present Terahi has been identified with ancient Terambi, which is mentioned in the Ranod inscription (Epigraphia Indica Vol I), by F Kielhorn. However V V Mirashi does not fully agree with this identification. Ranod inscription mentions that the king of Avanti brought Purandara from Upendrapura. Purandara was second in the disciple lineage of Terambipala, mathadheesh of Terambi. Mirashi identifies the phrase 'king of Avanti' with the Chalukyan king Avanivarman hence he suggests to look Terambi in the Chalukyan territories. However his identification of Avanivarman is untenable.
Bilhari inscription (Corpus Inscriptionum Indicarum Vol IV) while describing genealogy of Nohala, the Chalukyan wife of the Kalchuri king Yuvarajadeva I, mentions Avanivarman as her father. The same inscription, in its later part, mentions that the king of Avanti was initiated by Mattamayuranatha into Shavite faith. In this circumstance, we can say with conformity that the mentioned king of Avanti was not the same as Avanivarman but some other person whose name is not mentioned in the inscription.
Gwalior Archaeological Department's annual report mentions that the villages, Mahua and Terahi, are situated very close to each other, hence these both villages were part of one and the same town in the medieval period. However we find that both these villages had separate identities during the time of the Ranod inscription, Madhumati identified with Mahua and Terambi identified with Terahi. In this situation, it can be said with conformity that before the tenth century CE both the villages had their own separate identities however these might have been merged to form a bigger town in medieval times however I have no evidence to support this statement.
Terambi was the seat of a Shaiva Acharya known as Terambipala, third in the disciple lineage of the Acharya of Kadambaguha (Kadwaha). Purandara, a later disciple in the same lineage founded the Mattamayura sect of the Shavite faith. Hence Terahi would have played a major role in spreading teaching and learning of Shiva across common mass and this fact is substantiated by a Shaiva monastery located at the same place.
Various pillars with inscriptions are found in near vicinity of the Mohajmata temple. The nature of inscriptions are mostly to record accomplishments of various warriors during wars like we see in herostones. This suggests that Terahi probably has a battle-scarred history. Reference of a battle fought on the banks of river Madhuveni is found in one inscription. This river Maduveni might be same river, Mahwar, as identified by F Kielhorn.
The same inscription mentions about a fort at Terahi whose kottapala (chief of the fort) lost his life in the above mentioned battle. Hence it is clear that Terahi had a fort during tenth century CE however the fort has not survived the toll of time except, its foundations, probably because it went into oblivion after Terahi lost its importance and value during medieval time when new strategic towns cropped up after the Mughal invasion.
Monuments – There are two temples and a monastery at Terahi.
Mohajmata Temple – This temple is situated on the outskirts of the village. The temple is 15.5 feet long and 12.25 feet broad. There is a richly ornamented torana (gateway) in front of this temple, about 18 feet away. The torana is in fine state of preservation.  Because of its beauty and majesty, the torana was selected for conservation in preference to other monuments in 1934 by the Archaeological Department of the Gwalior State.
An image of Surya, riding over his chariot driven by seven horses, adorns the central place over the topmost beam of this torana. On the back side, the same panel is has no more survived however from its remains it appears to have an image of Vishnu. Kartikeya and Indrani are found in two panels on top of the two pillars of this torana. The same place is taken by Chamunda and Vaishnavi on the back side of the torana. Among the icons depicted on bands around the base of the pillars, we find Varaha, Hayagriva, Balarama, Ganesha, Agni, Vishnu, Harihara, Kubera and Saraswati.
The main temple is constituted of a mukha-mandapa and a sanctum which tower has not survived. Image of a four armed goddess riding over a prêt (ghost) adorns the center of the sanctum door lintel, which implies that the temple was dedicated to some form of this goddess. However this central image is beyond recognition yet we may give a try to find her identity. It appears that images of Sapta-matrikas are carved on this lintel.
Brahmi is placed on the extreme left side and then are found three goddess in very similar attributes, these may be the next three matrikas, Vaishnavi, Maheshvari and Indrani, following the recognized sequence of the seven matrikas. On right side of the central image are again three goddess, but here we can clearly recognize the last two, Chamunda and Vinayaki. In this situation, the first of these three matrika should be Varahi however she is not shown with her regular face. Even if we overlook this Varahi face issue, then the central image over the lintel should be of Kaumari.
But there is an image on the extreme right band of the lintel, which though much ruined but appears to be of Maheshvari. The central image is shown wearing ornaments which rules out the possibility of her being Chamunda, Chandi or Kali as all these goddesses should be shown without much ornamentation due to their respective characteristics. As we find many images of prêt (ghosts) around the temple walls so it is quite clear that the temple is dedicated to some fierce form of the goddess only. In inscriptions, the goddess is once mentioned as Chandiya and once as Ambika.
The images over the external walls of the temple are mostly defaced and painted. We find a large number of kankals (skeletons), goblins, prets (ghosts) etc all around the three side of the temple. All are postured in a very horrifying manner, few fighting over meat, few eating bones, few having faces of animals etc. Among these disturbing images are nestled images of various goddess of Sapta-matrika group like Chamunda, Maheshvari, Vaishnavi, Kaumari etc.
Gwalior Archaeological Department's annual report of 1934 mentions that the temple appears to be sacred to Kali. Very probably, the life-size idol of Kali, now sheltered in a shrine-room at Mahua, originally belonged to this temple. It further mentions that an attempt was made, in the course of the conservation work, to persuade the people to allow the department to restore the idol to its original shrine but with no success.
Various inscribed memorial pillars broken into pieces were lying in the premises which were restored in 1934. Few important inscribed pillars were removed to the Archaeological Museum of Gwalior. A few other sculptures of less importance found in the neighborhood forest were collected and added to the temple complex.
There is no foundation inscriptions, however the latest dated inscription found on a pillar is dated to 903 CE. Though the pillar is disassociated from the temple but it mentions a temple of Chandiya which may be the reference to Mohajmata temple only. On basis of this, the temple can be assigned to the ninth century CE.
Inscriptions:
Pillar inscription of a warrior – Indian Antiquary vol XVII – dated in Vikrama Samvat 960, 903 CE – mentions a gift by Mahasamantadhipati of Madhuvana, Gunaraja Undhabhata, who was a great warrior, to the temple of Sri Chandiya. Cunningham suggests that Madhuvana was the name of the district in which Terahi was situated at that time. He also suggests the possibility that the name of the river, Mohwar, probably is a derivation of Madhuvana only.
Pillar inscription of a warrior – Indian Antiquary vol XVII – dated in Vikrama Samvat 920, 863 CE – mentions a gift made by some Ru…bhata, to the temple of goddess Ambika.
Temple in the village – This temple is situated near Shaiva monastery inside the Terahi village. It is in good state of preservation with its Nagara Latina style shikara intact with an amalaka on top. The temple has a mandapa and a sanctum. Vishnu riding over Garuda is present in the center of the sanctum door lintel. Interestingly we do not find Brahma and Shiva accompanying Vishnu, instead a female figure is present on the extreme ends of this lintel.
Sanctum door jambs has three bands each, depicting various couples over these. There is a Shivalinga places inside the sanctum however it could be a later addition. Another interesting feature is the guardians on the mandapa pilasters. These guardians display characteristic Shaivaite attributes. Is there a possibility that the original shrine was dedicated to Vishnu but it was taken over by Shaivas in some later period and they extended the temple with a mandapa?
Around the external walls of the temple are found few images of the Ashta-dikpala group and few images of the Shiva family. Among Shiva family are present Ganesha, Kartikeya and Dakshinamurti. Many images are badly defaced and are beyond recognition. An interesting feature of the Kartikeya image is its hairdo which resembles very much to the Gupta style.
Shiava Monastery – Existence of this monastery supports the identification of Terambi with Terahi. The faith which resulted in the foundation of the Mattamayura sect had its roots in Terahi as well. This monastery is a proof that Shaiva sects were in vogue at this place during those times. The monastery is a simple structure with a large compound surrounded by rooms on all sides. However it is not in very good state of preservation at present.
Food and Accommodation
– You can either stay at Shivpuri or Chanderi as both have good tourist facilities. There is no suitable bedding and eating place at Terahi.
How to Reach – Terahi is about 8 km from Ranod and of about same distance from Kadwaha. It can be reached from Shivapuri or Chanderi. There is no public transport facility, so arrange for a taxi when you visit here.
References –
 Annual Administration Report of the Archaeological Department, Gwalior State for year 1934-35. Alijah Darbar Press. Gwalior.
Ayyar, Sulochana (1987). Costumes and Ornaments as Depicted in the Sculptures of Gwalior Museum. Mittal Publications. ISBN: 8170990025.
Banerji, R D (1931). The Haihayas of Tripuri and Their Monuments. Archaeological Survey of India. New Delhi.
Burgess, J (1892). Epigraphia Indica vol I. Archaeological Survey of India. New Delhi.
Deo, Jitendra Pratap Singh (2001). Tantric Art of Orissa. Kalpaz Publications. New Delhi. ISBN: 8178350416.
Deva, Krishna (1969). Temples of North India. National Book Trust. New Delhi. ISBN: 9788123719702.
Deva, Krishna (1995). Temples of India. Aryan Books International. New Delhi. ISBN 8173050546.
Jain, Kailash Chand. Malwa Through the Ages, from the earliest times to 1305 AD. Motilal Banarasidas. New Delhi.
Mirashi, V V (1955). Corpus Inscriptionum Indicarum vol IV. Archaeological Survey of India. New Delhi.
White, David Gordon (2001). Tantra in Practice. Motilal Banarasidass. New Delhi. ISBN: 8120817788
Parmeshwaranad, Swami (2004). Encyclopedia of the Saivism. Sarup and Sons. New Delhi. ISBN: 8176254274.
Trivedi, R D (1990). Temples of the Pratihara Period in Central India. Archaeological Survey of India. New Delhi.
Bhattacharya, P K (1977). Historical Geography of Madhya Pradesh from Early Records.  Motilal Banarasidas. New Delhi. ISBN: 084269091