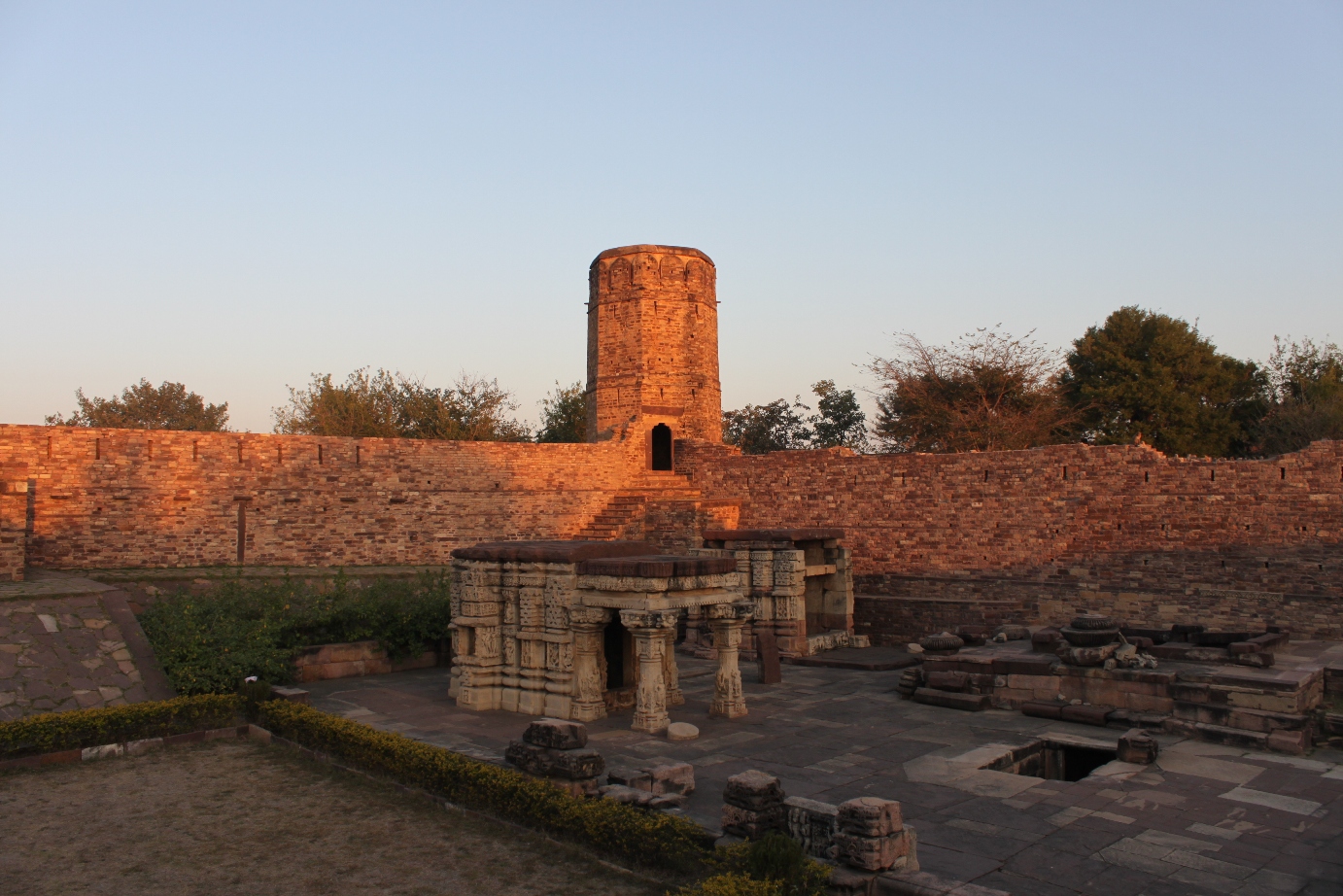 Introduction – Surwaya was a major center of the Mattamayura sect of the Shaiva tradition. It has been identified with ancient Sarasvati-pattana and Shankhamathika. An inscription at Surwaya mentions it as Sarasvati-pattana while Shankhamathika is mentioned in the Ranod Inscription (Epigraphia Indica vol I). As per the Ranod inscription, Shankhamathikadhipati (the lord of Shankhamathika), was the immediate successor of Kadambaguhadhivasi, the first Acharya who started a disciple lineage and paved the way to a prominent Shaiva sect, Mattamayura.
Even though Kadwaha (ancient Kadambaguha) continued to be the main center of the Mattamayura cult but soon many branches of this faith came up at various locations, near and far, like Surwaya, Terahi, Mahua, Ranod, Chandrehe, Gurgi etc. Apart from central India, it also got spread to Gujarat, Rajasthan, Andhra Pradesh, Karnataka and Tamilnadu. The mathadeesh (pontiff) at these branches rose enough in power and influence that the contemporary kings bestowed them with grants and honors. It is evident from various inscriptions that the acharyas of this disciple-lineage were given due respect from the Kalchuri and Pratihara kings. This vigorous movement resulted in promotion of the art activities under the patronage of mathadeesh who constructed many temples and monasteries.
R N Misra mentions that the very strong, massive and exclusive structures of these monasteries symbolizes the power and authority of the mathadheesh who presided over those and lived there in opulence and glory. He suggests that these monasteries incorporated, within their scope, religious and political power which gave significant meaning to their patronage and that's how these have survived for more than six centuries. The royal patronage was extended to these mathadeesh on account of their already established status and eminence.
Misra suggests that there have been some pressing reason for the rise of these mathadeesh to such a prominent status. He rules out birth in a high-caste or money as the reason but suggests that it was their utility in preparations for war and in discharging administrative responsibilities on behalf of the king. He gives many references from various inscriptions where their warlike prowess and their administrative capacities are mentioned obliquely. Fortification of these monasteries, at some later time, further supports their military activities. At the end, he concludes that the militancy seems to be an essential ingredient of their existence and functions.
He quotes an inscription from Kadwaha which mentions that Dharmashiva, the mathadeesh of the Kadwaha monastery, like Tripurantaka conquered the whole army of the foes by means of bow and arrow acquired by his own miraculous powers. Now if we take this inscription literally then do you think whether it is possible for a person to conquer the whole army of some king? Also notice the term 'miraculous powers' in the inscription. Is it just an eloquent statement on the part of the poet or it should be taken into consideration to suggests that the Acharya was involved in the warlike activity?
However accepting Misra's theory should not be very hard as many such examples are seen in contemporary times as well. We have seen rise of many sects and faith whose leaders assumed great power and authority sometimes strong enough to even threaten the integrity of the same nation in which they were founded. Sometime these contemporary sects have even resulted in terrorist like activities. So it should not be very surprising if something like this had happened in the past. Misra states that these monasteries were located at the periphery of the states making their role more prominent to keep the enemies away. Hence the rulers of the state were in cordial relations with the mathadeesh of these monasteries.
R Nagaswamy mentions that the three temples situated inside the fortification were dedicated to some form of Bhairava as portrayal of deities like Andhakasura over their walls is a supporting evidence. The three surviving temples inside this fortified monastery are dedicated to Shiva however there is no evident proof that it was his Bhairava form which was worshipped in these shrines. Presence of Vishnu over Garuda on lalata of sanctum lintel also does not suit for Bhairava worship.
Inscriptions:
Surwaya stone inscription of the time of Gopaladeva – Corpus Inscriptionum Indicarum vol VII part III – found inside a ruined well locally known as Dabia baodi at Surwaya, now exhibited in Gwalior museum – dated in year 1341 of the Vikrama Era (1285 CE), there is no name of any king of dynasty however Mirashi suggests that the date of the inscription puts it under the period of the Yajvapala Gopaladeva – written in Sanskrit language, in Nagari characters – The inscription open with the auspicious word Siddhih, followed by a verse invoking blessings of Shiva under the name Sharva. It further mentions the origin of the Sarasvata Brahmanas. River Sarasvati married the sage Dadhichi who was doing penance at her banks. A son of the name Sarasvata born to them. This Sarasvata pleased Indra with his penance during a drought period and obtained rains from him. His lineage flourished at Sarasvati-pattana and Bhadreshvara was  born in this lineage. He was the crest-jewel of the Dikshitas and he worshipped Vishnu. From him was born Ashadhara and from the latter was Hrishikesha. Lahuvada  was his wife and Ralha was his daughter. Ralha gave birth to three sons, Samadhara, Nayaka and Ghudaddeva. Ghudaddeva married Devasiri, the daughter of Bharahapala. Their sons were Ratnakara, Soma, Ishvara, Silana and Rudra. The inscription further mentions that Ishvara excavated a well. This inscription was composed by Somamishra, the brother of Ishvara and written by Gangadeva, the son of Brahmana Mane who belonged to the Gauda lineage.
Surwaya stone inscription of the time of Ganapati – Corpus Inscriptionum Indicarum vol VII part III – found inside a ruined well locally known as Supat baodi at Surwaya, now exhibited in Gwalior museum – dated in year 1350 of the Vikrama Era (1293 CE) – written in Sanskrit language, in Nagari characters – The inscription starts with the customary obeisance to Shiva. It then invokes the blessings of the three deities, Sambhu who adorns the crescent moon on his forehead, the goddess Maharunda who was the family deity of the Yajvapala royal house and the goddess Sarasvati. IT then describes the pedigree of Chachigadeva, an officer under the illustrious Ganapatideva whose dynasty is not supplied. Mirashi identifies this Ganapatideva with Yajvapala ruler Gopaladeva of Narwar. Chachigadeva was a learned kshatriya and the adopted son of Gopala. He performed pilgrimage at Kedara, Somesha (Someshvara at Gujarat), Prayaga and Gangas. He performed obsequies for the manes of at Gaya and paid his debt to Gopaladeva by his noble deeds at the tirthas and on the battle fields. In desire to increase his spiritual merit, Chachigadeva excavated a stepped well and constructed a garden around it. This inscription was composed by Jayasimha belonging to the Mathura clan of Kayasthas.
Monuments – There is a fortified structure, locally known as gadhi, at Surwaya which houses three temples and a monastery inside. Krishna Deva mentions that the monument at Surwaya represent highly ornate specimens of the Kachchhapaghata style dateable to the early tenth century CE.
Shaiva Matha (monastery) – This large structure, built of solid masonry, has an open court surrounded by pillared corridors and halls. Doorframes of the rooms and chambers are ornamented with foliage designs on their jambs and an image of some deity, mostly Ganesha, present on center of their lintels. Horse-heads are used as pegs near the extensions of these lintels. Windows are of carved into the walls, constructed in railing designs to allow sunlight inside.
There is a shrine above the roof terrace of this monastery. This shrine has a square sanctum open on all four sides with projecting porticos. There is a three storey shikhara above the sanctum. The pillars of portico and the sanctum are profusely embellished with the images of apsarasa and vyalas. Krishna Deva suggests that this roof top shrine is similar to the shrine seen in the Kuraiya Bir temple at Devgarh. There is no approach to this shrine for common visitors at present.
At present this matha stands enclosed by double line of fortification with bastions and moat surrounding it. Patil dates this fortification to sixteenth-seventeenth century CE however few scholars put it to 1292 CE as per the dates found on the above mentioned inscription.
Temple No 1 – This west facing temple is constituted of a mandapa, a narrow antarala and a sanctum. Shikhara of the temple has not survived. The temple is dedicated to Shiva however Vishnu over Garuda is present on lalata-bimba. The sanctum doorway is lavishly carved with images. Brahma, Shiva and Vishnu adorn the lintel with nava-grihas distributed in between them. The architrave has Shiva as Nataraja in middle, with Ganesha and his consort at one terminal and Vishnu with Lakshmi on another terminal. In between these are depicted Sapta-matrikas with Ganesha and Veerbhadra.
The vimana is pancharatha in style with kapili and bhadra niches. An image of Mahishasuramardini is present on a niche on the northern wall of the vimana. Other niches are either empty or are in ruins. An arrangement of ashta-dikpala is observed distributed across all sides however not all eight deities have survived.
The roof of the mandapa has a full blown lotus decoration. The beams have many secular images on sides but images of various matrikas at the cardinal points. The pillars of the mandapa has Sahiva ascetics on all faces. Presence of these ascetics supports the fact that this place was a center of Shaiva acharyas and they supported temple construction activities.
Temple No 2 – This east facing temple has a mandapa supported on two pillars and two pilasters, a narrow antarala and a sanctum. Sanctum doorway is exquisitely carved with three panels on each doorjamb. Ganga and Yamuna adorns the base of jambs along with dvarapalas. Vishnu over Garuda is located on lalata-bimba with Brahma and his consort at one terminal and Shiva with Parvati on another terminal of the lintel. In between these panels are arranged Sapta-matrikas and nava-grihas.
The vimana is designed in pancharatha style. Sapta-matrikas and ashta-dikpalas are arranged across three sides. Shiva as Andhakantaka and Ganesha are present on the southern side niches. An image of Parvati is in a niche on the northern wall.
Temple No 3 – This temple is in much ruins however ASI has done the good work in reconstruction of this monument. The sanctum doorway has not survived however few sculptures can be seen on the vimana sides. Ganesha is seen on the southern side while ashta-dikpalas are arranged across the vimana.
Baodi (well) – There is a well inside this fortress. There is an image of Vishnu in Anantasayana mudra on the inner wall of this well.
Food and Accommodation
– You can either stay at Shivpuri or Chanderi as both have good tourist facilities. There is no suitable bedding and eating place at Surwaya.
How to Reach – Surwaya is about 16 km from Shivpuri on Shivapuri-Jhansi road. Public transport is available at a good frequency from Shivpuri to Surwaya.
References –
Burgess, J (1892). Epigraphia Indica vol I. Archaeological Survey of India. New Delhi.
Deva, Krishna (1969). Temples of North India. National Book Trust. New Delhi. ISBN: 9788123719702.
Deva, Krishna (1995). Temples of India. Aryan Books International. New Delhi. ISBN 8173050546.
Jain, Kailash Chand. Malwa Through the Ages, from the earliest times to 1305 AD. Motilal Banarasidas. New Delhi.
Mirashi, V V (1955). Corpus Inscriptionum Indicarum vol IV. Archaeological Survey of India. New Delhi.
Misra, R N (1993). The Saivite Monasteries, Pontiffs and Patronage in Central India published in the Journal of the Asiatic Society of Bombay vol 64-66. Mumbai.
Misra, R N (1997). Pontiffs' empowerment in Central Indian Saivite Movement published in the Journal of the Asiatic Society of Bombay vol 72. Mumbai.
R, Nagaswamy (2006). Art and Religion of the Bhairavas. Tamil Arts Academy. Chennai.
Trivedi, R D (1990). Temples of the Pratihara Period in Central India. Archaeological Survey of India. New Delhi.