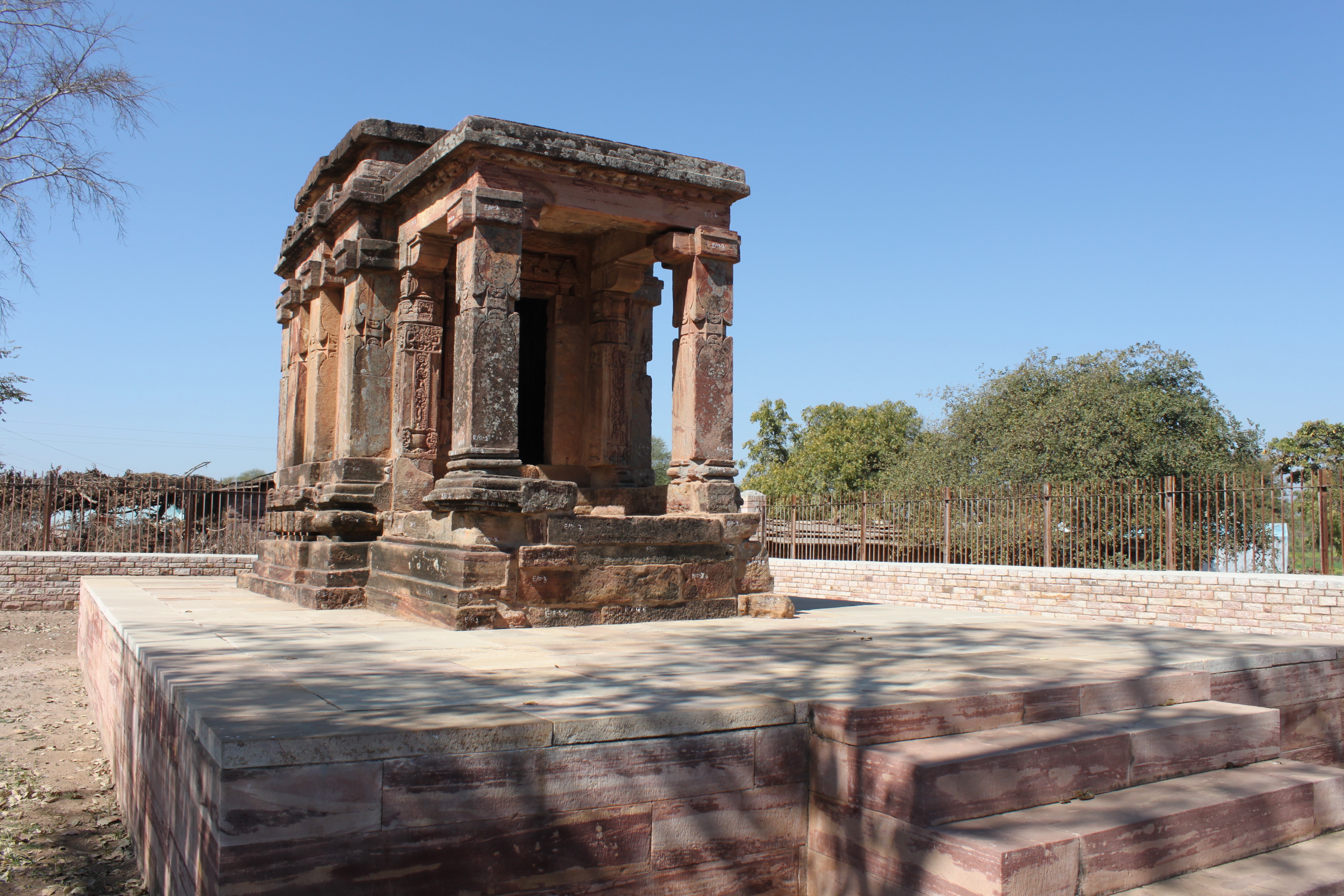 Introduction – Mahua is a village in Shivapuri district and famous for its temples which are of considerable antiquity. Mahua, like Kadwaha, Ranod and Terahi, is associated with the Mattamayura sect. It has been identified with ancient Madhumati which is mentioned in the Ranod inscription (Epigraphia Indica vol I).
An inscription at Gurgi (Epigraphia Indica vol XXII) mentions Madhumati as the abode of the Shaiva Saiddhantika believers. Chandrehe inscription (Epigraphia Indica vol XXI) of 973 CE mentions a certain Sikhashiva as the lord of Madhumati. These inscriptions provide enough support to suggest that Madhumati was an important center of the Shaiva followers. Many disciples of this centers played instrumental part in the religious activities of the Kalchuri kings.
Monuments – There are three temples of considerable antiquity at Mahua.
Shiva Mandapika – This is the earliest temple at Mahua and can be assigned to the latter half of the seventh century CE based upon the foundation inscription over the porch lintel of the temple. The temple is constructed without a shikhara (tower) which is usually considered as a characteristic of early period temples. The temple is constituted of a garbhagriha (sanctum), an antarala and a mukha-mandapa supported on two pillars and two pilasters.
The sanctum door is probably left unfinished as we find one plain doorjamb devoid of any decoration. I am not sure if the present right doorjamb is a replacement as the original was damaged or it was plain originally only. On the base of the left jams is seen Yamuna standing over a tortoise and accompanied by an umbrella bearer. The door lintel has a wagon-vault shapes chaitya in middle and two regular chaitya-dormers on its either side. The sanctum is empty at present.
The temple is constructed in pancharatha style with a niche on each side however the niche is not protruding outwards. Four pilasters on each side provides space for three niches, the central one is occupied by a deity while the rest two have foliage designs with animals or human groups at the base. These niches are topped with a shikhara, resulting in mini shrines. Ganesha, standing and shown with two arms, is present on southern niche, Durga as Mahishasuramardini on western niche and Vishnu as Varaha on northern one.
Inscriptions:
Shiva temple inscription engraved on the lintel of the mukha-mandapa – Epigraphia Indica vol XXXVII – dated in the seventh century CE based upon paleographic studies – mentions that the temple, pandala of Durjati (Shiva), was constructed by some Vatsaraja for the increase of the religious merit of his parents. No family name of Vatsaraja is mentioned. The inscription was composed by Bhatta Isana.
Shiva Temple – This east facing temple is an exemplary specimen of Nagara architecture style. It is consisted of a sanctum, an antarala and a mukha-mandapa. Meister writes that this temple implements the 64-square plan of Vastupurushamandala as specified in Brihat Samhita. The sanctum occupies 4×4 = 16 squares of this 64-square plan. Various other elements of the temple like bhadra-niches, pratiratha and karna also confirm to the specified dimensions in the above mentioned text. With the design of single bhadra with two pratirathas and two karnas, in proportions of 2:1:2:1:2, the temple falls into pancharatha category.
R D Trivedi mentions that the temple shikhara was badly damaged on the eastern and southern sides. Probably the damage was not properly checked and the temple is recently taken up for restoration as it was under this activity during my visit. The sanctum doorway has usual river motifs, depicting Ganga and Yamuna on their respective mounts. The doorway has five vertical bands, going inward, patra-sakha (foliage band), naga-sakha (serpent band), pramatha-sakha (dancers band), stambha-sakha (pillar band) and bahya-sakha (external band). Garuda is present at lalat-bimba (lintel center) with two vidhyadharas holding a crown above him.
Chamunda Temple – This north facing temple is locally known as Kherapati temple. This temple is consisted of a garbhagriha (sanctum) and an antarala (vestibule). The garbhagriha is devoid of any shikhara on top. Based upon the oblong sanctum style, R D Trivedi suggests that the temple might have a valabhi (wagon-vault roof) shikhara as seen in other similar sanctum style temples. Similar shikharas are seen for the temples enshrining Sapta-matrikas.
The sanctum doorway has usual river goddess motif at base, Ganga and Yamuna on their respective mounts. Vishnu riding over Garuda is present at lalat-bimba. Inside the sanctum is placed an almost life-size statue of Chamunda shown with ten arms holding khatvanga, snake, human head, trishula, damaru etc. The body of the goddess is devoid of much flesh, sagging breasts and projecting ribs above her empty stomach. A simple look at this image brings awe and fear to our hearts. Various kankalas, goblins are shown indulged in many disturbing activities.
Kartikeya holding a shakti (spear) and Durga adorn the eastern wall. An image of standing Ganesha in a dancing posture adorns a niche of the southern wall. Western wall niche has an image of Parvati in panchagni-tapa (austerity amidst five fires) and Nrhsimha. Few images of Ashta-dikpalas are seen on their regular places however the present images are so much defaced that identification is not very easy.
Food and Accommodation
– You can either stay at Shivpuri or Chanderi as both have good tourist facilities. There is no suitable bedding and eating place at Mahua.
How to Reach – Mahua is about 12 km from Ranod and about same distance from Terahi. It can be reached from Shivapuri or Chanderi.
References –
Annual Administration Report of the Archaeological Department, Gwalior State for year 1934-35. Alijah Darbar Press. Gwalior.
Ayyar, Sulochana (1987). Costumes and Ornaments as Depicted in the Sculptures of Gwalior Museum. Mittal Publications. ISBN: 8170990025.
Banerji, R D (1931). The Haihayas of Tripuri and Their Monuments. Archaeological Survey of India. New Delhi.
Burgess, J (1892). Epigraphia Indica vol I. Archaeological Survey of India. New Delhi.
Deo, Jitendra Pratap Singh (2001). Tantric Art of Orissa. Kalpaz Publications. New Delhi. ISBN: 8178350416.
Deva, Krishna (1969). Temples of North India. National Book Trust. New Delhi. ISBN: 9788123719702.
Jain, Kailash Chand. Malwa Through the Ages, from the earliest times to 1305 AD. Motilal Banarasidas. New Delhi.
Meister, Michael W (1979). Mandala and Practice of Nagara Architecture in North India published in Journal of the Americal Oriental Society.
Mirashi, V V (1955). Corpus Inscriptionum Indicarum vol IV. Archaeological Survey of India. New Delhi.
White, David Gordon (2001). Tantra in Practice. Motilal Banarasidass. New Delhi. ISBN: 8120817788
Parmeshwaranad, Swami (2004). Encyclopedia of the Saivism. Sarup and Sons. New Delhi. ISBN: 8176254274.
Trivedi, R D (1990). Temples of the Pratihara Period in Central India. Archaeological Survey of India. New Delhi.
Bhattacharya, P K (1977). Historical Geography of Madhya Pradesh from Early Records.  Motilal Banarasidas. New Delhi. ISBN: 084269091