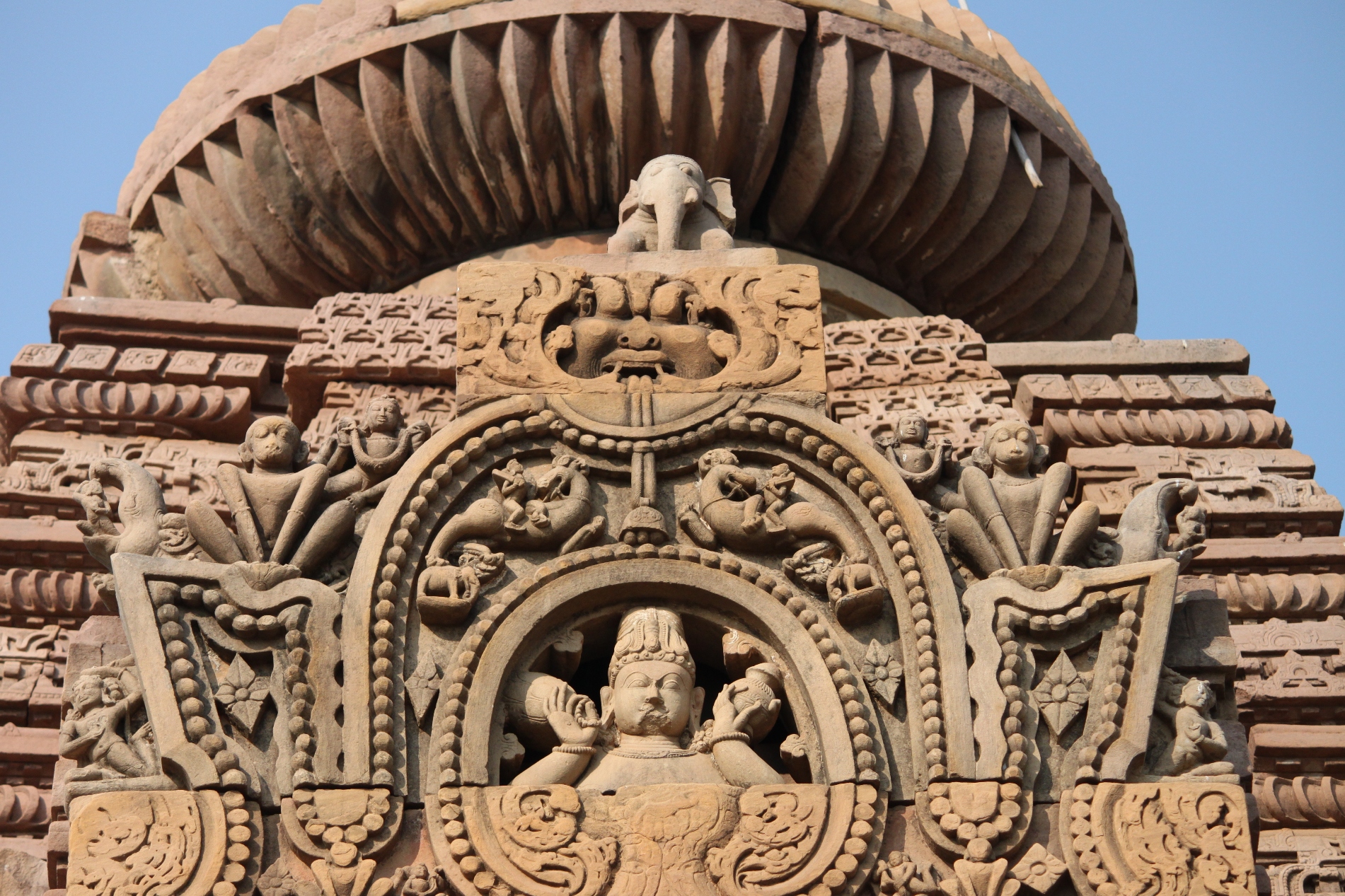 Introduction – Madhkhera is a small village in Tikamgarh district of Madhya Pradesh. The village is of no specific importance except for a Sun Temple which is located in the west of the village. Madhkhera literally means 'village of temples', and this name it got probably after the temple was constructed, however there is no definite proof of the same.
Monuments – The Sun Temple is the only temple of interest from archaeological point of view. There is one more temple in the village, Vindhya Vasini temple located on the top of a nearby hill.
Sun Temple – This east facing temple consists of a garbha-griha (sanctum), a small antarala (vestibule) and a mukha-mandapa (portico) supported on two front pillars and two back pilasters. The elevation of the temple is of pancharatha plan. The shikhara has nine stories and is executed in the latina (curvilinear) style of the Nagara architecture with an amalaka on the top.
There is an elaborate sukha-nasika on the shikhara. There are two levels in it, the lower level has four niches, two in front and two on lateral sides. The niches on the lateral sides are empty at present, however R D Banerji reports that there were Nataraja images in these niches. The front niches have Brahma and Vishnu. A face is carved inside the simha-mukha on the upper tier of the sukha-nasika. He is shown holding a water pot and ashkamala. R D Banerji indentifies him with Shiva whereas Krishna Deva identifies it with Surya.
The two pilasters of the mukha-mandapa have Ashwinikumaras, one on each. The sanctum doorway is executed with five sections. River goddesses, Yamuna and Ganga over their respective mounts, are present on door jambs. Lalata-bimba on doorway lintel has an image of Surya riding over a seven-horse chariot. On either side of him are present Nav-grihas (nine planets) and Sapta-matrikas (seven mothers) with Ganesha and Veerabhadra. On the upper tier of the lintel, Shiva with Parvati over Nandi and Revanta with his hunting retinue are carved on the left and a group of horse riders and saints in discussion are on the right.
The main image inside the sanctum shows Surya standing in his chariot drawn by seven horses. Aruna is driving the chariot. Danda and Pingala are standing nearby Surya on either side. Usha and Pratyusha are shown over makars with their bows. Two flying vidhyadharas are also present on either side of Surya.
Ashta-dikpalas (eight directional guardians) are placed at their usual position over the karna niches. All three bhadra niches, on south, west and north, have image of Surya. North bhadra image depicts Surya riding over his single wheel chariot. Below the bhadra, niches on adhisthana has Ganesha on south, Kartikeya on west and Parvati on north. In contrast to Umri Sun Temple, where all these adhisthana niches have an incarnation of Vishnu, in this temple we find Shaiva icons instead.
Though icons of Vaishnava pantheon are absent on adhisthana niches on bhadra position, however there are present on the same level at different positions. Among these we find Vamana, Balarama, Parashurama, Krishna, Buddha, Narasimha and Varaha. Niches on kapali position have Durga on south and a goddess riding on an animal on north. Krishna Deva identifies her with Sitala riding over donkey. Adhisthana niches on kapali position have Gaja-Laksmi on north and a Matrika with child on south.
In comparison to the Sun Temple at Umri, this temple is better preserved and shows various advancements in style and architecture. R D Trivedi dates this temple to late ninth century CE, Krishna Deva dates it between 850-875 CE. Both the scholars have assigned this temple to the Pratihara dynasty.
Inscriptions –  No inscription found.
How to Reach
– Madhkhera is situated in Tikamgarh district of Madhya Pradesh. On Tikamgarh-Orchha road, take right turn after reaching Bavri Tigela located just after the 11km milestone. From here Shivarajpur is about 4.5 km. On reaching Shivarajpur, take left turn, Madhkhera is about 2.5 km from here. It is also known as Khera-markhera among the localities.
Lalitpur and Jhansi are the nearest railway-heads. The nearest airports are Gwalior and Bhopal. Tikamgarh is well connected to major towns of Madhya Pradesh via bus services. However, there is no state transport in Madhya Pradesh hence all bus services are operated by private players hence commuting time is on higher side.
References –
Deva, Krishna (1995). Temples of India. Aryan Books International. New Delhi. ISBN 8173050546
Meister, Michael W (1979). Mandala and Practice of Nagara Architecture in North India published in Journal of American Oriental Society vol 99 no 2. Michigan, USA.
Trivedi, R D (1990). Temples of the Pratihara Period in Central India. Archaeological Survey of India. New Delhi.