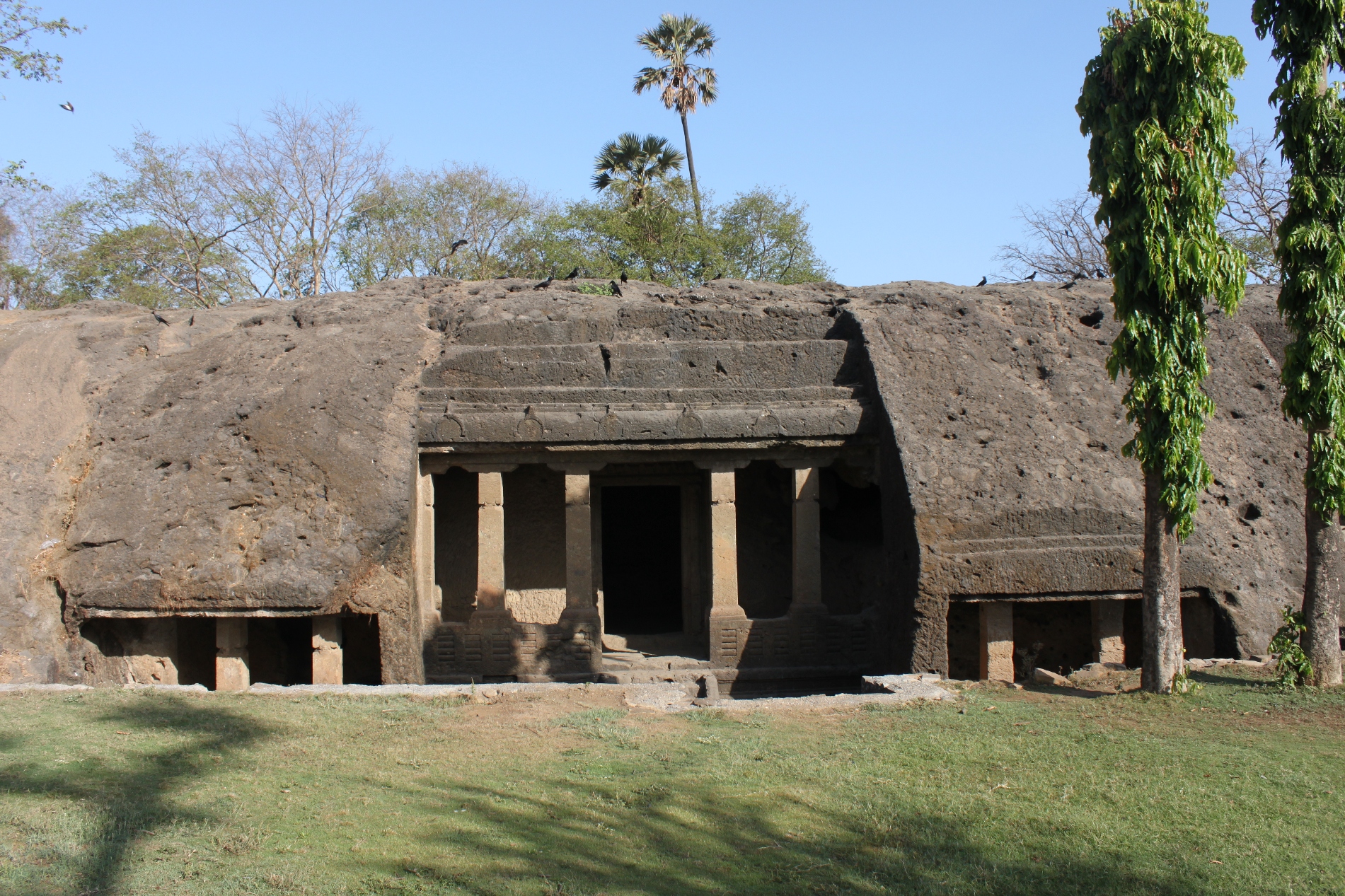 At present. these caves are locally known as Mahakali caves. These were referred as Kondivite or Kondivti caves by J M Campbell as these caves were near Kondivti village. There are total of 19 caves, fifteen on southeast face of the hill and four on the northwest face. These are situated on Mahakali hills in Mahakali region of Mumbai. You can reach these via Jogeshwari-Pawai (Vikhroli) Link road, take the right opposite to the Kamalistan Studio.
Kanheri had been a prominent Buddhist center from the ancient times and survived quite late till fifteenth century CE. Proximity of the Mahakali caves to Kanheri suggests that there was an another Buddhist congregation which might have some relationship with the bigger congregation at Kanheri. Whether there was any relation between these two congregations or not, it can be said with certainty that this area provided suitable grounds for setting up Buddhist monasteries and chaityas.
Past References:
S R Wauchop (1933, The Buddhist Cave Temples of India) – Wauchop refers these caves as the Mahakel caves and refutes the name Kondiwte previously given by Fergusson. Owing to simplicity of these caves, Wauchop assigns a very early date to these.
He provides dimension for cave 2 as 27 feet by 14 feet. Cave 8 is of special interest as that contains a rectangular room with a stupa in circular domes chamber, provided with two latticed windows and an inscription above one window.
He also describes cave 13 in detail which he considers of a more recent date.
Cave 1, 2 & 3– This is the first cave group when you enter through the main entrance. There are three caves connected with each other. The middle one is the main cave and it consists of a open courtyard with a pillared portico, a rectangular hall with a seat for an icon on the western side. A stupa has been carved on the back wall behind this seat.
Portico has four pillars and two pilasters rising above a parapet carved with rail pattern.  The pillars have square shaft broken in its upper part with a design so familiar with other similar architectural patterns. The capital is very primitive suggesting the early age of the excavation. A cell is provided in the left wall however it has a separate entrance from cave 2.
Entrance door of the hall is carved with chaitya windows above the lintel. It is decorated with various pattern on its jambs. The hall inside is 7 m deep and 4.2 m wide.
On either side of this unfinished central chaitya cave, are provided pillared entrances into cave 1 and 3. These entrances are at lower depth than the entrance of the chaitya cave which is in middle of these two lower entrances.
Cave 4 or the Vihara Cave – This vihara is entered through a verandah supported on four pillars and two pilasters. A flight of five steps leads a visitor to this entrance. The verandah is 11.1 m in breadth and 2.8 m in depth. The pillars are plain octagonal shafts without any capital.
There are three entrances leading into a rectangular hall which is 11.2 m in breadth and 7.65 m in depth. On its lateral sides, there are chambers supported on two pillars and two pilasters. Inside these chambers are three cells each. Dr Qureshi mentions that usually in such viharas, the cells directly open into the hall, however here these open into a chamber which in turn connects to the hall.
On the back wall of the hall is provided a chamber supported on two pillars. However there are no cells provided in this chamber. The vihara is bereft of any decoration of sculptural embellishment.
Cave 5 or the Chaitya Cave – This is the main cave of the group and probably the oldest excavation at the site. It faces east and entrance is provided from a rectangular hall. The hall is 5.4 m in breadth, 7.4 m in length. Usually this kind of hall has pillars on its entrance however here the hall is not supported on any pillars and is wide open on its eastern side.
J M Campbell tells us that there are only two other parallels of this circular shrine like structure and both these are located in Bihar, Lomas Rishi cave and Sudama cave in Barabar hills near Gaya. Dr Dulari Qureshi says that this seems to the earliest chaitya in Western India. She further states that here we see the first structural departure from the Lomas Rishi cave in Bihar. Where in Lomas Rishi the entrance into the hall is provided from the side and the hall is executed in traverse, however here it is not the same. The hall and the inner chamber are aligned to the main entrance in the east.
The inner chamber with stupa inside is enclosed by an circular wall, a feature not seen at any other place. The stupa is 2.35 m in diameter with a circumambulatory path around it. The walls of the hall were originally bare but carved with statues of Buddha during the late Mahayana phase.
Dr Qureshi writes that this stupa shrine is converted into a Shiva lingam and devotees offer prayers here. However during my visit to the site, I did not see such things. There was no door frame fixed to the entrance to the stupa chamber as mentioned by Dr Qureshi.
Inscription – J M Campbell mentions about a Pali inscription near the lattice window of this circular shrine. He mentions that the characters are very similar to the third century CE Rudradaman inscription of Girnar. Bhagvanlal Indraji translates the inscription as, 'Gift of a vihara, with his brother, by Pittimba, a Brahman of Gautama gotra, an inhabitant of Pachi Kama'. Pachi Kama probably is present day Pachmarhi.
Cave 9, 10 and 11 – These three excavations are in a group like cave 1, 2 and 3. All caves were provided entrances into their respective courtyard which was not supported on any pillars or pilasters. These are bereft of any decoration.
Cave 12 – Not much is left of this cave, however the rail pattern carved above the stone screen is still intact and worthy of praise.
Cave 13 – Flight of five steps leads into a enclosed courtyard where a further flight of four steps leads into a pillared verandah. A stone bench is provided on the right side of the courtyard. Courtyard is 6 m in breadth and 3.8 m in depth. The pillars supporting the roof of verandah have circular amalaka pattern capital.
There are three entrances into the main hall. The hall is a square of 8.8 m. A raised platform is there in the center of this hall. It is supported on four central pillars. Pillars have round base, then octagonal shaft turning circular going up, topped with amalaka pattern abacus. This raised platform inside the hall allowed space all around the platform.
There are total eight cells inside the hall, three on left and right side and two on the back wall on the either side of the shrine. Except the central shine in the back wall, doors of other cells are very plain.
Cave 14 – This cave has a verandah supported on two pillars and two pilasters. A single entrance leads into a rectangular hall. There is a cell in center of the back wall of the hall. The door of the cell is decorated with similar patters seen on other doors at the site. A cell is provided on the right wall of the hall, the left wall is plain without any cell.
Cave 16 – Plain cave with a verandah, hall with a shrine. Cells are provided on the walls of the verandah.
Cave 18 – Verandah is supported on two pillars and two pilasters. Stone benches are provided on left and right walls of the verandah. There is only one entry into the hall. The hall has a cell in its back wall. The door of cell is decorated. The back wall of the cell is probably converted into a Shiva temple by putting or carving a linga there however it has been removed now.
Cave 19 – This big excavation has a large verandah supported on two pillars and two pilasters. Cells were provided on the left and right wall of the verandah. Stone benches were provided on the western wall of the verandah, where, in middle, a door is provided to enter into the hall. The hall has a platform for an icon and a deep niche also to support some statue etc.
Tourist Tip – The cave complex is maintained by ASI however as this is not a ticketed monument hence not much maintenance is provided. The local defecate at the entrance hence it is very stinky however you can manage through it. Go early in morning, between 7-10 AM for better photographs and you will also avoid the local crowd.
References:
Campbell, J M (1882). Gazetteer of the Bombay Presidency vol XIV.  Government Central Press. Bombay.
Fergusson, James and Burgess, James (1880). The Cave Temples of India. Munshiram Manoharlal. New Delhi. ISBN 8121502519.
Qureshi, Dr Dulari (2010). Rock-cut Temples of Western India. Bharatiya Kala Prakashan. Delhi. ISBN 9788180902024.
Soundara Rajan, K V (1981). Cave Temples of the Deccan. Archaeological Survey of India. New Delhi.