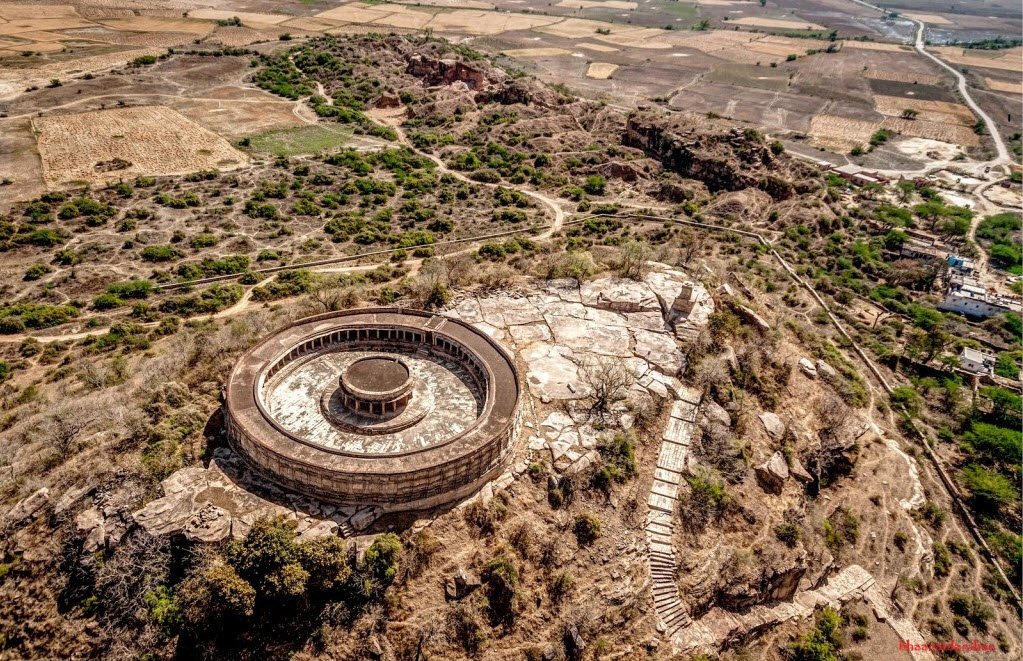 Introduction – Mitawali is situated in the Morena district of Madhya Pradesh. This small village is famous for its circular yogini temple. Very less is known about the antiquity of this village in particular. Surprisingly, this temple escaped the curious eyes of Sir Alexander Cunningham, who with his associates, carried out extensive surveys of northern and western Indian antiquities in the late nineteenth century CE. The place was also omitted in the Gwalior state gazetteer prepared by C E Luard in 1908.
M B Garde, who was the face of the Gwalior Archaeological Department during the second quarter of the twentieth century, carried out innumerous conservation activities and surveys. He is been credited with discoveries of various remote sites and monuments. In his book, Archaeology in Gwalior, second edition of which was published in 1934, there is no mention of Mitawali. Garde provided a detailed map of various sites and monuments within the then Gwalior state, in which he included Padhavali which is located very near to Mitawali however Mitawali temple was missing.
The first mention of this temple and village, as per my available sources, appears in the annual report of the Gwalior Archaeological Department for the year 1942-46. In this report are mentioned various conservation activities carried out by the department in this temple. Also were included various inscriptions found at the site. The report does not mention about the discovery of the temple, therefore it may be assumed that the temple was known before that time. However, this temple is not mentioned in any annual report prior to the above one.
Antiquity of this village can be set back to the Kushana period as we find a Mahasena image of that period at this site. From the Kushana time, the next period of importance would be the tenth century period of the Kacchapaghata rulers who constructed the yogini temple here. After their fall, the place would have gone into obscurity.
Among the conservation activities were included the cutting of steps (masonry and rock-cut) for ascending the hill to approach the temple, refitting of the main entrance door, repairs to the centrals shrine which was in worship, rebuilding of parapet wall around the roof, rebuilding of the terraced roof etc.
Ekattatso Mahadeva Temple – Standing atop an isolated hill of about hundred feet high, this circular temple commands a splendid view of the cultivated fields below. This temple is so named because of the presence of multitude of shivalingas inside its cells. The temple consists of a circular peripheral wall which shows different courses of constructions in different times. The topmost course of the wall, composed of bricks and limestone, was the addition during the conservation activities taken up by the Gwalior Archaeological Department. On this outer wall are placed various small niches, at regular intervals, many of which are empty now and few are equipped with couples in different poses.
This circular temple is one among the very few such temples in India. This is a yogini temple dedicated to sixty-four yoginis. Other prominent yogini temples in India are located at Bhedaghat near Jabalpur and Khajuraho in Madhya Pradesh, Hirapur and Jharial in Odhisa. The yogini cult was a secretive practice confined to few groups and individuals. Its secrets are very securely guarded by its proponents and practitioners that if you are an outsider then it is very hard to know its rituals and practices. One can know and understand this cult only after becoming one and joining their community. But the trick is that when one becomes a part of that community, one also takes an oath to guard its secrets as others.
The interior of this circular enclosure has a pillared colonnade which has sixty-five cells. Usually, the cells should be numbered sixty-four to house that number of yoginis. If there is an extra, as the case here, this extra cell is usually added to house an image of Shiva as Shiva is overall lord of all the yoginis. However this does not seem to be the case here as there is a separate central shrine for Shiva inside this enclosure. In this situation, this extra cell may be added to house an image of some popular goddess. Among these cells, the number thirty-seven has a special decorative treatment on its door-jambs and lintel. This was, probably, done to mark a special yogini of some particular interest. We are unfortunate as none of the yogini images of Mitawali is traceable. At present, all these cells have a shivalinga inside.
The circular enclosure is hypaethral except the covered roof over the cells. Hypaethral is an important characteristic of a yogini temple as many of their rituals and practices were carried out directly under the sky. This hypaethral nature of the temples also suggested linkage to astronomy however there has been no evidences found of any instruments used during such studies. At the center of the enclosure stands a large circular pavilion with two concentric rings of pillars. This shrine was dedicated to Shiva as he is the overlord of the yoginis.
This temple has come into limelight in recent years as it has been made accessible to the general tourists. Many of these curious visitors have compared this temple with the Indian parliament building (Sansad Bhawan) as both are circular in style. Many have drawn conclusions that this temple was the inspiration behind the Sansad Bhawan. However this is not the case. This temple in particular has no role to play in the design and architecture of our Sansad Bhawan.
N N Mallya who wrote an authoritative book on our parliament does not mention anything about this temple. Also, from above text, we know that this temple was in obscurity till the 1940s therefore it seems a far fetched idea that it has any influence on the Sansad Bhawan design. Also, the architects of our Sansad Bhawan, Edwin Lutyens and Herbert Baker, never paid any visit of this temple or nearby localities.
Inscriptions –  Gwalior Archaeology Department's annual report for year 1942-46 mentions three Sanskrit epigraphs found at this site. None of these have been published with details. The most important inscription is engraved at theouter compound wall and mentions about the construction of the temple. This inscription is damaged and partly obliterated however its main contents can be read satisfactorily. It tells that the temple has been constructed by king Devapala and his queen. It is dated Vikrama Samvat 1380, corresponding 1323 CE. King Devapala belonged to the Kacchapaghata dynasty and ruled between 1055-1075 CE. Therefore this inscription refers to an event in the past, which occurred almost 250 years before when this inscription was engraved.
Another inscription is incised on a pillar flanking the entrance to the central shrine records a verse from Surya Stotra and a salutation to one Maharaja Rai Singh. Another verse from the same stotra is engraved on the natural rock face outside the temple. Another inscription on the rock face consists of an amorous verse. The latest inscription here is in Hindi and dated Vikrama Samvat 1560, corresponding 1503 CE.
How to Reach – Mitawali is about 40 km from Gwalior which is the nearest major rail-head and airport. It is about 2-3 km from Batesar.
References:
Quinquennial Administration Report of the Archaeological Department Gwalior State for the years 1942-46.
Dehejia, Vidya (1986). Yogini Cult and Temples: A Tantric Tradition. National Museum. New Delhi.
Jadhav, Shreekant S (2015). Yogini published in Historicity Research Journal vol 1, issue 12. ISSN 23938900
Luard, C E (1908). Gwalior State Gazetteer. Government Press. Calcutta.
Mallya, N N (1970). Indian Parliament. National Book Trust. New Delhi.
Web References:
Pratapaditya Pal on Rise and Fall of Mahasena (retrieved on 10/04/2016)
Mitawali on Bhaaratdharshan.com (retrieved on 10/04/2016)
Nirdesh Singh on Mitawali on Ghumakkar.com (retrieved on 10/04/2016)