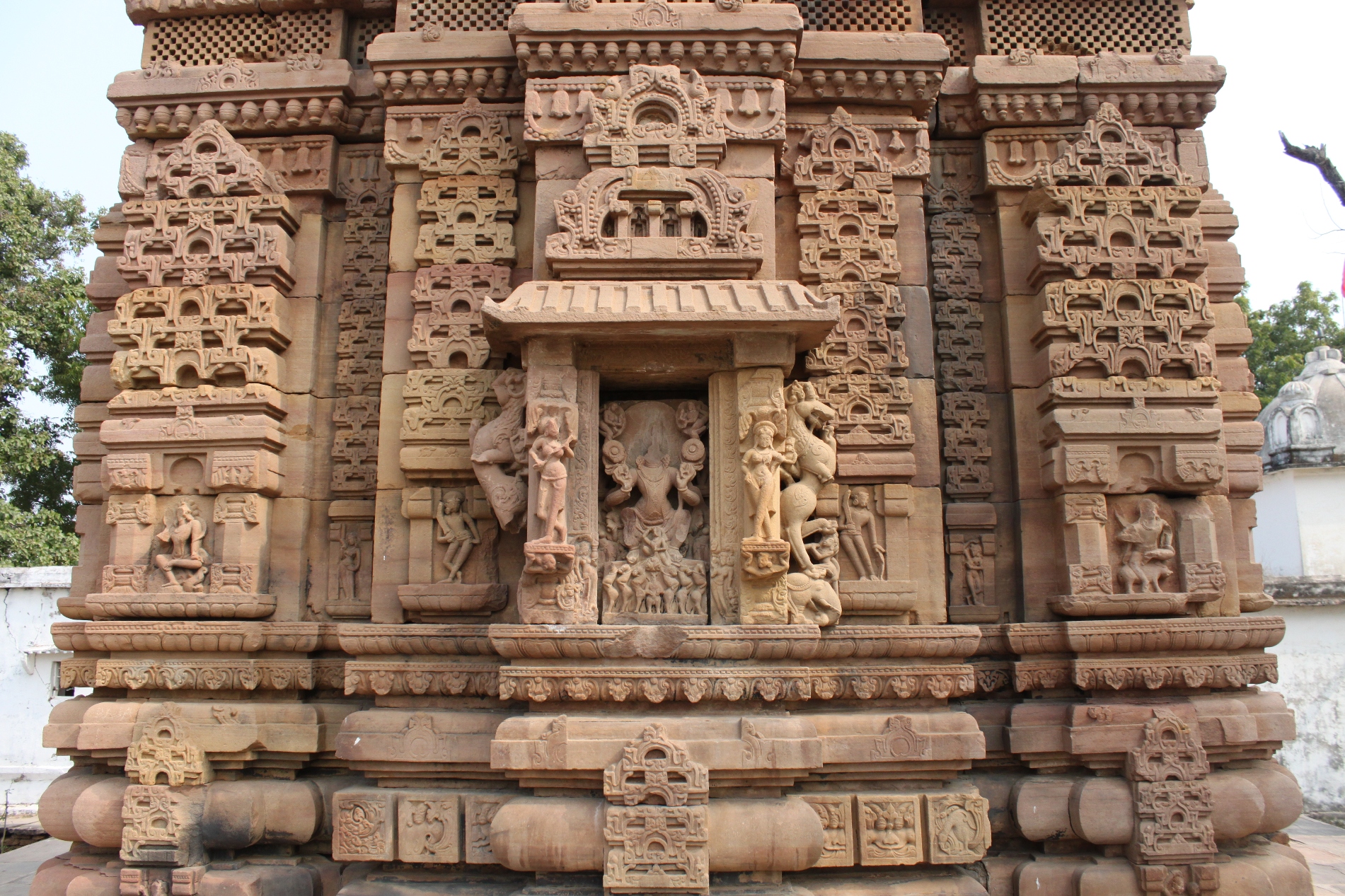 Introduction – Umri is a small village in Tikamgarh district of Madhya Pradesh. The village is of no specific importance except for a Sun Temple which is located in the west of the village. There are not many Sun temples in India, others are at Konark in Odhisa, Madhkhera and Sesai and Madhya Pradesh, Modhera and Patan in Gujarat, Ranakpur and Galta in Rajasthan, Martand in Kashmir, Kumbhkonam  and few temples in Assam.
Worship of the Sun god is the most ancient form of worship and the distribution of the above mentioned temples suggests the wide spread popularity of this form of worship. However, all the above mentioned temples are from medieval period, and no temple dedicated to Surya from the earlier period is found yet.
Monuments – Except for the Sun Temple, there is no other monument in the village.
Sun Temple – This east facing temple consists of a garbha-griha (sanctum), antarala (vestibule) and a mukha-mandapa (portico) supported on two pillars and two pilasters. The elevation of the temple is of pancharatha plan. A pancharatha elevation consists of two karnas, two pratirathas and one bhadra. The shikhara of the temple is executed in latina style of Nagara architecture with an amalaka on the top.
Michael W Meister writes that this is the latest temple in his knowledge which uses the ratio 2:1:2:1 :2 for its pancharatha elevation. He further writes this temple follows the vastupurushamandala plan comprising of 64 square grid as prescribed in many Shilpa texts.  In this temple, karnas and pratirathas are separated with a narrow recess making karnas appearing more projected. This temple is a nice example of usages of multitude of niches all across the walls and moldings of across the temple.
The sanctum doorway has a Surya image on lalata-bimba. On its left are shown Sapta-matrikas accompanied with Veerbhadra and Ganesha. On its right are shown eight of the Nava-grihas (nine planets), the ninth and last, Surya, is over lalata-bimba hence skipped in this panel. Door-jamb base have remains of the river goddesses, Yamuna on left and Ganga on right.
Inside the garbha-griha is placed the remains of a Surya statue of which only pedestal has survived. R D Banerji reported a proper statue however that is missing at present. Few locals informed me that the statues were stolen from here, however I do not have any proper information on this from the concerned department.
Ashta-dikpalas (eight directional guardians) are placed over the karna niches. All are shown seated except Ishana who is depicted standing. At present the northern and southern bhadra niches are empty however R D Banerji reported a Surya image in the southern bhadra niche which is missing now. Western bhadra niche has an image of Surya, riding a chariot driven by seven horses with Aruna as his charioteer.
Adhisthana niches has Vishnu's incarnations at three sides, Varaha on south, Krishna slaying Arishtasura on west and Narasimha on the northern side. Rama holding a bow is also present at this level in a niche. Durga is found on the northern and southern side of the temple, at one place she is holding a trishul and at another she holds a khadga (small sword). Krishna Deva mentions that Durga on south wall is Kshemankari Durga.
There is no foundation inscription found in the temple, R D Banerji assigns the temple to the first quarter of the ninth century CE based upon the architectural style used. He also assigns the temple to the Pratihara rulers of that area. Meister also assigns the temple to 825 CE. Krishna Deva assigns the temple to 850 CE.
Inscriptions – No inscription is found except one which is not legible at the moment.
How to Reach
– Umri is in Tikamgarh district of Madhya Pradesh. Badagaon is located about 29 km from Tikamgarh town on Tikamgarh-Sagar road. From Badagaon, a diversion goes to Kakarwaha. On Badagaon-Kakarwaha road, take a right tun after 8 km for Umri. Umri is about 3 km from this point. There are very few conveyance options from Badagaon to Umri, however you can hire a auto-rickshaw from Badagaon by paying little extra amount.
References –
Deva, Krishna (1995). Temples of India. Aryan Books International. New Delhi. ISBN 8173050546
Meister, Michael W (1979). Mandala and Practice of Nagara Architecture in North India published in Journal of American Oriental Society vol 99 no 2. Michigan, USA.
Trivedi, R D (1990). Temples of the Pratihara Period in Central India. Archaeological Survey of India. New Delhi.