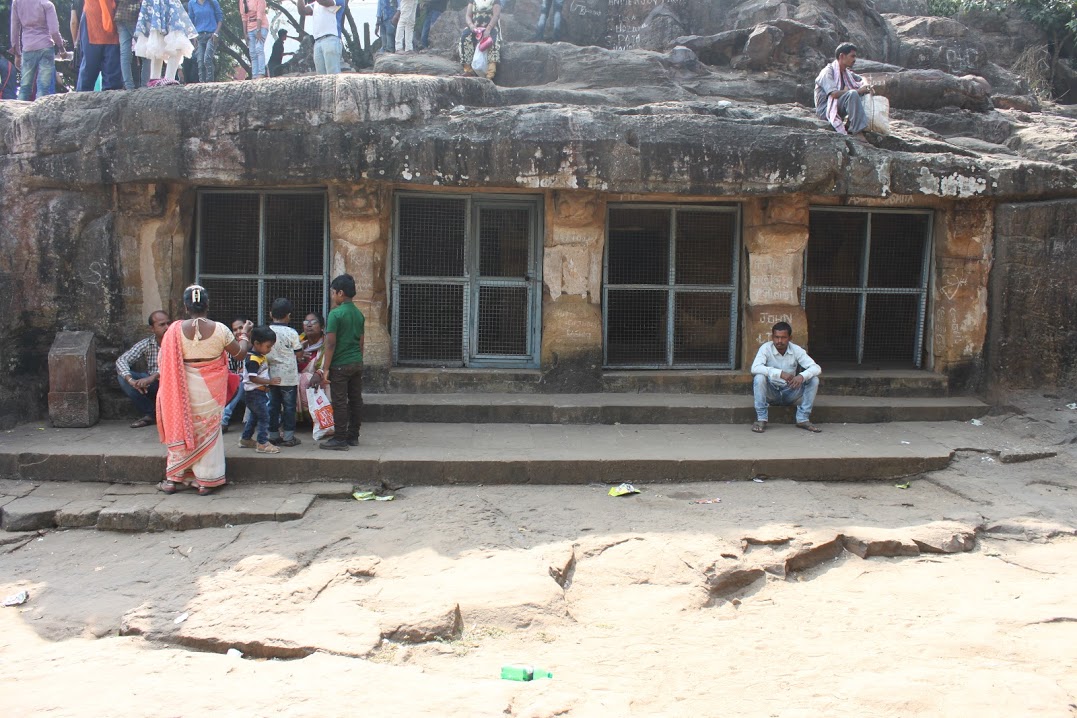 Khandagiri cave complex and Udayagiri cave complex are situated on the two prominence of the same hill, separated by a modern road. Locals assign four different names to its four separate prominence, Udayagiri (Sun-rise hill), Khandagiri (Broken hill), Nilagiri (Blue hill) and Dhavalagiri (White hill). While few scholars try to identify these four within the same hill range, Mohapatra1 identifies Nilagiri with Gumpha Mundia near Nuapalli village and Dhavalagiri with Dhauli.
On the origin of these hill, Sterling2 narrates an interesting legend which he learnt from its locals. As the legend goes, these hills were originally part of the Himalayas and were inhabited by numerous sages who dug out the caves for their residence. When Hanuman was carrying it for building of the bridge for Lord Rama, by some accident, he dropped these at the present location. As per epigraphical evidences, these twin hills were known as Kumara and Kumari Parvata3.
It is understood that the excavations at Udayagiri started off earlier than Khandagiri as presence of inscriptions of the Kharavela family. Though Khandagiri may have started late however it survived longer than its former cousin. The last inscription at Udayagiri is dated to 11th century CE, corresponding to the reign of Somavamshi king Uddyotakesari. Udayagiri lost its importance soon after the reign of Uddyotakesari while Khandagiri gained prominence and continued to be a Jain tirtha, the status which it celebrates even today.
Khandagiri hill and its complex has been an issue of contention for its ownership and custody for protection from the start of 20th century CE4. In 1912, the then Government of Orissa and Bihar declared this complex as protected. In 1915, the Commissioner of Orissa became the sole guardian of these protected sites. This resulted in a protest from its then supposed stakeholders, the Hindus as well as the Jains. The contention continued till 1947, but became severe when ASI requested for land acquisition and stopped construction of permanent building, replacing a thatched structure, for Padukamath, a Hindu math located at the foothills.
In April 1951, an organization of Hindus sadhus and saints, mostly from lower castes, started celebration of Sarbajanina Ananta Mela, a public fare, and printed handbills asking devotees to congregate at Khandagiri to witness self-emanation of Lord Ananta. These handbills claimed that these images of Barabhuji and Ananta were the glories of the Kesari dynasty. The organizers wanted to construct a temporary shed however were not allowed by ASI and local officials due to the protected nature of the monument. However, after escalating it to higher levels by the organizers, the tehsildar allowed this permission, the temporary shed got constructed and mela was held.
This fare is still held under the name of Khandagiri Mela, held every year on the day of Magha Saptami. The presiding deity of Khandagiri, Ananta Kesari Dev, which is presently residing in Jagamara village, is brought in a procession to this hill during the fare. Many saints and sages attend this fare, they first congregate at Chandrabhaga beach at Konark where they take a dip to start their journey to Khandagiri. Reaching Khandagiri, they participate in the fire ritual on the hill. As per a legend5, demon Sambhasur was suffering from a skin disease. He prayed to lord Surya for recovery. The lord asked him to take a dip at Chandrabhaga beach and take a journey to Khandagiri on foot which will cure him from the disease.
Panchashakha literature associates Khandagiri hills with the Kalki avatara, the last incarnation of Lord Vishnu. Panchashakhas were religious saints of medieval Odisha, supposed to be the disciples of Chaitanya, the famous 16th century Vaishnava saint who popularized the Gaudiya sect. The Panchashakhas were Jagannatha Das, Balaram Das, Achyutananda Das, Jasobanta Das and Ananta Das. Jagannatha Das is famous for its very popular Oriya rendition of Shrimad Bhagavatam. Balaram Das is famous for his Oriya rendition of Ramayana. Apart from these, their malikas or books of prophesies are very popular in Odisha. These were written between 16th and 18th century. The Kalki event is mentioned in the malikas such as Yugabdha Gita, Kaliyuga Malika, Bhabisyata Parabhda, Padmakalpa all are the works of Achyutananda Das, and Bhabisyat Purana of Ananta Das.
These malikas prophesies that lord will manifest at the hills of Khandagiri, and will only save the devotees who are righteous and congregate at the hill. Bhabisyata Purana prophesies that Hari (Vishnu) will take his Kalki form at Khandagiri. This manifestation will be witnessed by 12 rishis and 60,000 sages who all will congregate at Khandagiri, as per Agata Bhabisya Malika. Yugabhdha Gita also prophesies that lord Janardana will stay at Khandagiri with a turban on his head and from here he will manifest his Kalki form. Padmakalpatika mentions that at the time of pralaya (apocalypse) when Orissa will be engulfed under floods, the Lord will protect his devotees by giving shelter in the Ananta-gumpha at Khandagiri hill.
At present, the hill is equally sacred to the Hindus as well as the Jains. This is one of the most important pilgrimage site for the Jain community in Odisha. The site is also frequented by the Hindu community of the nearby villages and towns however it has not yet attained the celebrated pilgrimage status among the wide community of the Hindus.
Notes:
1 Mohapatra, R P (1975). Udayagiri and Khandagiri Caves in Orissa. Orissa State Museum. Bhubaneswar. p 2
2 Sterling, Andrew (1846). Orissa. John Snow. London. pp 128-129
3 Epigraphia Indica vol. XIII, p 166
4 Mishra, Umakanta (2015). Shrines as 'Monuments': Issues, Classification, Custody and Conflicts in Orissa published in Negotiating Cultural Identity: Landscape in Early Medieval South Asian History. Routledge. New Delhi. ISBN 9781138822528
5 https://www.telegraphindia.com/1140204/jsp/odisha/story_17895865.jsp, retrieved on 15/06/2018