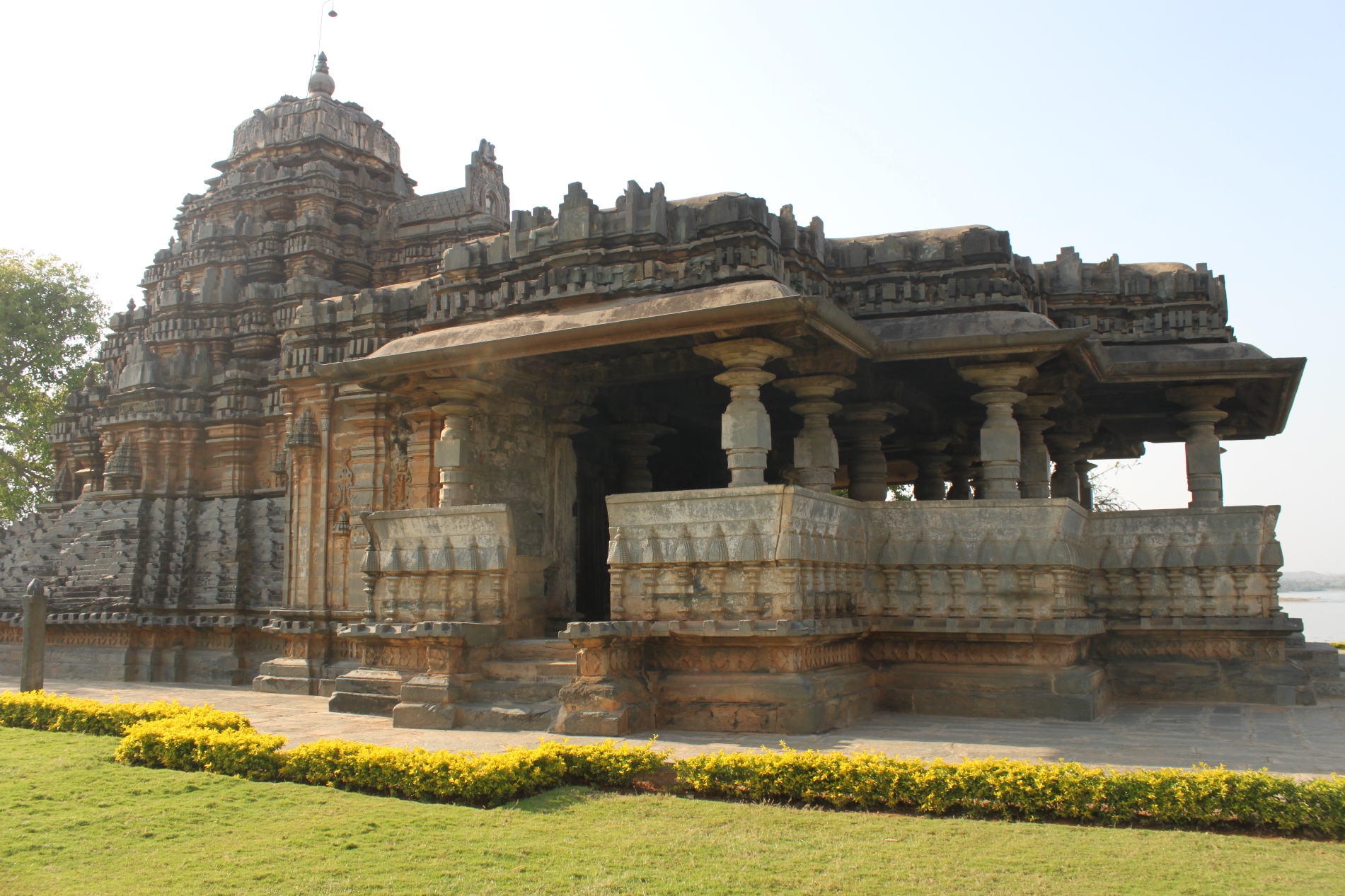 Introduction – Galaganatha is a small village in Haveri district of Karnataka. It is located on the west bank of Tungabhadra river, near the confluence of it with another river, Varada. The town is referred as Hulluni or Pulluni in its inscriptions. The present name Galaganatha seems to have come after the construction of the temple where the god enshrined inside was referred as Galgeshvara.
Galaganatha is famous for its Galgeshvara temple which enshrines a sparshalinga. A legend mentions that if you place an iron rod near the linga and worship lord Shiva then the iron will turn into gold. A king when came to know about it, covered the linga with a galaga. Somnath in Gujarat is also famous for its sparshalinga temple where lord Chandra regained his lost luster.
It would be unfair to skip mention of a great personality who put this village on the national map. Venkatesh Trivikrambhat Kulkarni (1869-1942), popularly known as Galaganatha, was born at Havanur in Haveri taluk on January 5, 1869 in a well-off family. However, he left all that for his social missions.
He started his career as a teacher in a school. During the formative stages of modern Kannada literature, he created profound awareness about the Kannada language in Karnataka. He wrote 29 popular stories, i.e. Kannadigara Karmakathe, Madhava Karuna, Vilasa, Kumudini, Bicchugitti, Kamalkumari and Chatrapati, which he published and sold on the streets.
He was the editor-in-chief of an old Kannada magazine `Sadbhoda Chandrike' for several years. Kannada University, Hampi, has published most of his novels in six volumes as Galaganatha Kadambari Samputa. During his time as a headmaster of the Guttal school before independence, when there was severe drought in the taluk, he motivated villagers and students to dig a well, which is popular even today since it was named after him. A legend mentions that he used to write his stories sitting in the mandapa of Galageshvara temple.
Monuments – The temple of Galageshvara is the only interesting monument in the town.
Galageshvara Temple – This temple is constructed in the serene surroundings of the river Tungabhadra's right bank. The temple faces east and is consisted of a garbha-griha, sukanasi and a mandapa which has openings on three sides. The vimana of the temple is very unique and the largest in region. It appears in gigantic proportions due to its pyramidal buttresses at the base. These buttresses are coeval with the temple construction period, and probably were applied as the designers found its instability during its construction and therefore reinforced the basement to avoid any collapse.
The vimana decoration is simple, having very few images on its shikhara (superstructure). Shrinivas V Padigar mentions that the present form of the temple owed to the skill of two principal architect-artisans Bankoja and Ketoja. He further mentions that sculpture stored in this temple presents the most unusual picture of plastic art of local flavor exposing to mainstream development and slowly dissolving into it. There are many loose sculptures placed inside the mandapa and around the temple.
Sukanasi doorway lintel has images of Brahma, Vishnu and Shiva while gaja-Lakshmi is present on lalata-bimba. The garbha-grha is larger than usual dimensions. Various loose sculptures are placed inside the sanctum. Ganesha and Veerbhadra accompanying sapta-matrikas are prominent among these sculptures. A large shivalinga is installed in the middle.
The above image of Surya standing in equipoise over a pedestal which depicts a seven-horse chariot driven by his charioteer Aruna. Surya is shown holding lotuses in his two hands. Usha and Pratyusha with their bows are shown standing over makaras which forms a triple-looped makara torana in the background. Boots, which are mostly present in the Surya images of Northern India, are absent in this image.
The above inscribed Mahishasura-mardini image was sponsored by a Haihaya chief named Gandaraditya, who claimed descent from the legendary Sahasrarjuna of Mahishmati, the original home of the Haihayas. The eight arms goddess holds sword, trident, chakra, arrow, conch, bow and a shield. She is shown standing over a buffalo head, having completed her task of killing the demon, Mahishasura.
The above dated image of Vishnu is from 1034 CE and was sponsored by Nakimayya. Vishnu standing in equipoise manner holds conch, chakra and a gada (mace). One of his arm is resting over his hips. Around him are depicted his dashavatara (ten incarnations).
The above equipoise image of Vishnu is placed over a pedestal. Vishnu is holding a conch, chakra and gada. His fourth hand is resting over his hips. Padigar mentions that Vishnu is shown holding a Bahubija-phala, an attribute which is mostly seen during the time of the Chalukyas of Badami (6th-8th century CE). On the background is seen a five-looped torana terminating on rampant lions on either side. Garuda and Bhu-devi are shown standing on either side of Vishnu.
As per Padigar, the above image of Saraswati is the most outstanding piece of plastic art from here. The four armed goddess is sitting over a half-lotus pedestal. The attributes held in her four hands are almost ruined except books held in her upper left hand. Padigar tells that what makes this sculpture unique is the back rest in the form of a frame supported on its flanks by an elephant below, succeeded by a rampant lion above, which is mostly seen in Jaina images.
No foundation inscription is found for this temple. Mention of the sparshalinga of this temple was found in an inscription (South Indian Inscriptions vol XVIII, No 246), dated 1263 CE, which mentions that Vira Vikramaditya of the Gutta family worshiped the lord here. However many inscriptions dated earlier than the former are discovered here. On the basis of architecture and inscription, this temple can be associated with Western Chalukya king Jayasimha II who ruled in the first quarter of the tenth century CE.
Inscriptions –  There are five inscriptions found in the vicinity of this temple.
How to Reach – To reach Galaganatha from Haveri or Ranibannur, follow the road to Guttal – Savanur and then to Galaganatha. Devaragudda and Ranibennur are the nearest railway station
References –
Burgess, James (1885). List of Antiquarian Remains in the Bombay Presidency. Government Central Press. Mumbai.
Cousens, Henry (1926). The Chalukyan Architecture of the Kanarese Districts. Archaeological Survey of India. New Delhi.
Fleet, J F (1878). Pali, Sanskrit and Old Canarese Inscriptions. George Edward Eyre & William Spottiswoode. London.
Hardy, Adam (1995). Indian Temple Architecture: Forms and Transformation. IGNCA. New Delhi. ISBN 8170173124
Palande, M R (1959). Dharwad District Gazetteer. Karnataka Government. Dharwad.
Rea, Alexander (1896). Chalukyan Architecture. Archaeological Survey of India. New Delhi.
Web References –
Shrinivas V Padigar on Artnewsnviews.com, retrieved on 30/11/2012