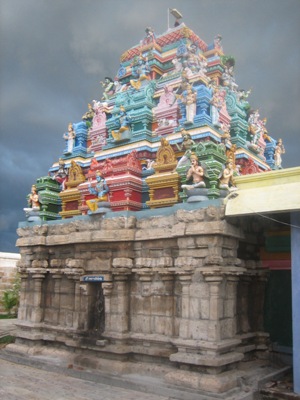 Introduction – Thiruvengaivasal, which means 'Sacred place of gate of a tiger' in Tamil, is connected to Thirukokarnam by a mythological legend. Kamdhenu, a celestial cow, used to shower milk on Shiva lingam at Thirukokarnam. The Lord of Thirukokarnam took form of a tiger to terrorize the cow and test her faith and belief in him. He appeared in form of a lion at Thiruvengaivasal which was on the way from which Kamdhenu used to pass every day. Kamdhenu did not get terrorize as she had her trust and faith with God and hence passed through this test. She got salvation in the hands of the Lord.
Vyaghra-purishvara Temple Vimana
Monuments – Vyaghra-purisvara temple is the main attraction of the town. This early Chola structural temple was later renovated during the Pandya rule in probably thirteenth-fourteenth century. The temple has a covered maha-mandapa, antarala and garbha-griha (sanctum). On north of the mandapa is a sub-shrine dedicated to Brahadambal goddess. As per a legend Raja Ramachandra Tondaiman wanted to install a new image of the Goddess, Amman, as the old statue was mutilated. He had a dream in which the Goddess directed him not to discard the old image. As per traditions, the old image was to be thrown in the temple tank. However the king constructed a separate shrine for the Goddess and kept the old mutilated image in that. This shrine and image is still there in the temple. On south of the temple is a shrine dedicated to Murugan.
View from NW direction
Inscriptions – To be added later
How to Reach – Thiruvengaivasal is about 10 km from Pudukkottai town located near Pudukkottai-Trichy road.
References:
Srinivasan, K R (1996). Temples of South India. New Delhi. National Book Trust of India. ISBN 8123718675
Web References:
1.   www.pudukkottai.info, retrieved on 05.04.2011