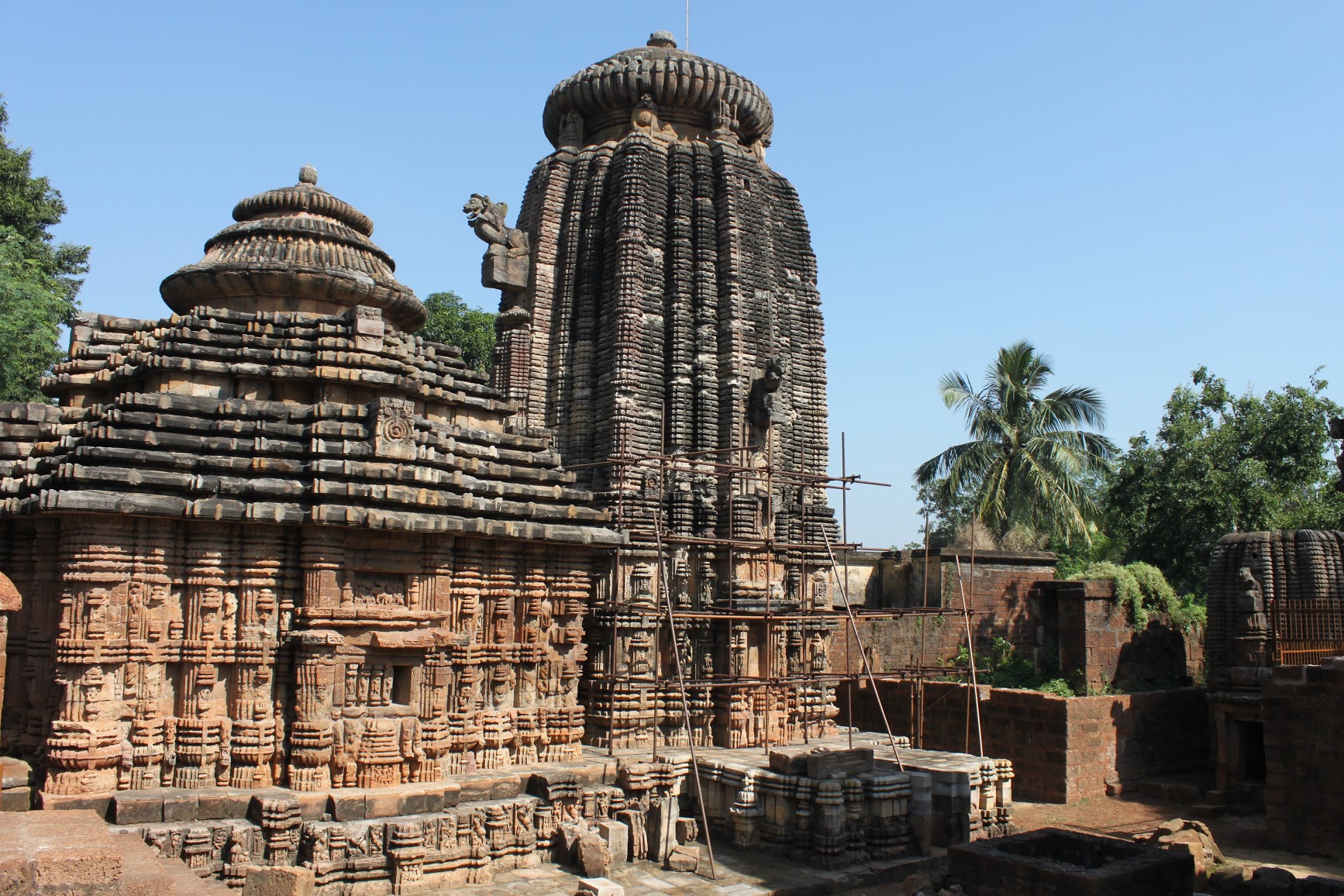 Sari and Suka temples are situated in the same walled compound. Earlier Sari temple was under the protection of ASI (Archaeological Survey of India) and Suka temple was with the Orissa State Archaeology Department. ASI conducted excavations around Sari temple in 2014 which revealed a platform for a twin-temple complex and three smaller temples buried under the ground. To manage further excavations and study, ASI took all the temples in the compound under its protection1. Sari and Suka temples can be placed in 13th century during the Ganga rule while the other three smaller buried temples can be placed in 7th century CE.
Sari Temple – Sari temple faces west and is famous for its exquisite floral and scroll-work carvings. However, it being constructed with soft sandstone material, most of its beauty has already weathered. Alice Boner2 tells that Sari temple is constructed in Ratnasara style where the shikhara is of ten tiers. Its deul is consisted of pitha, bada, gandi and mastaka. The bada is in sapta-ratha plan and consisted of pabhaga, jangha and baranda. The pabhaga is built with regular five mouldings. Jangha is divided into two equal storeys, separated by a madhya-bandhana of three mouldings. Baranda is with ten mouldings. All the pagas are of varying width, raha being the widest, followed by kanika and much slimmer anartha and pratiratha. Kanika-paga, being wider, is decorated with dikpalas and their saktis in its niches. Figures on anartha and pratiratha are placed without niches to save space. Alasa-kanyas, rishis and warriors are carved on these pagas and recesses. The only surviving parshva-devata image is that of Parvati.
Gandi follows the deul in sapta-ratha plan. It is consisted of ten tiers, visible at the kanika-paga separated by bhumi-amalakas. A vajra-mastaka is placed over raha topped with a gaja-kranta motif. Vajra-mastaka on the front is larger than all others on sides. It is topped with a gaja-kranta motif standing above an anga-shikhara.
Jagamohana is nava-ratha in plan. Its pabhaga has five regular mouldings. Jangha is divided into two equal size storeys separated by a madhya-bandhana of three mouldings. Broad kanika-paga has dikpalas and their corresponding shaktis in niches. Images on other pagas are of alasa-kanyas, sages, warriors or royal personage and mithuna-couples. Gavakshas on the raha-pagas are elaborately decorated. Their pabhaga portion has naga-nagi pillars, two on either side, sandwiching a shikshadana-motif in between. This is enclosed under a pidha-mundi above which rests the large window/gavaksha of the lower storey. This gavaksha has five balusters carved with alasa-kanyas. The niche on the upper storey has royal procession motif. The baranda above has seven mouldings. The pidha-roof of the jagamohana has two tiers, lower tier has six storeys and upper one has five.
Main doorway to jagamohana has three bands on either sides. Dvarpalas are partially buried in the ground. Gaja-Lakshmi is present on lalata-bimba of lintel. The architrave above has nava-grhas with Sukra and Brahaspati.
Suka Temple – This west facing temple is constructed in sapta-ratha plan. It was once standing with its jagamohana however the latter did not survive. Now only the deul is left with remains of the jagamohana platform. Its pabhaga is built with five mouldings. Jangha is divided into two equal storeys separated by a madhya-bandhana of three mouldings. Baranda has ten mouldings. Gandi has ten bhumis, reflected in ten bhumi-amalakas on its kanika-paga. Anartha-paga is wider than pratiratha and kanika therefore images on it are enclosed within niches. Shikshadana motif is seen on anartha-pagas. Dikapalas are present on kanika-paga without enclosing niches. All parshva-devata niches are empty at present. All the images are much weathered due to usage of soft sandstone.
As its jagamohana has fallen, the garbha-grha entrance is exposed. Remains of a large vajra-mastaka is seen on its front façade above which rises an anga-shikhara topped with a udyota-lion. Garbha-grha doorway has dvarpalas in pidha-mundis above which rises three shakhas (bands). Gaja-Laksmi is present on lalata-bimba. Architrave has nava-grhas in individual niches.
References:
1 https://www.telegraphindia.com/states/odisha/suka-temple-comes-under-asi-umbrella-request-to-state-archaeology-follows-discovery-of-several-buried-structures-in-the-complex/cid/1593333, retrieved on 09 Sep, 2019
2 Boner, Alice & Sarma, S R (1966). Silpa Prakasa Medieval Orissan Sanskrit Text on Temple Architecture. E J Brill. Leiden. p 62