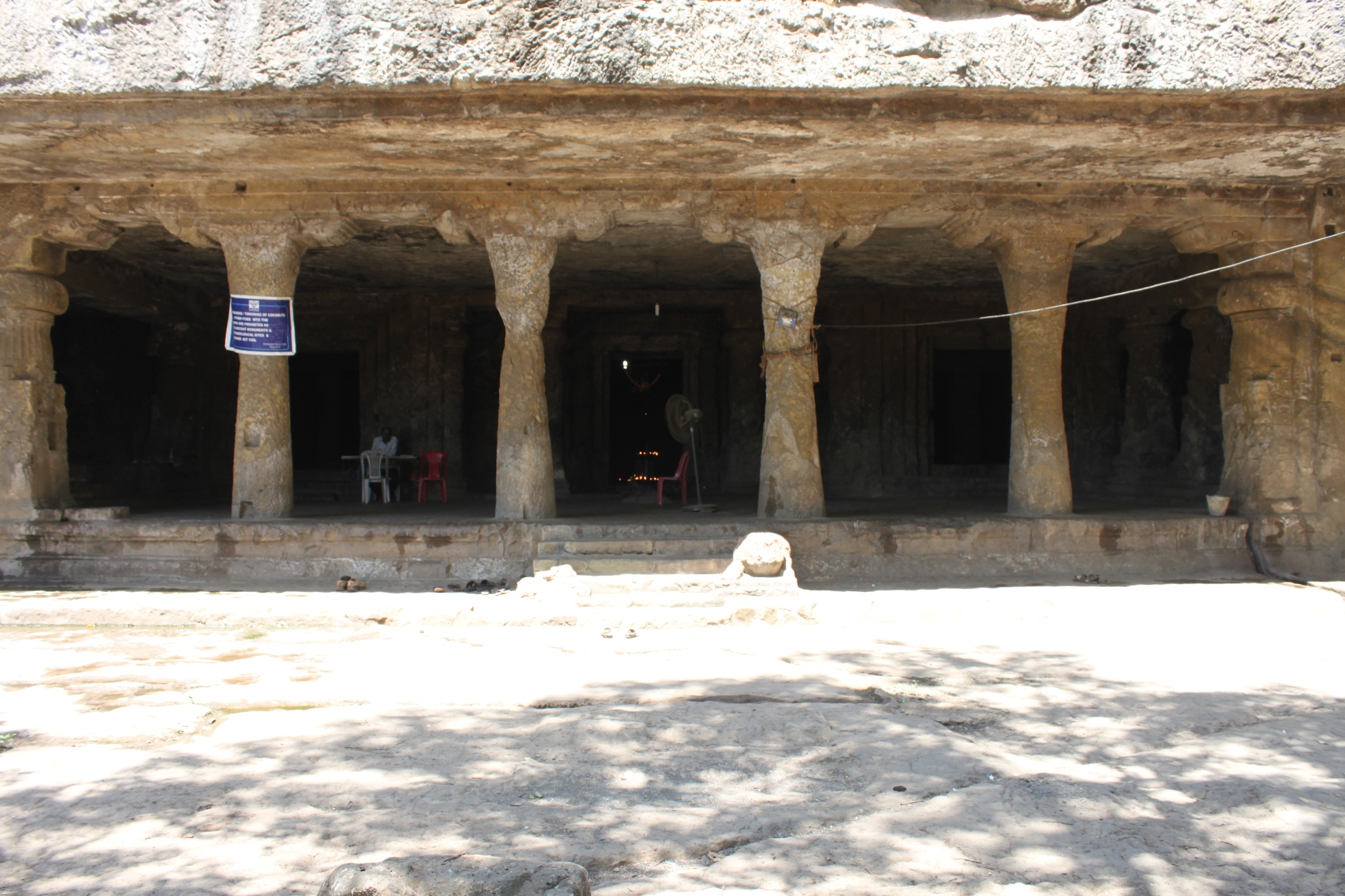 These caves are located on Salsette isle, one of the seven isles which were joined under reclamation drive during the 19th and 20th century CE. At present the area where these caves are located is known as Poisur and falls under Borivili region. J M Campbell tells us that this area was called as Montpezier or Montapcer by the Portuguese. Montpezier could be a derivative of Mandapeshvar or vice-versa.
Past References:
Diogo de Couto (1559, Da Asia Decada) – These caves were first described by Diogo De Couto, a Portuguese historian. He mentions that in this pagoda, called as Manapazer, there lived many jogis and the most famous among them was known as Ratemnar. Priest Fre Antonio de Porto, who was living at Kanheri, was informed of these jogis and he went to meet them. However the jogis were so scared of him that on hearing the news of his arrival, they left the pagoda and went away to interiors.
The priest entered the pagoda and converted that into a Christian church dedicated to Nossa Sra. de Piedale. A royal college was subsequently established for the island of Salsette for the reception and education of the children of all the people converted to Christianity, to which the king D Joao granted the revenues and property formerly belonging to this pagoda.
George Valentia (1802 , Voyage and Travels to India and Ceylon) – He visited this cave after Jogeshvari, and referred it as Mont Pesier. He mentions that this pagoda was cut out of rock just under the church. It is square and flat roofed with a few deities and other figures carved in basso-relievo. These the priests of the church covered up with smooth coat of plaster and had converted the whole into a chapel. However, these were uncovered by the time of his visit and it had again became the object of adoration for the natives.
Henry Salt (1806, The Transactions of the Literary Society of Bombay) –  Salt referred the cave as Montpezir cave. He mentions that the walls and pillars were covered with thick coat of plaster by the Portuguese, which has proved the means of preserving the few mutilated remains of sculpture that their bigotry has spared.
Salt tells about a sculpture, in a recess on the left hand when you enter, representing a nuptial ceremony. A female figure leaning on her attendants seems advancing towards the hero of the piece, who is of gigantic stature and has six arms; in one corner is a musician playing on tom-tom, and above are host of celestial attendants. Salt takes it as the marriage scene of Shiva and Parvati however, he, of course, was referring to the Nataraja panel.
These caves were made part of an extensive monastic establishment founded in the 16th century CE by P Antonio de Porte. King Don John III transferred the cave revenues to this new church. A wall was constructed in the front which hid all the details behind. The caves were then dedicated to Norte Dame de la Misericorde.
There are two caves in the complex, both facing east. The main cave measures 66 feet by 40 feet and 12 feet in height. The open portico is supported on four pillars and two pilasters. The hall inside measures 51 feet by 21 feet.
On lateral sides, two cells are excavated, one on each side. The cell on right has a much defaced image above a deep niche. J M Campbell mentions that it is here where it has been fitted as a Portuguese church, with a plain altar and seated wooden image of the Virgin Mary at the south end, and a pulpit about the middle of the west wall.
The cell on the left has a deep niche with a Christian cross carved above. This cross is probably a modification carried out by the Portuguese, over a Shiva image. This cell is attached to cave no 2 which also has an entrance from east. The entrance from north is allowed through a hall which is supported on two pillars and two pilasters at the entrance. One of pillar is no more intact except for its base.
The hall of the cave has five cells in total, two on its lateral sides and three on its back wall. These cells are quite large in comparison to cells usually seen in Buddhist caves and the reason is of course the usage. The middle cell of the back wall is at present used as garbhagriha. This shrine is 16 feet square, and J Burgess mentions that it was empty originally. Now there is a Shivalinga which is under worship.
The cell on south has a huge relief panel depicting Shiva as Nataraja. Shiva stands in the center with various attendees on either side. Many of his hands are now broken along with the lower part of his body. Tandu on drums is seated on his right. Ganesha is shown above Tandu. Brahma and Vishnu are shown on top corners, left and right respectively. There are three female figures on left of Shiva, who seems to be spectators of the divine dance. J M Campbell mentions presence of Indra above Ganesha however I did not find Indra in this panel.
On a lateral wall of this hall, there is an image of Lakulisha. He is shown seated holding a lakuta (rod). Presence of Lakulisha supports presence of Pashupata cult in this area. Lakulisha is also present at Jogeshvari and Elephanta, the other two Hindu cave shrines in this region. This strongly supports that in between 6th and 8th century CE, Pashupata cult was patronized by the locals.
Northern cell of the back wall has two halls, separated by a row of two pillars, one pillar is no more there. The back wall of this cell has a relief panel which is much defaced by now. From what all is left out, K V Soundara Rajan conjectured that it was of Lakulisha shown seated in middle over a lotus whose stalk was held by two nagas below. This lotus platform is very similar to Buddhist panels where Buddha is shown seated on similar lotus seat.
Dr Qureshi mentions that on Lakulisha's left is seen Nrrti (or Kubera) over a human being, Indra on elephant and Yama on a buffalo. Below them are two horse riders. On Lakulisha's right is shown Brahma holding a water vessel, Kartikeya over a peacock. There are traces which suggests that Ganesha was also there in the panel. I have not seen such an elaborate panel dedicated to Lakulisha. If K V Soundara Rajan and Dr Qureshi is right then this panel supports the view which I mentioned above that this area was a prominent Pashupata cult center during that period.
Abuse of Mandapeshvar caves started in about the middle of the sixteenth century CE and lasted till the middle of nineteenth century CE. In 1556 CE, the Franciscans changed the cave temple into a catholic chapel. They built a wall in front of the cave and screened off most of the sculptures. J M Campbell rejects the statement made by De Couto that when in 1538 the Franciscans received charge of the Kanheri and Mandapeshvar caves and expelled the yogis, they their best to destroy the sculptures. However as many of the Kanheri sculptures are not destroyed hence this statement is not correct in entirety.
Marathas won over the Portuguese in 1737-38 CE under the command of Peshwa Bajirao I. Dr Quershi tells us that Chimaji Appa, the younger brother of Bajirao I, restored the worship in the cave. J M Campbell informs citing Du Perron that when the Marathas took Mandapeshvar and Elephanta, they did much harm to sculptures by firing canons in the caves to loosen the mortar with which the Portuguese had hid the figures. I am not very sure how true this statement could be.
J M Campbell states that the Marathas destroyed the place and took timbers to Thana. Lord Valentia in 1804 visited this place and seconded Du Perron, however his points were made for the church and monastery but not specific to the caves in question. The caves was used as a church till quite late. Dr Wilson who visited it in 1850 mentions that the Roman catholic inhabitants were using these caves as a church because their original church was in ruins.
Dating of the caves cannot be done with certainty as there are no inscriptions found. However based upon its style and architecture, J Burgess assigns it between sixth and eighth century CE.
How to Reach: These caves are located about 4 km from Borivili railway station. The road is known as L M Road (Lakshman Mhatre Road) and the area is known as Poisur.
References:
Campbell, J M (1882). Gazetteer of the Bombay Presidency vol XIV.  Government Central Press. Bombay.
Fergusson, James and Burgess, James (1880). The Cave Temples of India. Munshiram Manoharlal. New Delhi. ISBN 8121502519.
Fletcher, W K (1844). Coutto's Decade VII, Book III, Chapter X, published in the Journal of the Bombay Branch of the Royal Asiatic Society vol I. American Mission Press. Mumbai.
Patel, Samir S (2007). Mumbai's Rough-Hewn Legacy, published in Archaeology April 2007. New York. USA.
Qureshi, Dr Dulari (2010). Rock-cut Temples of Western India. Bharatiya Kala Prakashan. Delhi. ISBN 9788180902024.
Salt, Henry (1819). Account of the Caves in Salsette published in Transactions of the Literary Society of Bombay vol I. John Murray. London
Soundara Rajan, K V (1981). Cave Temples of the Deccan. Archaeological Society of India. New Delhi.