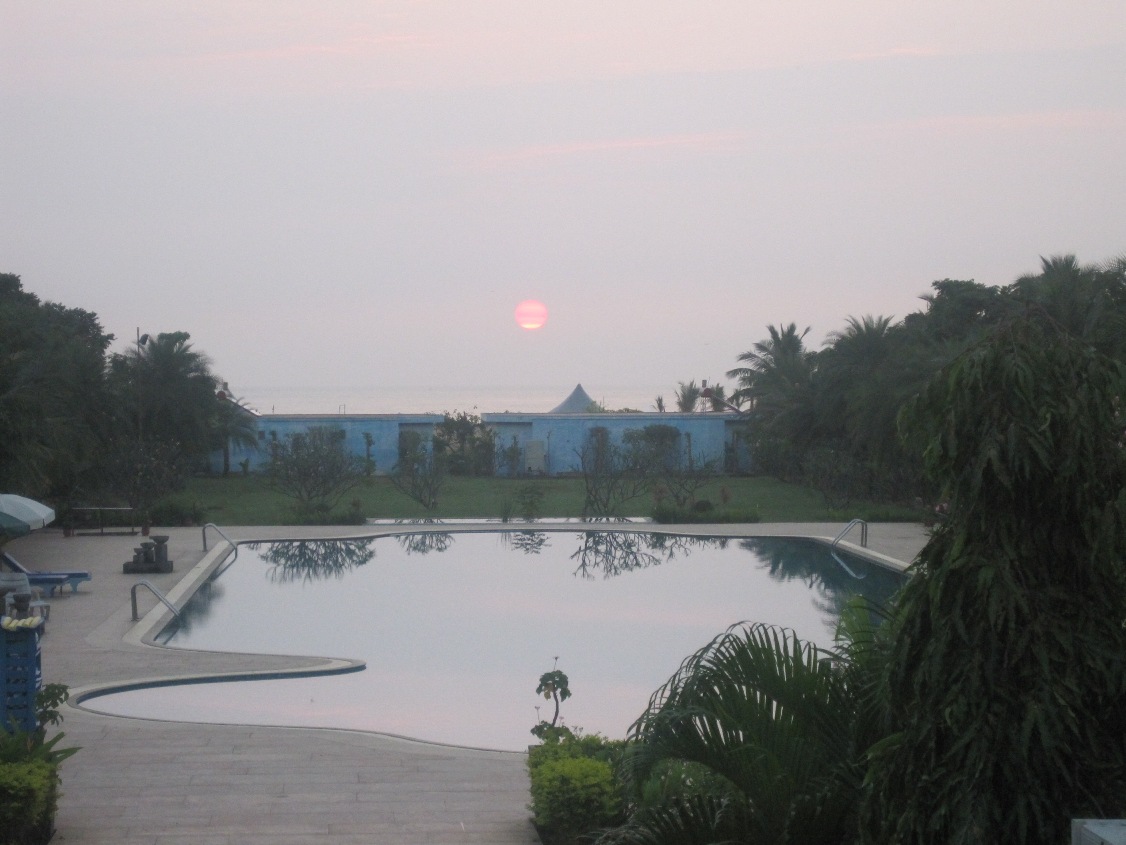 General Information
Conclusion – Now I assume that we are in position to come at some conclusion about the monuments at Mahabalipuram. By conclusion, I do not mean that we might have solved the puzzle of 'Atyantakama 'or the exact builders of the monuments, however we many align to a theory among the many ones proposed from various scholars.  Before coming to a conclusion, let's have a look again on the issues related to this topic.
1. Not all the monuments are with inscriptions hence we need to look at the architectural style so that we may date this
2. The inscriptions, though limited, do not give the real name of the king but his birudas (titles). As many of the Pallava kings bore same birudas hence the tasks to assign a monument to a king gets tougher.
From point 1, it is very clear that architectural style plays an important role in defining the assignment of the monument. However it is not so easy as it looks. Let's see the issues related to study of architecture:
1. We can definitely say that what was the initial architectural style and how it advanced with time.
2. This advancement could happen within the regime of one king or may span across various regimes.
3. It is not always that one single architectural style was followed in the regime of a king, instead several styles may have been in practice. Hence we may see primitive Pallava style buildings in very later time, such as in Rajasimha's time.
4. Assignment of architecture with the king is very confusing in my opinion. I feel that the architecture lies with the artist and guilds, and they may not change when the ruler changes. As example, the architecture followed by guilds of Mahendra's time may be followed in other king's, after Mahendra, time as well.
5. Also the location of the guilds may have impact over architecture. One guild at Mahabalipuram may come out with different concepts than the guild at Kanchipuram.
6. Also the architecture may depend upon the patronage and expenses. A temple with royal patronage may be very different from another temple constructed without royal patronage. For example, a king can spend a lot and provide enough time to come out with the best from the guild, however a local chief may not provide both hence his construction may not show all the advancement of architectures.
Gangadhara panel in Upper Cave, Trichy
Let's start with the earliest cave temple of the town, Adi-Varaha Perumal Temple. This cave temple has portraits of two Pallava kings. Another interested figure is of Shiva as Gangadhara. We have one important Gangadhara image at Upper Cave in Trichy. This cave of Trichy is assigned to Mahendravarman I. Now if we compare these two images, the image at Adi-Varaha Perumal looks prior to that of Trichy. If this is accepted in that case can it be inferred that Mahendravarman I was involved with this Adi-Varaha temple? If we all agree here then the other part of the puzzle, related to this temple, becomes very easy. The two royal portrait then represent Simhavishnu, father of Mahendravarman I, in seated posture and Mahendravarman I himself in standing posture. Many of the cave temples of Mahendravarman I are near Kanchipuram and Chennai area. Mahabalipuram is somewhere between Kanchipuram and Trichy, or we better say south of Kanchi and North of Trichy. So it is quite probable that Mahendra did some constructions here. Carving out father's image does not seem improper, simply giving respect to his father. Another issue is with principal deity of the temple, Vishnu. Mahendravarman I states in his Trichy inscription that he converted from some hostile faith to worship of Shivalinga. However this does not mean that he was against any other deity. Also his two cave temples, Mahendravadi and Singavaram, are dedicated to Vishnu. So if this temple is dedicated to Vishnu, then there is no surprise. One more issue still remain, the style of the pillars. This temple has pillars with seated lions as base. As I stated earlier, this could be an example of the architectural change in Mahendra's time probably. This temple is in worship at present time, hence it would have been a temple of importance in olden days, probably a royal temple. Presence of later inscription, one Chola inscription and one Pallava inscription supports the theory that the temple was of importance.
Horizontal Shines frieze above the cornice
Are there some other monuments in Mahabalipuram which can be attributed to Mahendravarman I? It's hard to say no as many cave temples depict the earlier pillar style which is very characteristic of Mahendra's early time. In these examples is Dharmaraja Mandapa, Kotikal Mandapa and Koneri Mandapa. We have not seen the horizontal frieze of shrines, above the cornice, in other Mahendra caves. This feature is only seen at Mahabalipuram. Does this feature suggests later Mahendra style or an architectural style introduced in Mamalla period? In my opinion this style would have been come up in Mamalla period. In such a case, there is a possibility that the cave started during Mahendra's time but later completed in Mamalla's time. As the front face of the rock might be the last part to get finished, hence this part would have been completed by Mamalla. In such a case Koneri Mandapa would have been completed in Mamalla's time.
If we accepted the above mentioned shrine frieze of Mamalla style then the Rathas at Mahabalipuram can be assigned to Mamalla.Except Draupadi Ratha, all other rathas contains these mini shrines in their vimanas. Dharmaraja Ratha has an inscription of Pallava King Atyantakama. Two Pallava kings seems to bore this title, Parameshvaravarman I and Rajasimha. The somaskanda panel of Dharmaraja Ratha is different from all other somaskanda panels of Rajasimha. This suggests that the inscription would have been put by Parameshvaravarman I. The size and measure of this ratha seems appropriate that its construction spanned across the times of two kings. However assignment of a monument like Dharmaraja Ratha, which is rich in inscriptions, seems little strange as we do not find any inscription, Vatapikonda. Mamalla got the title of Vatapikonda on victory over Chalukyas. Chalukyas being old enemies of Pallavas, this title seems very important. However as it is assumed that Mamalla was involved in many monument of Mahabalipuram, then why he never inscribed his prestigious title? I have no answer for this as of now, let's see if we get this answer sometime in future.
The magnificent bas-reliefs of Mahabalipuram, Arjuna Penance and Krishna Mandapa, do not have any inscriptions. It is very strange that why the Pallava kings did not leave their inscription on such magnificent pieces of art. Most of he scholars assign this to the time of Mamalla. This could be true as we have seen some nice panels done in his time.
All structural temples at Mahabalipuram are assigned to Rajasimha as it is accepted that this kind of architecture started by him. One puzzle is the early Vishnu temple, which is sandwiched between two Shiva temples in Shore Temple complex. All other temples of Rajasimha are dedicated to Shiva. Vishnu temple in Shore Temple complex is the earliest one among all three. Was this Vishnu temple built by some king earlier than Rajasimha? It is not that Rajasimha was staunch Shiva, some of his title suggests affinity to Vishnu as well. But as his other temples are dedicated to Shiva so it is little strange to see a Vishnu temple. Also if this temple is the creation of Rajasimha only then why he constructed two bigger shrines for Shiva on the same platform as of Vishnu temple. Little strange however no answer I have now for this.
Food and Accommodation – Mahabalipuram is a UNESCO World Heritage Site hence is a major tourist site. There are many options for accommodation suiting every budget. Most of the high-end resorts are located few kilometers away from the main town. Hotel Mamalla Heritage is a good option as it is located very near to bus stand and in middle of the town. There are plenty of food options. Mahabalipuram is a coastal town hence you will get good sea food options here. Moonrakers and Le Yogi are two good options for food, western food specially.
How to Reach There – Mahablipuram town is located about 60 KM from Chennai, which is the nearest railway head and airport. Regular bus service is available from Chennai to this town.
References –
1.   Brown, Percy (1959). Indian Architecture (Buddhist and Hindu Periods). Mumbai.
2.   Carr, M W (1869). Descriptive and Historical Papers relating to Seven Pagodas on the Coromandel Coast. Madras
3.   Coombes, J W (1914). Seven Pagodas. Madras. Asian Education Services. ISBN 8120614240.
4.   Dubreuil, G Jouveau (1917). The Pallavas. Madras. Asian Education Services. ISBN 8120605748.
5.   Dubreuil, G Jouveau (1917). Pallava Antiquities. Madras. Asian Education Services. ISBN 8120605713.
6.   Dubreuil, G Jouveau (1917). Dravidian Architecture. Madras. Asian Education Services. ISBN 8120602560.
7.   Fergusson, James (1910). History of Indian and Eastern Architecture. New Delhi. Low Price Publication. ISBN 8175364092.
8.   Heras, H (1933). Studies in Pallava History. Mumbai. B G Paul & Co.
9.   Konow, Sten and Venkayya, V (1910).  Epigraphia Indica Vol X. Archaeological Survey of India.
10. Lockwood, Michael (1993). Mamallapuram – A Guide to the Monuments. Madras. Tambaram Research Associates.
11. Longhurst, A H (1930). Pallava Architecture 3 vols. Archaeological Survey of India
12. Nagaswamy, R (2008). Mahabalipuram. Oxford University Press. ISBN 0195693736
13. Sastri, Rao Bahadur H. Krishna (1946). Two Statues of Pallava Kings and five pallava Inscriptions in a Rock Temple at Mahabalipuram. Archaeological Survey of India.
14. Siromoney, Gift (1970). Pallava Dvarapalakas and the Mahishasuramardini Cave at Mahabalipuram.
15. Sivaramamurti, C (1955). Mahabalipuram. Archaeological Survey of India.
16. Sivaramamurti, C (2006). Mahabalipuram (World Heritage Series). Archaeological Survey of India.
17. Srinivasan, K R (1964). Cave Temples of the Pallavas. Archaeological Survey of India.
18. Srinivasan, K R (1975). The Dharmaraja Ratha and its Scupltures. New Delhi. Abhinav Publications.
19. Srinivasan, K R (1996). Temples of South India. New Delhi. National Book Trust. ISBN  8123718675.