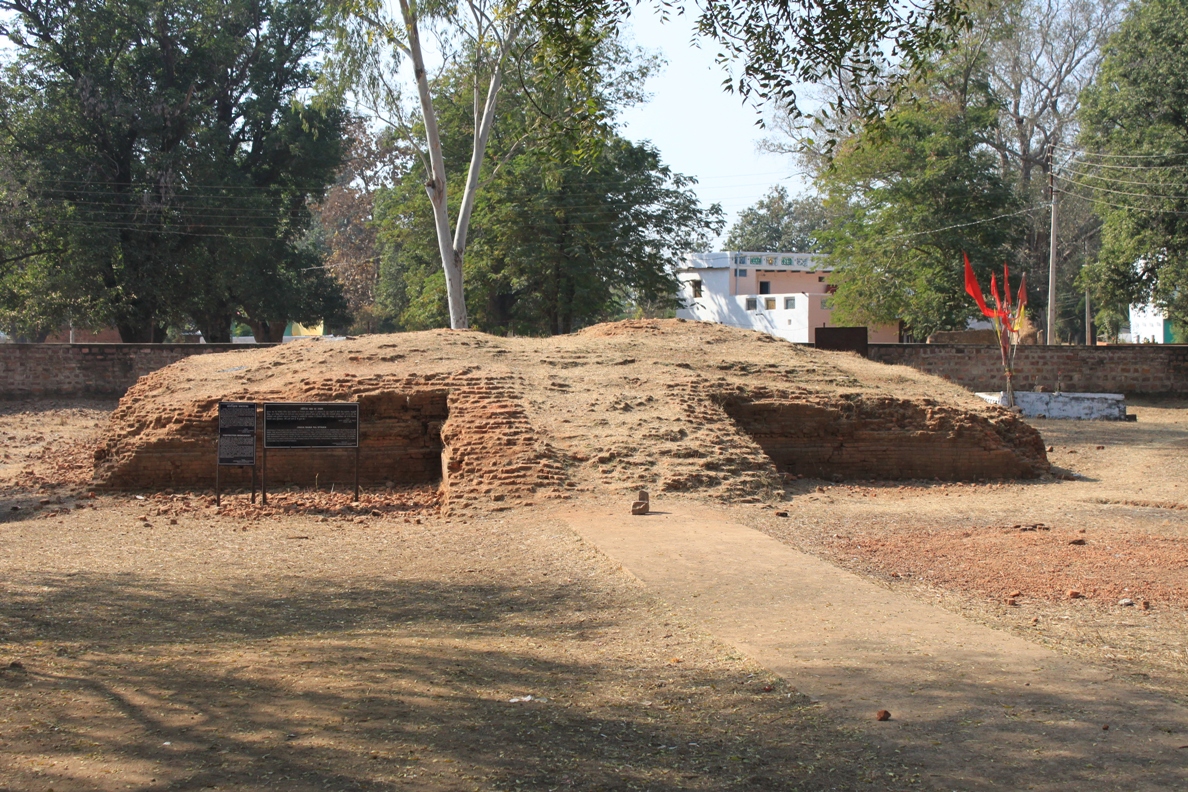 Introduction – Dithwara (ढिठवारा) is a small village in Katni district of Madhya Pradesh. It is famous for ruins of a large brick temple which is dated to the Gupta period.
Monuments – There is only one monument of interest in this village.
Jogia Baba ka Sthan – The remains of this brick temple remains with two sculptures came into light in 1964 during village-to-village survey scheme of ASI (Archaeological Survey of India). The Department of Archaeology and Museums, Madhya Pradesh cleared the site by removing debris in 1978 which exposed the plinth of this brick temple. From the size of the bricks, 30 to 32x21x6 cm, and other notable features, the temple has been assigned to fourth-fifth century CE, in the Gupta period. Though the information board put up by the Department of Archaeology and Museums, Madhya Pradesh mentions that this temple was built in seventh-eighth century CE, post-Gupta period, but S N Mishra puts the temple in the Gupta period.
This east facing temple has been reduced to only plinth at present. The plinth, measuring 21×15 m, of the temple is in box pattern consisting of sixteen cells. The walls are 2.35 m high and a molded brick frieze is used in the center of these walls for decoration. Three cells are arranged at the back of garbhagriha, middle is rectangular and corner ones square. Garbha-griha measures 3.75×3.50 m. On left and right of the garbhagriha are rectangular cells, and in front of these cells are five cells on each side of the longer axis. This arrangement of cells suggests that the temple was constructed to have a garbha-griha, a mandapa and a ardha-mandapa.
Statues of Vishnu, Balarama, Saraswati and upper portion of an another Vishnu were found during excavation which suggests that the temple was probably dedicated to Vishnu. Statues of Vishnu and Saraswati were stolen from here and after this incident rest of the images were moved to Rani Durgavati Museum in Jabalpur. During the conservation, the top course of the structure was water tightened and fencing was done around the complex.
These days it is referred as Jogia Baba ka Sthan as one mendicant took shelter in this complex long back. It was hard to find this place as the local people were very restrictive in telling the location due to fear of repetition of another theft. Though there is no statue now in this complex, as all are removed to a museum in Jabalpur, still local people think that there may be something in the debris which may attract thieves. However if you state your noble purpose, they will help you in locating this temple.
How to Reach
– Dithwara is about 18 km from Katni. Take right turn on Katni bypass if you coming from Jabalpur. After 1.5 km you will reach Mudvara railway gate. Take left turn there for Kanhwara which is about 7 km. From here take left turn on Parkhuri road which passes through Dithwara. Dithwara is about 1 km from Kanhwara.
References:
Indian Archaeology Review 1978-79. Archaeological Survey of India. New Delhi.
Mishra, S N (1992). Gupta Art and Architecture. Agam Kala Prakashan. New Delhi.
Web References:
http://www.mparchaeology.org/monuments_gall/Katni/jogiababa/classic.html