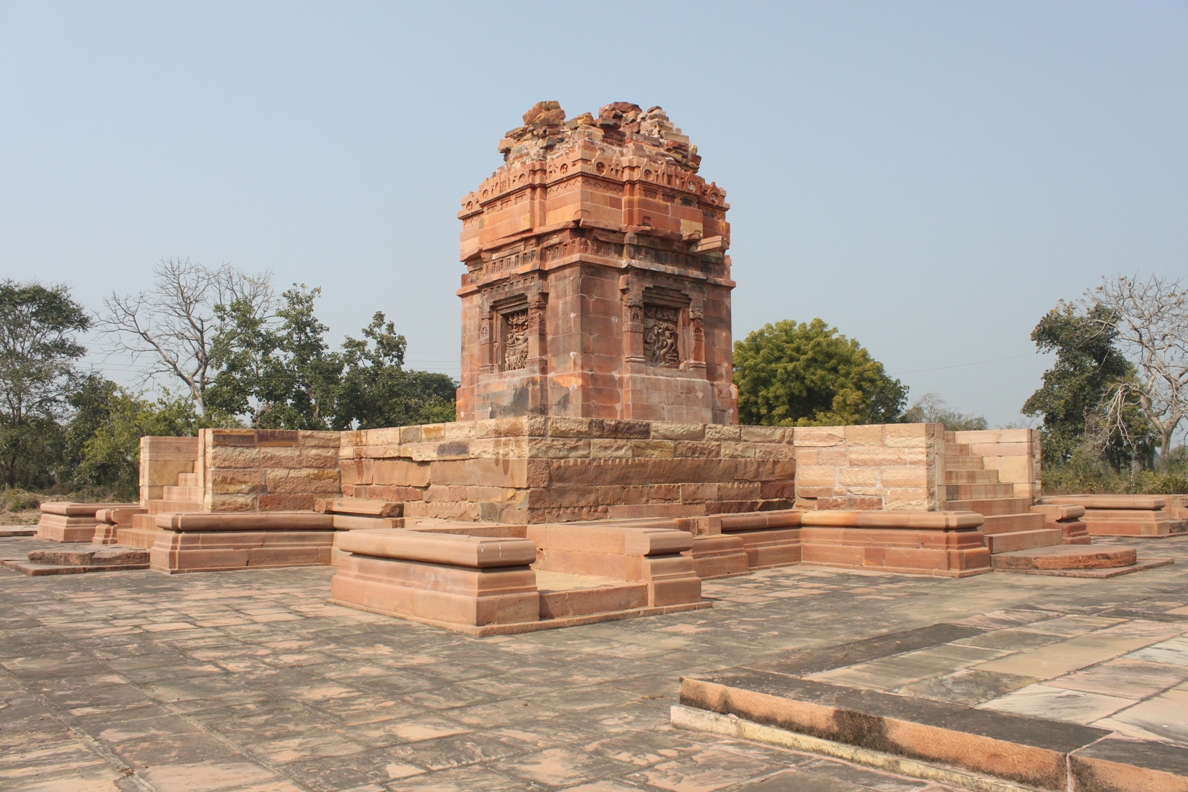 Introduction – Devgarh(देवगढ़) or old Deogarh is situated at the bank of Betwa river which encircles it from three sides. It is a small village however an important pilgrimage site for the Jaina community. It has been referred as Lauchcchagira in a ninth century CE inscription of the King Bhoja. A fort was constructed here and the village thereafter is named as Karnali-ka-kila (the fort of Karnali). However who was this Karnali and when this name change happened is still unknown.
The town witness an another name change when the Chandellas won over this region from the Paramaras of Kanauj in 1097 CE. An inscription of the Chandella king Kirtiverma engraved by his minister, Vats-raj, informs that the Chandellas emerged victorious in this war and the place is referred as Kirti-giri-durg, probably on the name of the Chandella king. The present name, Devgarh, is probably due a local Dev dynasty which flourished in the nineteenth and twentieth century CE.
General Epigraph – This section describes epigraphs which are not connected to a particular monument.
Rock inscription of Kirtivarman – Corpus Inscriptionum Indicarum vol VII part III – language Sanskrit, characters Nagari – dated in Vikrama Era 1154 (1098 CE) – The inscription gives genealogy of Kirtivarman for three generations, his father Vijayapala and grandfather Vidyadhara. There is an allusion of Kirtivarman's victory over the Kalchuri king Karnadeva. Vatsaraja, Kirtivarman's chief minister and  counselor, wrested the surrounding region from an enemy and constructed the fort of Kirtigiri, which probably refers to the fort of Devgarh.
Monuments – There are many monuments in and around Devgarh, majority of which are Jaina. There are few rock-cut carvings as well in the valley of the river. However the main attraction is the Gupta temple, locally known as Dashvatara temple.
Dashavatara Temple –  This temple was first described in details by Alexander Cunningham in his tour of 1874-77, where he referred it as The Gupta Temple cause no name was found for this temple. P C Mukerji in his report of 1899, referred it as Dashavatara Temple or Sagar Marh due to presence of ten incarnations of Vishnu depicted on the temple and nearby rock-cut well. Daya Ram Sahni excavated the site and found various panels depicting scenes of Ramayana however he did not find panels with incarnations of Vishnu hence he did not refer it as Dashvatara Temple but merely as the Gupta Temple.
Pandit M D Vats, who carried out excavations after Daya Ram Sahni, found various panels depicting Vishnu's incarnations like Balarama, Narsimha, Vamana etc, however he goes with Cunningham and Sahni to refer the temple as the Gupta Temple at Devgarh rather than calling it Dashavatara Temple. As this is the only Gupta temple at Devgarh so no confusion arises even if we refer it as the Gupta Temple. These days it is referred as Dashavatara Temple.
This is probably the only surviving earliest temple of the Gupta period which has a shikhara (tower). However, looking at the style and plan of this shikhara it appears to be of quite an evolved period. Though the shikhara of the temple has only survived partially, a conjectural restoration by Pandit M S Vats suggests that the tower was a straight-edged pyramid built in receding tiers, three in number. On center of each, a deeply recessed niche is planned which is carried upward till the spire. On this niche is present a chaitya-arch which is the principal decorative element as well. This arch is topped with pointed triangular medallion in center. Amalakas were placed on the corners and the top of the uppermost tier. On these grounds, this temple shikhara aligns with the Dravidian style rather than with the Nagara style prevalent in Northern India.
This temple is also the earliest known example of panchayatana style where a central shrine is surrounded by four corner shrines. Fragments of corner shrines are revealed during the excavation carried out by Daya Ram Sahni. The temple is constructed on high-raised plinth. The parapet of the plinth was decorated with two series of rectangular sculpted panels separated by means of pilasters which are carved in typical Gupta fashion. Cunningham mentions of 80 such panels, 16 on each side and 4 on the walls of the staircases of that side making 20 on each side. Remains of many of these panels have been found however the count does not go to 80. At present, there is no such panel in situ except the two pieces. Most of the excavated panels are exhibited in the National Museum at New Delhi.
The plinth is 55.5 feet square and virtually divided into nine equal size squares. The main shrine is built in the central square of 18.5 feet square. The sanctum is 9.75 feet square from onside. There is a shivalinga-peetha inside the sanctum which probably made Percy Brown to suggest that this is a Shiva temple. However Cunningham, Mukerji, Vats etc are unanimous in stating that the temple is dedicated to Vishnu. Presence of a Vishnu image in the center of the door lintel also supports the Vaishnava character of the temple. Access to the platform is provided from all the four sides though staircases in the middle. There are four corner shrines, placed on each corner, measuring 11 feet square. This plinth would have been 9 feet high from the bottommost step of the staircases, and an extra two feet of parapet would have added to further raise it from the floor of the plinth.
The shrine in the center of the plinth is facing west. The door is exquisitely carved and there are deep recessed niches on each of other three walls. Cunningham suggested that there was a covered canopy on all the four sides supported on four pillars. Percy Brown suggests that it was not a canopy but a mandapa (portico) on all four sides. R D Baanerji suggested a covered circumambulation path around the temple similar to the Parvati Temple at Nachna. The latest study by M S Vats rules out any of these devices as there was just a shade, 5 feet wide, which is supported on the jutting cantilever beams on all four sides. This shade was probably built to protect the niches. The slabs forming this canopy were tapered outward.
The elaborate doorway of the temple is built with four receding bands. Two extreme-most bands on either side are resting on a figure of a lady, who seems to be of some high gentry as evident from her clothing and jewelry, who is accompanied with a pot-bellied gana (dwarf) holding a pot which resembles to pot-and-foliage style of the Gupta order. Above this pot rises the first band of the door which is constituted of dhatura foliage with its fruits. The top part of this band is cut-off with the fitting of Ganga mounted on makara on proper left and Yamuna mounted on a tortoise on the proper right. These figures mark the vertical end of this band, from here the band continues horizontally over the lintel of the door. Presence of Ganga and Yamuna on top of the door-jambs is usually seen in early Gupta temples.
The next band starts above the figure of the lady described before. This band is carved on two sides, front west side and lateral south side. Both the sides have two panels each. These two countersunk panels are in form of niches of a temple.  The shikhara of these panel temples give clues about the form of the shikhara which once adorned the sanctum of this shrine. The lower panel has a male figure on west and a lady on south. Both are shown holding garlands or flowers. The top panel has a dancer on west and a musician on south. The musician of proper left jamb is holding cymbals while that on proper right jamb is holding a drum. The shaft above these panels become octagonal and later turns to sixteen-faceted topped with pot-and-foliage capital. A overhanging lintel is resting above these two bands. The lintel has three large chaitya shikharas and two small chaitya shikhara in alternate fashion. The small chaityas have a figure inside, one seems to be a human and another an animal, probably a lion. In between the lintel of dhatura-foliage band and the current band, a window pattern frieze is provided. This frieze had embossed and countersunk panel in alternate fashion. The embossed panels have heads of lions and human while countersunk panels are empty.
The next two inner bands have a figure of male and female at their bases. This male may be taken as the dvarapala of the shrine while the female might be his wife. A halo behind the male figure suggests his high ranking probably. Above the head of the lady rises the third band which has six rectangular panels, three small and three big in alternate fashion. The small panels has figures of dwarfs in pair while the bigger panels have amorous couples. A kirtimukha adorns the top of the jambs. Horizontal frieze over lintel has flying ganas converging towards the central figure over the main lintel.
The fourth and the innermost band emerges above the head of the dvarapala. The left side of the band is formed with a vertical line of circular rosettes while the right part is consisted of a foliage which emerges from the navel of a gana. In between the foliage, few human figures are depicted plucking flowers. The foliage continues over the lintel. An image of Vishnu is provided at the center of this lintel. Vishnu is seated over a coil of Shesha (serpent) whose seven head hood makes a canopy above the Vishnu's head. Goddess Lakshmi is seated near the coil holding the right leg of Vishnu. Garuda, probably, is shown standing on the proper right side. Narasimha is standing in reverence, holding both his hands in Anjali postures, on the right side of Vishnu. This is a very queer feature where Narasimha is shown in adoration of Vishnu. I am not sure if we have any other similar figure anywhere. Though Vishnu seated over the coil of Shesha is also a rare occurrence, however a similar figure, in very large proportions, is found in the Badami Cave.
There are three deeply recessed niches on three external sides of this temple. The niches are enclosed within asset of pilasters supporting overhanging lintels. Rectangular bosses are present on these lintels, but all are empty. North side niche has a depiction of Gajendra-moksha. The story, as mentioned in Brahmanda Purana, tells that the elephant's leg was caught by a crocodile in a lake. The elephant called Vishnu for help and the latter appeared as a deliverer and rescued the elephant. However instead of a crocodile, we find here a Naga with his wife. Vishnu is riding over Garuda, the latter is depicted with his wings. Naga and his wife are in mode of apology and asking forgiveness from Vishnu joining both their hands. Above the panel are flying couples, one on either side. The males are holding a crown, probably to honor Vishnu for this act of deliverance.
Niche on east side depicts the scene of severe penance undertaken by Nara and Narayana. Nara and Narayana are known as the fourth incarnation of Vishnu as mentioned in Bhagavata Purana. Cunningham identified the four-armed figure of this panel as Shiva and three-headed figure over lotus as Brahma but no identification of any other figure. Anyhow, Cunningham is not right in his identifications. This panel's identification with Nara and Narayana's penance is based upon the iconographic descriptions given in Vishnudharmottara Sutra. Narayana is seated on proper left in lalitasana posture. He is shown with four hands, carrying akshamala (rosary), a lotus stalk (identified as long necked flask by M D Vats), probably a flower stalk in one of the upper hand. Nara is shown seated on proper right side and shown with two hands carrying a akshamala. His one hand is near his leg with two fingers extended and pointed towards the ground. This hand posture is similar to bhumi-sparsha mudra mostly seen in Buddha images, as suggested by J N Banerjea as well. Both, Nara and Narayana, are seated under a tree.
Near the top of these trees are flying couples at the ends and a female figure in between the trees. This female is identified as Urvashi by Ramachandran as Urvashi is supposed to have emerged from the thighs of Narayana. Two ascetics are shown standing behind the figures of Nara and Narayana, one at each end. Deer and lions are also carved to produce an environment of a forest. Uppermost part of the panel has a figure of Brahma, seated on a lotus, in the center and accompanied by two flying figures of couples, one on either side.
South wall niche shows a scene of Vishnu resting over the coils of Sheshanaga. The seven-head hood of Shesha makes a canopy over Vishnu's head. Vishnu is shown resting with his head raised above on support of one of his hand. He is not holding any attribute in his hands. A female figure, holding his right leg, is shown near his feet. T A Gopinatha Rao identifies this figure with Bhu-devi while M D Vats suggests that it should be Lakshmi. Another lady figure is shown standing behind the former female figure. Gopinatha Rao does not identify this figure with Lakshmi however M D Vats does so. I am not very sure if we can identify this female with Lakshmi as this depicts her lower status, why she should be shown holding an umbrella or chowri?  Besides this female figure is a standing male figure holding a snake around his neck, This can be identified with Garuda. Below, the Shesha coil, six figures, five male and one female. The female is identified with Laksmi by Gopinath Rao however this is not correct.
Four figures from proper right, including the female figure, represent four ayudha-purushas (anthropomorphic forms of weapons) of Vishnu. These are Kaumaudki gada (club) in female form, Sudarshana Chakra (discus), Sarnga dhanush (bow) and Nandaka (sword) all in male forms. Two male forms on proper left extreme represent two demons, Madhu and Kaitabha. Upper part of panel has Brahma emerging from somewhere behind Vishnu but not from his navel. Cunningham identifies this three head figure as Shiva, and the second figure right of the former as Brahma riding over a swan. However he was wrong in his identifications. Kartikeya and Indra are shown on their respective mounts on the right side of Brahma while Shiva with Parvati on Nandi accompanied with a gana is on the left side of Brahma.
Cunningham found two pillars, 9.5 feet high, of the Gupta order lying over the plinth. He thought that these pillars would have been used for supporting a portico as seen in other Gupta temple. But he found  that there is no pilaster provided on side walls so how portico roof would have been supported. Then he found portions of architraves, 3 to 4 feet long, coming out from the top of the side walls. But these architraves are at the height of 13.5 feet. He then suggests that as the pillars are without base and capital so if we add these two parts then the pillars will reach 13.5 feet height. This makes him suggests that there would have been a canopy with flat roof on each side of this temple. However no base and capital was found at the site. Also his plan suggests total of sixteen pillars however only four such pillars are found.
Percy Brown also proposes a portico supported on four pillars with wider inter-columniation attached to each side of the temple. However his conjectural model shows that the flat roof of this temple is supported on pilasters on the side walls but there is no pilaster there in actual as also reported by Cunningham. M D Vats does not go with Cunningham or Brown as he states that there was no portico supported on pillars. His reasoning is based upon lack of findings of such pillars at the site. He then suggests that the architraves jutting out of the walls were used to support flat stone roof to provide a shade on all four sides. This stone roof was tapered at the outside and no support was provided from the pillars as the architraves were adequate enough to support this roof.
Only few of the 80 panels which were adorning the side walls of the plinth have survived. Stories of Ramayana and Krishna are depicted in these panels and this is probably the first such depiction of the these two Indian epics which have enjoyed popularity among the Indian crowd since time immortal. Story of Ahalya's redemption, Rama going to exile with Sita and Lakshmana, their visit to Atri's hermitage, Lakshmana mutilating Suparnakha, Ravana abducting Sita etc are seen over ten such Ramayana panels found here. Krishna's birth, Nanda and Yashoda fondling their kids, Krishna hurling a cart, Krishna holding hair of Kamsa are few stories seen related to Krishna in eight panels. There are few panels depicting various incarnations of Vishnu like Vamana and Narasimha.
Cunningham suggests that the temple cannot be placed earlier than 600 CE and later than 700 CE. Banerji, though aware of the inscription found by Daya Ram Sahni, puts the temple to 575 CE as his theory of shikhara evolution is in the later part of the sixth century CE. The inscription discovered by Sahni is in Gupta characters but it is engraved on a pillar and does not give much information. As per Sahni, the inscription is in the early Gupta characters so the temple should be of the early Gupta period. Percy Brown assigns the temple to 500 CE, and this dating is agreed by Sahni and Vats.
Inscriptions –  There is an inscription in shell characters on one of the detached pillars.
Inscription on a detached pillar – three lines, one in shell characters and two in Gupta script – shell characters' line reads Sri Govinda – Gupta script lines read Kesavapura-svami-padiya-bhagvata- and Govindasy-edam nama (This is the name of the illustrious Bhagvata Govinda, votary of the Lord of Kesavapura, B Ch. Chhabra reads it as Kesarapura)
Jaina Temple Complex – This temple complex is constructed on the site of an old fort known as Karnali Fort. There are many temples inside, more than forty, all constructed with the remains of old temples.
Shantinatha Temple – The open courtyard, measuring 42.25 feet square, of this temple is supported on six rows of six pillars each. The pillars are plain and probably of late construction. There are two doors, one takes you through the pradakshina-path (circumambulatory path) and another takes to the sanctum. Antarala (vestibule) is the connection between these two doors. R D Trivedi mentions that both the doors are later additions except of their bases. He further mentions that the position of the river goddesses, Ganga and Yamuna, is not in front but on side on the inner doorways which is a clear deviation from the regular Pratihara style where these goddesses are present on the front of the door jamb. Presence of two later inscription, one on each door, suggests that probably these doors were added later at the place of original doors.
Sanctum door lintel has a seated Jina figure with nava-grihas (nine planets). Presence of nava-grihas is regular in Pratihara style however here I find eleven figures instead if nine so little confused over this. Another lintel above the former one also has a seated Jina accompanied with various other Jinas on his either side. Above most lintel has sixteen auspicious signs of the Jaina mythology. The sanctum is very huge, measuring about 39 feet by 34 feet. A figure of Jina Shantinath is standing inside this sanctum.
A detached canopy, outside this temple, is supported on four pillars. All the four pillars are of different style which suggests that this canopy was built collecting pillars from different temples. Two pillars are profusely carved while other two are very simple. There is an inscription on one simple pillar face.
Inscriptions: There is an inscription on one pillar of the detached canopy outside this temple.
Devgarh Pillar Inscription (Epigraphia Indica vol IV) – written in northern class of alphabets in Sanskrit language – dated in Vikrama Samvat 919 (862 CE) – the inscription records that in the reign of Paramabhattaraka Maharajadhiraja Parameshvara, the glorious Bhojadeva, Luachchhagira was possessed by the mahasamanta Vishnurama. Deva, a disciple of the Acharya Kamaladeva, erected this pillar near the temple of the holy Shanti (Shantinath Jina) in Saka year 784 and samvat 919.
Kuraiya Bir Temple – This temple is located inside the forest area near Devgarh. This east facing temple has a peculiar double storey tower. It consists a mandapa supported on two pillars and a sanctum. It is constructed over a low-rising plinth. The pillars supporting the mandapa has a bell-and-chain design. The peculiar shikhara of this temple has a two storey structure. The second storey has four windows, one at each side, at the bottom part of it. At a small distance, in front of each window, two pillars are placed to support an overhanging lintel. The appearance of this second storey is similar to a separate shrine on top of another shrine.
The doorway of the sanctum has Ganga and Yamuna at the bottom of its jambs. There are five panels above the figures of Ganga and Yamuna on both the jambs. There are niches on three sides of the sanctum however only one niche is equipped with a sculpture. Kartikeya riding over a peacock adorns the western side niche.
How To Reach:
Devgarh is about 33-35 km from Lalitpur. Lalitpur is a railway station of considerable importance on the Jhansi-Bhopal line. There are buses from Lalitpur to Devgarh but frequency is less, I would suggest you to hire a taxi from Lalitpur as Devgarh has many places of interest. For Kuraiya Bir temple, while returning from Devgarh on Devgarh-Jakhlaun Road, take left turn between 28 and 29 KM milestone. The temple is about 4 KM inside the jungle, better take some local person with you otherwise you might face difficulties in locating this temple. Devgarh does not have proper place to eat and rest, Lalitpur and Jhansi would be a good place for accommodation.
References:
Cunningham, Alexander (1880). Report of Tours in the Bundelkhand and Malwa in 1874-75-76-77 (Vol X). Archaeological Survey of India. New Delhi.
Hultzsch, E (1897). Epigraphia Indica Vol IV. Archaeological Survey of India. New Delhi.
Subesh, Dr (2008). Devgarh: An Un-earthly Pleasure. Government Museum, Jhansi.
Trivedi, R D (1990). Temples of the Pratihara Period in Central India. Archaeological Survey of India. New Delhi.
Vats, M D (1952). The Gupta Temple at Deogarh. Archaeological Survey of India. New Delhi.