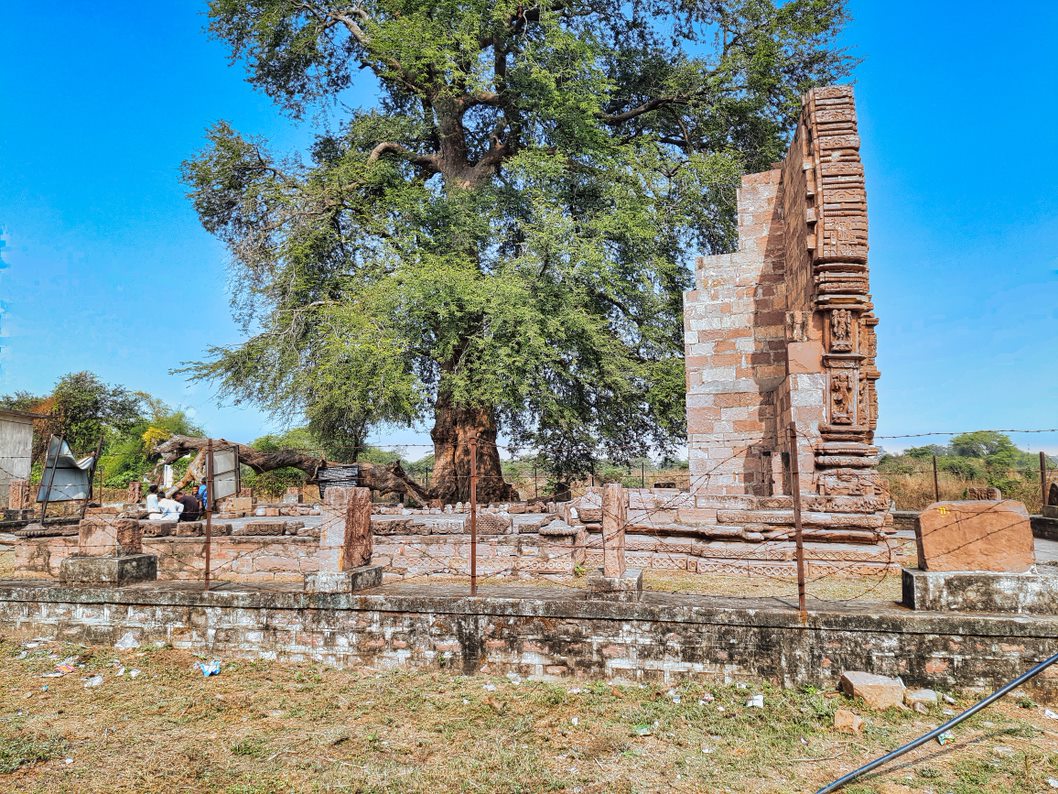 Deokirari is a small village in the Bilaspur district of Chhattisgarh. It is located about 25 km from Bilaspur, around 8 km from Belha (Bilha) and 2.5 km from Kirari Godhi village. This otherwise insignificant village has remains of a Shiva temple of the Kalachuri period.
Shiva Temple – The temple is located near a tank. The temple has survived with its jagati, and two-and-a-half walls of the vimana. The temple faces west and is consisted of a garbha-grha, antarala, and a mandapa. The adhishthana has multiple moldings, the uppermost two are decorated friezes, one of elephants and one of simha-vyalas. The temple is pancha-ratha in plana nd its jangha is divided into two tiers separated by a bandhana molding. The shikhara has survived till six bhumis (stories), each separated by bhumi-amalaka on the karna-ratha.
The iconographic program over the temple walls include in the north lower bhadra niche Nataraja while the upper niche is empty. In the west upper bhadra niche is Harihara-hiranyagarbha, a composite image of Vishnu, Shiva and Surya. In the lower bhadra niche is standing Surya with Danda and Pingala. In the south, upper karna niche has an image of Agni. Various sculptures and fragments of the temple are scattered in the premises and a few have been installed around the periphery. Among these are some interesting images of Chamunda, Ganesha, Surya, and Harihara. The temple may be placed to the 11th century CE during the Kalachuri rule.1
---
1 Manwani, S N (1984). The Temple Art of the Kalachuris of Ratanpur, the Ph.D. thesis submitted to the Harisingh Gour University, Sagar, Madhya Pradesh. pp. 99-100
Acknowledgment: Some of the photos above are in CC0 1.0 Universal Public Domain from the collection released by Tapesh Yadav Foundation for Indian Heritage.