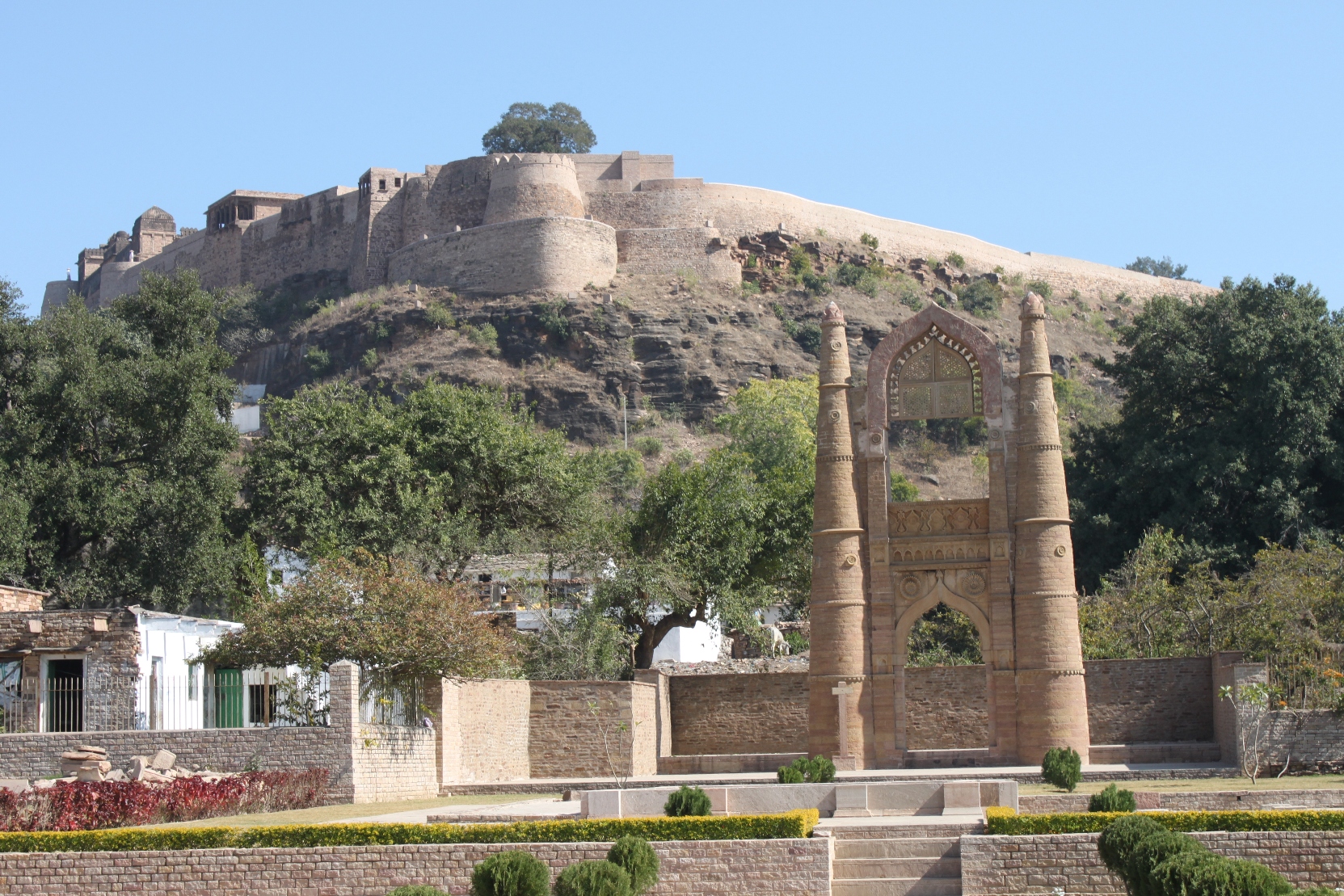 Introduction – First reference of Chanderi is found, probably, in Mahabharata where it is mentioned as Chedi country ruled by Shishupala. An another legend says that when Nala left Damayanti in the forests of Narwar, the latter wandered around and reached Chaidnagar. Inscriptions found at Budhi Chanderi mention a Pratihara branch ruling over this region during the eleventh century CE. Budhi Chanderi is mentioned as Chandrapur in these inscriptions. The present town of Chanderi, little far from Budhi Chanderi, was first settled Kirtipal, a king of the Pratihara lineage.
After the rule of the Pratiharas, Chanderi went into the Kachchwa Rajputs who ruled from their capital at Narwar. Ghiyasuddin Balban, a minister of the Sultan Naseeruddin in Delhi, captured Chanderi from the Rajputs in 1251-52 CE, however as soon as Balban left the town, the Rajputs again took control over it. Chanderi was annexed to the Delhi throne in the time of Allauddin Khilji who conquered it after sitting on Delhi throne in 1294 CE.
We find Chanderi among the big towns of India in the travelogues of Ibn Batuta who visited this town in about 1342 CE. He described this town as a sprawling city full of big bazaars filled with people and goods. Chanderi acquired this reputation due to its proximity to the trade routes of Central India, to the ancient ports of Gujarat as well as to Malwa, Mewar, and the Deccan. Chanderi also gained this prosperity due to its strategic position as a sort of base camp for armies moving south from the time of the Sultans of Delhi.
In 1392, Malwa Sultanate was founded by Dilawar Khan Ghori, asserting his independence from the Delhi and started ruling from Mandu. After his death, his younger son, Qadr Shah, established a rival empire at Chanderi but it was incorporated into the Malwa Sultanate in 1424 CE, by his elder brother, Hoshang Shah. In 1520, Chanderi came into the dominion of Rana Sanga who in turn bestowed it to Medini Rai, his trusted ally.
Medini Rai ruled over it till 1528 CE before losing it to Babur. Babur writes in his Baburnama that he won over this fort without raising his standards or beating his kettle-drum and without using strength of his whole army. Humayun, the son of Babur, was defeated by Sher Shah Suri in 1538 CE, and the latter put Puranmal, the king of Raisen, as the governor of Chanderi. However Humayun returned to Delhi in 1546 CE and captured Delhi. However at the same time, Mallu Khan, the then Sultan of Malwa, took over Chanderi.
Akbar took over Chanderi in 1569 CE. Abul Fazl describes Chanderi as a flourishing town with 14,000 stone built houses, 61 palaces, 384 bazaars, 350 camel caravanserai, 1200 mosques, 1200 step-wells, 6659 cavalry, 5970 horse infantry and 90 elephants. Jahangir in 1605 CE handed over Chanderi to Ram Shah, a Bundela Rajput. Bundelas ruled for next 253 years over Chanderi.
The Bundelas ruled in harmony with the Mughal rulers and hence Chanderi became a prosperous town. However after the death of Aurangzeb in 1707 CE, Durjan Singh, the then Bundela ruler of Chanderi, severed all ties with the Mughals. However to fight against the Marathas, he had to again tie up with the Mughals. It was under Man Singh, the son of Durjan Singh, permanently severed the ties with the Mughals.
However later Bundela rulers were not very efficient and Chanderi witnessed days of anarchy and mismanagement. The last Bundela ruler, Maud Prahlad, was very much indulged in the luxury and excessive expenses. In 1811, the Chanderi fort was taken over by Colonel John Baptise Filose for Daulat Rao Scindia and Chanderi was given to the Scindias of Gwalior. Mardan Singh, the son of Maud Prahlad, seized Chanderi traking advantage of the confusion and rift developed in the Scindia family after the death of Jankaouji Rao Scindia in 1844 CE.
Durjan Singh expanded his army under the patronage and training from French officials. He allied with Rani Lakshmi Bai and took part in the uprising of 1857. In 1858, the British forces under Sir Huge Rose captured Chanderi and imprisoned Durjan Singh. He was later sent to Vrindavan for the rest of his life. Chanderi was returned to the Scindias in 1860 after a treaty between them and the British.
On the borders of Malwa and Bundelkhand, the town dominated the trade routes of Central India,. Consequently, Chanderi became an important military outpost, prized by rulers with power and repeatedly experienced the might of men who moulded the destiny of Hindustan. Chanderi also came up as pilgrimage center with the coming up of Jain temples in the 9th and 10th century
Monuments – A large number of monuments are scattered around the main town of Chanderi and on its periphery.
Chanderi Fort – The fort is located at the periphery of this modern town, crowing over a 200m high hillock locally known as Chandragiri. This 5 km long and 1 km broad fort commands an aerial view of the town settled beneath. As per an inscription, exhibited in the Gwalior Museum, this fort was built by a Pratihara king, Kirti Pal, in the eleventh century CE and was referred as Kirti Durg. The inscription also mentions Kirti Narayana and Kirti Sagar, the former could be a temple no more extant and the latter could be the tank located outside near the fort entrance.
However not much of the original fort is left, later rulers like Alauddin Khilji, Babur and Bundelas rebuilt and left marks of their tastes and styles. This magnificent fort was approached through three massive doors, of which only one has survived, Khuni Darwaza. Local tradition mentions that prisoners were thrown down this gate during the rule of the Sultan of Malwa and their battered corpse were displayed at the gate therefore it came to be named as Khuni Darwaza, or the Blood-soaked Gate.
Johar Smarak, situated outside the fort complex, marks the tragic event of johar (self destruction in fire) committed by many Rajput women by throwing themselves into a tank (Johal Tal) just after Medini Rai and his soldiers left the fort to fight the last and final battle with the forces of Babur. This battle was fought on 29th January 1528 CE. A stone plaque depicting the johar scene is placed inside a canopy overlooking the Johar Tal.
Near this Johar Smarak lies the Samadhi of the great musician, Baiju Bawara (1542-1613). Born as Baiju Nath Prasad in Chanderi, he became a student of Swami Haridas of Vrindavan. He was inspired by the natural beauty of Chanderi town. He was a reputed Dhrupad singer and was associated to the court of Raja Man Singh of Gwalior. He is said to have defeated Miyan Tansen, the court-poet of Akbar, in the presence of the emperor himself. His house is in very much ruined condition inside the town.
There is a three story palace inside this fort. This palace has a fountain and a tank in its courtyard. Bastions and watch towers are placed on the corners. A fourteenth century CE Khilji mosque is situated near the entrance of the fort. The mosque has beautifully carved mihrabs and verses of Quran are written on stones around the mosque. A doorway on side leads a visitor into a balcony known as Hawa Paur from where a majestic view of the town is observed.
Shri Jageshwari Temple – This is the most revered temple of the town. As per a local tradition, the temple was constructed by a Pratihara king, Raja Kirti Pal. Kirti Pal was suffering from leprosy however he was not cured till his old age. The king was very fond of hunting and one he strayed from his hunting party into a deep forest. While wandering directionless in that deep forest he stumbled upon a pond. He dip his hands to drink water and found his leprosy cured.
He found a small girl child watching him. The king was astonished to see that child in deep forest, he chased the child to catch her however the child ran. After a small chase, the child stopped and spoke to the king. She told that she is the goddess Jageshwari and the king was cured because of her blessings only. The goddess asked the king to build a temple for her atop a hill nearby. The goddess told the king not to place any idol and keep the doors locked for nine days. She will emerge as an idol inside the sanctum.
The king went back to his capital, Budhi Chanderi, and discussed this with his ministers. He later built a temple as instructed by the goddess. However out of his curiosity, the king opened the doors of the temple before nine days. The king was again inflicted by leprosy as the curse. As the king opened the doors of the temple prematurely, hence only the head of the goddess image emerged from the ground. The legend also states that the capital of the king, Budhi Chanderi, was destroyed by an earthquake soon after. This made the king to move his capital to the present town.
As per another legend, king Shishupala, king of Chedi country, of Mahabharata time performed a yajna here. This temple is counted among the fifty-one, sometimes counted fifty-two, shaktipeeth and it is here where the mastak (head) of the goddess, Sati, believed to have fallen. The main idol of the goddess is inside a cave around which a modern temple building is constructed. There are many subsidiary shrines in the temple complex housing various shivalingas. There are three distinct shivalingas, two have 1100 shivalingas carved on their surface while one has four faces on it.
At the bottom of hill is a tank, known as Sagar Kund, which was the primary source of water to the temple. Several natural springs' water flow down the cliff side and get collected into this tank. However these days it's all dried up. This tank was commissioned by Madho Rao Scindia in 1894 as per a stone plaque placed near the gateway. There is a ghat on one side and chataris on its four corners.
Badal Mahal Gate – This is the most photographed and visited monument at Chanderi. It was built by Sultan Mahmud Shah Khilji in 1450. It was probably built as the welcome gate for dignitaries visiting the palace. As the name suggests, it was probably the entrance gate to a palace known as Badal Mahal or 'palace in clouds', however no such palace can be traced now. Percy Brown suggests that it could be a triumphal arch.
This gate is standing in a very romantic setting. It is enclosed within the fort walls approached through well manicured gardens on either side. In its backdrop lies a majestic view of the fort on hilltop. The gate is about 15 m high and 7.5 m wide. It has two massive tapering turrets encompassing two arches between them.  In between these two arches are jail pattern sections. There was once a chajja supported on brackets in between these two arches.
Badal Mahal Gate is an iconic monument of Chanderi and has been chosen for the stamp for the Madhya Pradesh Handloom Department. This gate is also seen in postage seals for the letters posted from Chanderi. However Percy Brown states the whole design of this gateway is impaired by the introduction of passages of weak and meaningless ornaments. He tells that it was the disturbing effect of many varied influences, like that of Rajputana, Delhi, Malwa, Gujrat, on the Chanderi workmen, that were responsible for the bizarre character of the Badal Mahal gateway.
Jama Masjid – Located just few hundred meters from Badal Mahal Gate, Jama Masjid is a magnificent building comprising of three domes. The foundation of this mosque was laid in 1251 by Ghyasuddin Balban to commemorate the conquest of Chanderi. However an inscription found in this mosque refers to the reign of Dilawar Khan (1390-1405 CE) but it does not talk about the mosque. R Nath mentions that the inscription does not belong to this mosque and was placed later here.
The entrance to the mosque is very eloquently carved with various geometrical and floral patterns. It is a double storey building which at present is used as Maulvi's house. In past it would have been used as guest-house for visiting dignitaries. This entrance doorway is believed to be a fifteenth century Khilji structure. The main entrance opens up into a courtyard, measuring 31 m by 25 m. There are pillared cloisters on northern and southern side, while the prayer hall is on west. This western end is surmounted by three white marble domes. An interesting feature is that the mosque does not have any minar (tower).
The prayer hall, 38 m by 12 m,  runs north-south and has three aisles with twelve mihrabs on its rear wall. There is a mimbar in the center. It is a simple stone structure having eight steps. This structure was used to read the Friday oration or khutba and special orations on Muslim festivals. Another interesting feature, which is seen in other monuments of Chanderi as well, is the serpentine struts used to support chajjas (eaves) on northern and southern sides. Though they are employed to support chajja however their use is purely ornamental.
Lakshman Temple & Parmeshwar Tal –  As per a legend, Parmeshwar Tal is the tank where the Pratihara king Kirti Pal took bath and was cured from leprosy. At one bank of this tank stood Lakshman Temple which has an interesting legend behind it. It is told that one a group of pilgrims stopped near Parmeshwar Tal to take rest after a day long journey. They were carrying an idol of Lakshman which they placed under a Peepal tree. When they woke up in morning and tried to lift the idol, the idol did not move.
They tried various option but the idol did not budge from that place. Taking it as an indication that the deity desired to be enshrined at that place, they constructed a small shrine around the idol. This shrine stood today as Lakshman Temple. It is believed that this temple was built by seventh Bundela king, Anirudh Singh, however there is no proof to support this. The main shrine has an idol of Lakhsman and Sheshnag inside, the latter is the main idol at present. There are two subsidiary shrines, having Radha-Krishna and Shiva images.
Shahzadi ka Rauza –  This is probably the most elegant and impressive tomb at Chanderi. It is located near the Lakshman Temple, amidst the cultivated fields. In the absence of inscriptions and historical account otherwise, historians assigns this structure to fifteenth century CE. Though no historical account exist, but this tomb has a legend behind it.
Mehrunisa, daughter of a governor, was deeply in love with an army chief which her father disapproved. He tried to persuade his daughter to break away from this relationship but to no avail. He then planned to kill the army chief. He took some soldiers on his side and asked them that the chief should not return alive from the war in which he was engaged at that time. However, the chief survived and came back to Chanderi. He collapsed at this same spot and let out an agonized cry. Mehrunisa recognized his voice and ran to meet him but she reached when he was taking his last breath. Mehrunisa ended her life in great grief.
The governor was overwhelmed with the death of his daughter and he built a mausoleum at the site. He buried both the lovers inside this tomb. He also constructed a moat around the tomb to keep both the lovers together always and away from public. It is said that the governor used to visit this tomb every evening in a boat. Today this moat and pond no more exists and the ground around the tomb is under cultivation.  Two stone plaques depicting horses now mark the place where both the lovers died.
This elegant structure is built over a 12 feet high platform and from outside it gives an appearance of two storey building. However from inside, it is a single storey square hall measuring 13 m. The dome surmounting the top once is no more extant. There were four chataris on its four corners, only one has survived the ravages of time. Two levels at the external façade are separated with eaves. These eaves on both levels are supported on brackets with serpentine struts as an addition. These serpentine struts which are also seen in few other structures in Chanderi seem to be the characteristic feature of the town architecture.
Shahi Madarsa – Situated little far from Shehzadi ka Rauza, this fifteenth century CE structure has very beautiful jail work. It is locally known as Madarsa (school) however there are two tombstones inside the structure. It was built in 1450 under the aegis of Mahmud Khilji of the Malwa sultanate, this is the tomb of a teacher and the vice-chancellor of a school which was function during those days and ruins of which are scattered around its vicinity.
It is believed that the name Madarsa was associated to this structure due to the presence of a madarsa nearby it. A legend says that when Babur conquered Chanderi, he was impressed but was jealous at the same time. Out of his raze, he demolished the roof and put up two false tombstones inside so that the building could not be used as madarsa in future.
The madarsa is built on a raised platform. The square chamber, 9.96 m side, is surrounded by an arcaded corridor, 6.1 m wide. The verandah is surrounded on all side with five arches on each side. This chamber can be accessed through an arched entrance in the middle of one side. The walls of the chamber has beautifully carved arches, embellished with intricate jail work and medallions. There were five domes on the roof of this structure, one in middle and four on sides. The central dome has not survived.
Koshak Mahal – This simple yet elegant building is situated little far from the main town, about 4 km on Isagarh road. This imposing structure is nestled inside a landscaped and manicured garden. As per Tareekh-e-Firishta, a book by Mughal chronicler Mohammad Qasim Firishta, it was built in 1445 CE by the Sultan of Malwa, Mehmud Shah Khilji, to commemorate his victory over Sultan Mehmud Sharki of Jaunpur in a battle at Kalpi.
Firishta mentions that when the Sultan returned to his capital at Mandu, he decided to commemorate the victory with a seven-day celebration and ordered a seven storey building to be constructed near Chanderi. It is also mentioned that the building was commissioned to employ unemployed people of Chanderi. Another legend mentions that it was built by Mahmud Shah for his wife, Koshak, who gave birth to their child here. Mahmud Shah named the palace after his wife's name. It was referred as Koshak Hafta (week) denoting its seven floors.
It is surmised that these seven floors had different purposes, like the lowermost was used by guards and soldiers while the upper ones were meant for royalty and high-class citizens. Though it is believed that the building had seven floors, however there is no consensus among scholars whether all the seven floors were ever completed. Some state that the uppermost level fell at the time of completion, and some say that it was never completed. At present only four of the seven floors have survived, three completely and a part of fourth level.
Percy Brown mentions that although only the remains of four stories now exist, the mass of debris that until recently lay within its walls, proves fairly conclusively that at one time it was much higher building. An interesting legend mentions a very interesting story. It states that when the builders were facing a problem to move heavy stones to construct higher level once the ground floor was done. They constructed a mud incline around the ground floor to move stones up. Similar inclines were constructed on each floor to raise stones higher when that floor is done. This way the whole building was covered with mud and when this mud was removed then only people were able to see the whole construction.
This square building, diameter of one hundred and fifty feet, has big arched entrances, one in the middle of each side. The external simple and plain façade is broken with the protruding balconies at regular intervals. Two arched passages crossing each other at right angles divides the inside into four quadrants which are accommodated with halls. Percy Brown writes that there is throughout this building a sense of vitality, implying the initial phase of a movement bringing with it fresh inspiration.
Kati Ghati – This gateway is fully cut out of a live rock. It is located on the southern edge of Chanderi and formed a link between Bundelkhand and Malwa. It is 230 feet above the ground, the gate itself is 10 m high and 25 m wide. The main opening is 5 m by 4 m.  As per an inscription, engraved in Devnagari and Nashq scripts, this gate was commissioned by Miman Khan in 1480 CE. Miman Khan was the son of Sher Khan, the governor of Chanderi.
A legend tells that Miman Khan asked the masons of Chanderi to cut this gate in one night as he wanted to welcome Ghiyasuddin Shah, the Sultan of Mandu, from this gate. None except one mason took up this challenge. Jiman Khan was surprised to see this gate in the next morning however he found that no mechanism was provided for hinges. As the gate lies on a strategic location so hinges were necessary to put on a door. Jiman Khan refused to pay the mason over this mistake of his. The mason returned empty handed and later committed suicide.
Another legend mentions that a hill was obstructing the way of the army of Babur to Chanderi. He ordered a tunnel to be carved out but before starting the work he installed a mihrab and offered prayer. One mihrab is still there and in use. However no such story is mentioned in Baburnama therefore this story is just a legend nothing else.
Kandhagiri Jain Temples –  This hill is located about 2 km from main town on Ramnagar road. It is a famous Jaina pilgrimage site and is famous for a huge 45 feet high Rishabhnath statue cut on a rock. There are many caves with Jaina images inside. Two temples and a guest house is provided at the foothill.
Singhpur Palace – This palace is located out of Chanderi town, about 4 km far. It was constructed by Devi Singh Bundela in 1656 as a hunting rest house. ASI museum was housed in this palace before it was shifted to a new building.
Raja Rani Mahal – These two palaces stand side by side to each other. Raja Mahal is an imposing seven storey building while Rani Mahal is a two storey structure. Both the buildings are constructed in different styles therefore both would have been constructed in different periods. Rani Mahal appears to be earlier than Raja Mahal where the latter was probably constructed during the Khilji period in fifteenth century CE.
ASI Museum – Inaugurated on the 14th of September, 2008 the museum currently has displays in five galleries. The first gallery, called History of Chanderi begins with a display of photographs of the rock paintings found at Nanuan and other cave shelters, includes the tools and implements of the early man and goes on to the sculptures of the later centuries. Another gallery, titled Jain Gallery houses the statues of the various Jain Tirthankaras and remains of other Jain temples found at Thubon and Budhi Chanderi. In the Vishnu Gallery stone images of the different incarnations of Lord Vishnu like Varaha, Vamana, Narasimha etc. are on show. In the open air gallery around the central courtyard are displayed around 10 inscriptions in Sanskrit language but in different scripts.
Food and Accommodation – Not many options are available at Chanderi, the best would be Hotel Tana Bana run by MP tourism. It is a very decent place with nice rooms and food.
How to Reach – Lalitpur 36 km, Gwalior 230 km and Jhansi 130 km. Regular bus service is available from Lalitpur which is also the nearest railway-head. A direct bus from Jhansi also connects Chanderi.
References:
Asher, Catherine B (1992). Architecture of Mughal India. Cambridge University Press. Cambridge. ISBN 0521267285.
Brown, Percy (1956). Indian Architecture (Islamic Period). D B Taraporewala. Mumbai.
Mitra, Swati (2010). Chanderi – Travel Guide. Eicher Goodearth. New Delhi. ISBN 9788187780960.
Web References: