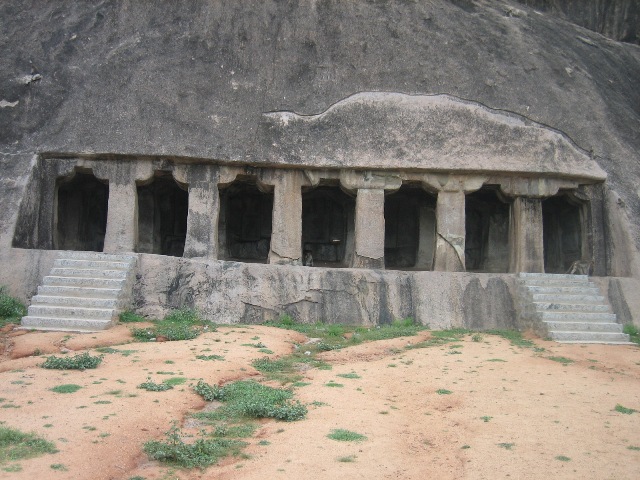 Vilapakkam is a small town in Ranipet district of Tamilnadu. This otherwise insignificant town is known for its rock-cut shrine and Jain images above the same rock. The first modern reference is found in the North Arcot district gazetteer of 18811. The gazetteer tells that the rock-cut shrine at the foot of the hill is referred as Yelu vasapadi or "seven thresholds" as six pillars at the entrance forming seven bays. On the same rock, just a short distance above this excavation, is cut a figure, some two feet square, which seems to represent Buddha or one of the Jain tirthankaras. On the southern side of the hill were mentioned two ancient inscriptions near a pool of water. Some figures were carved on the face of the hill, five among those were referred as Pandavas. However these appear to be Jain images. The place has been taken up by Muslims who had built several tombs and a small mosque. The principal tomb is of Syed Mir Yassam, a saint whose wife and children are also buried close by.
A brief reference of this monument is found in the antiquarian list prepared by Robert Sewell2 for the Madras Presidency in 1882. Dubreuil3 includes this shrine in his study of the Pallava antiquities however he does not provide any specific details except mentioning that as no inscription was found in the shrine, it can be surely considered as a Pallava period temple however its exact date cannot be determined. A detailed study of this shrine was provided by K R Srinivasan4 in his compendium on the Pallava cave temples published in 1964.
The name Pancha Pandava Malai suggests its association with the Pandavas of the Mahabharata, however this is just an attempt to attach the antiquity of the monument to the Mahabharata period. From the inscriptions found in the village, it appears that it was a flourishing Jain center till about eleventh century CE. An inscription of the Chola king Parantaka I mentions digging of a well by a female disciple of a Jain teacher for the benefit of a nunnery. This suggests that the village had a good number of population of Jain monks, male as well as female.
Panch-Pandava Cave Temple – This shrine is excavated on the eastern face of a large hillock running north-south. K R Srinivasan tells that this hillock is called Periya-Tiruppamalai or Pancha-pandava-malai. This shrine is excavated about 4.5 feet above the ground level and no provision was made for rock-cut staircase similar to other constructions credited to Mahendravarman I, such as at Mandagapattu. It has a mukha-mandapa, ardha-mandapa and cells at the rear wall. The front façade is supported on six pillars and two pilasters. The pillars are uniformly square from top to bottom in contrast to the usual top and bottom cubical section with an intervening octagonal section as seen in other early Pallava shrines. Pilasters are similar in the style as that of the pillars. These pillars support a curved-profile corbel above. Another row of six pillars and two pilasters separates the mukha-mandapa from ardha-mandapa.
There are seven niches carved out on the back wall of the cave. All the cells are empty, however there is a sill in all the cells, perhaps to support a wooden or metal image. The side walls are left with square uncarved blocks, which suggest that the plan was to excavate these little deeper intended for a cell probably. Over the rain drip line on the front facade of this shrine, a Jain tirthankar image is carved. This image as well as a natural cavern above this shrine with Jain inscriptions and sculptures suggests that this rock-cut shrine was probably used by the Jain pilgrims and recluses. K R Srinivasan is of opinion that this excavation can be ascribed to the Pallava king Mahendravarman I based upon arguments that many of his excavations were done near to Jain centers.
Jain Sculptures – On the top of this hill is a natural cavern which was compartmentalized using bricks to construct chambers for recluses. A mosque was constructed at a later period near this cavern. Figure of a yakshi, probably Jwalamukhi, was carved on the rock face near a pool of water. She is shown sitting under a tree holding a chauri (fan). Four figures are carved around her, one on her right and three down on the ground. Among the three on the base of the seat, one is shown standing, another sitting over a horse and the third one standing seems to be a female figure. A Jain tirthankara figure is carved on the top of this rock face. He is shown seated in yogasana under a triple umbrella. On southern face of the same rock are carved two figures, one of a male and another of an animal, resembling a dog.
Inscriptions: There are two inscriptions found in the town, details provided below.
On the front face of a rock (EI IV no 14(A) pp 136-137) – refers to the fiftieth regnal year of the Pallava king Nandivarman II Pallavamalla, corresponding to 783 CE – In the fiftieth (year) of Nandippottarasar, Naranan (Narayana), the son of Maruttuvar of Pugalalaimangalam, caused to be engraved an image of Ponniyakkiyar, along with the preceptor (guruva) Naganandi (Naganandin).
On the west face of the same rock (EI IV no 14(A) pp 136-137) – refers to the eighth regnal year of the Chola king Rajaraja I, corresponding 993 CE – Tamil language, eleven lines – translation of the inscription below

Line 1: Hail! Prosperity !
Line 2: In the 8th year 9of the reign) of king Rajaraha-Kesarivarman – the Lataraja who reigned in former days, had taken way the 'cost of camphor' from the tax-free pallichchandam (in) Kuraganpadi, which was enjoyed by (the shrine of) Tiruppanmalai in Perun-Timiri-nadu, (a subdivision) of Paduvur-kottam.
Line 3-5: While the lord, the Lataraja Vira-Chola, the son of Pugalvippavar-Ganda, was pleased to worship the holy feet of the god of Tiruppanmalai, his queen Latamahadevi, thinking : 'this charity (dharma) gets ruined', made (the following) request :- "(You) must assign the cost of camphor and the tax on unauthorized looms (to the shrine)."
Line 6: Thereon the lord Vira-Chola was pleased to order :- "We assign the cost of camphor and the tax on unauthorized looms (to the shrine)."
Line 7: There on Vira-Chola-Lata-perariyan, who was the headman of Ariyur,- with the priest of the lord as executor (ajnapati), – assigned the cost of camphor and the tax on unauthorized looms (to the shrine) and drew up this edict (sasana)
Line 8-9: "Anyone who, in spite of this, takes away the cost of camphor and the tax on unauthorized looms from this pallichchandam, shall incur the sins of those who commit (sins) between the Ganga and Kumari."
Line 10: "Those who, in spite of this, injure this pallichchandam,……
Line 11: "The dust of the feet of one who protects this charity, shall be on my head".
"Do not forget charity; there is no (other) help but charity."
---
References:
1 Cox, Arthur F (1881). A manual of the North Arcot district in the presidency of Madras. Government Press. Madras. pp 202-203
2 Sewell, Robert (1882). List of the Antiquarian Remains in the Presidency of Madras vol I. The Government Press. Madras. p 166
3 Jouveau-Dubreuil, G (1918). Pallava Antiquities vol II. Asian Educational Services. New Delhi. ISBN 8120605713. p 47.
4 Srinivasan, K R (1964). Cave Temples of the Pallavas. Archaeological Survey of India. New Delhi. pp 94-98