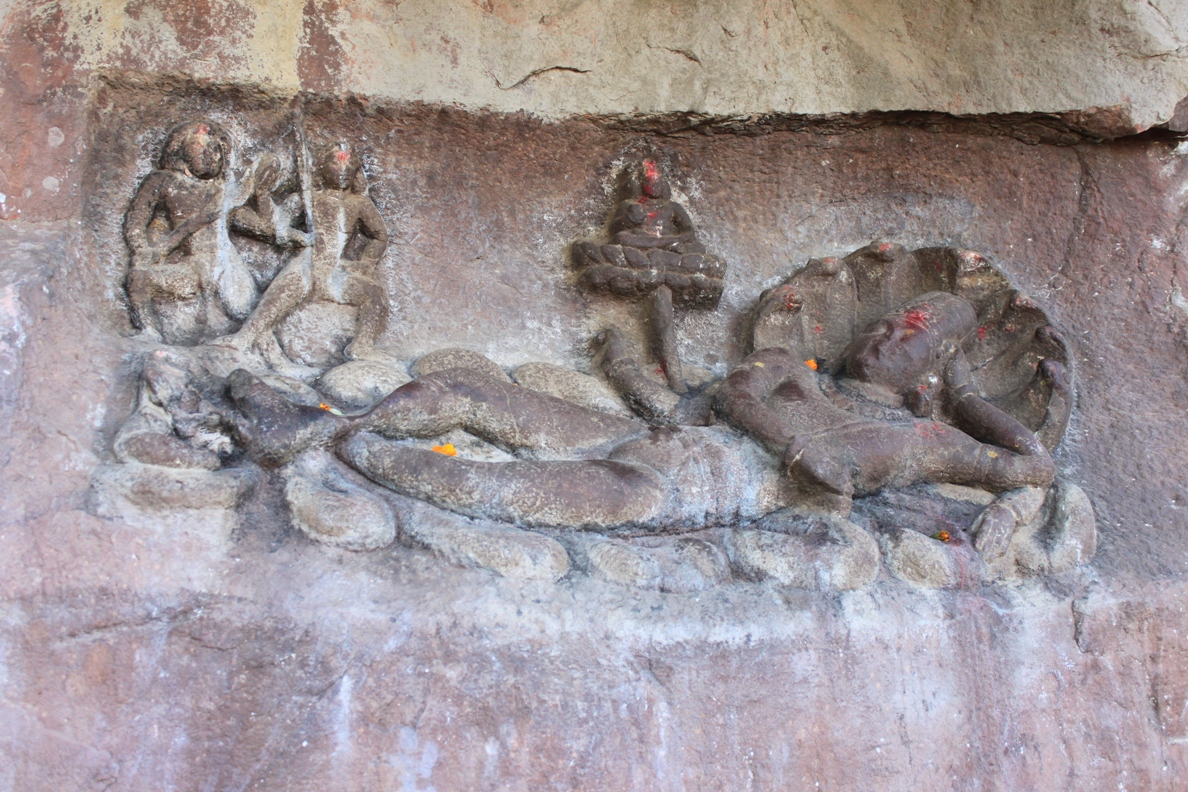 Introduction – Sindursi is a small village near Bahoriband in Katni district of Madhya Pradesh. It is famous for ruins of a large brick temple which is dated to the Gupta period.
Monuments – There is only one monument of interest in this village.
Jogia Baba ka Sthan or Katav – This rock-cut sculpture group is under protection of the Department of Archaeology and Museums, Madhya Pradesh. Local tradition connects this place to king Sarvanatha of sixth century CE. Total of four sculptures are carved on a rock.
Sheshashai Vishnu – Vishnu shown with four hands is resting on the coils of Adi-shesha where the latter is depicted with a hood of seven heads. Bhu-devi, probably, is shown seated, near his feet, holding one of his feet. Two demons, Madhu and Kaitabha, are shown standing near his feet and approaching towards him. One of them carries a sword and another holding a club, which made some scholars to identify these with the ayudha-purushas (anthropomorphic representation of Vishnu's weapons) of Vishnu. These cannot be identified with Vishnu, ayudha-purusha, as their posture and appearance suggest them to be those two demons who came to strike Vishnu in his sleep. Brahma is shown sitting over a lotus where the lotus stalk is emerging from Vishnu's navel. This image maybe compared with the niche image of Sheshashai in Dashavatara temple at Devgarh however latter image has ayudha-purushas which is missing in this image.
Sthanaka-Vishnu – This four armed image of Vishnu is very similar to one found at Udaiyagiri. Chakra (discus) and gada (club), two weapons of Vishnu, are shown in their anthropomorphic forms. He carries a sankha (conch) in one hand and a ball or laddu in one hand. There is a long garland around his neck reaching till his knees.
Mahishasuramardini – The goddess is shown with four hands. Her two hands are shown holding the buffalo demon, Mahishasura, where she held it with its tail by one hand and another hand pierce the trident through the body of the demon. In her upper hands, she carries a sword and a shield. Her right foot is placed above the head of the demon.
Narasimha – I was not aware of this image and hence no image. Narasimha is shown seated in maharajalilasana, with one leg hanging below and another rested on the seat.
How to Reach – Sindursi is located on Sihora-Bahoriband road. Sihora is located on Jabalpur-Katni highway, NH . 4 km after Sihora town, there is a left turn to Bahoriband. Sindursi is about 15 km on this road. The road bifurcates at Sindursi, one road goes to Bahoriband and another to Ranital. There is a school on the road from where you have to take left inside the village. This monument is very deep inside the village, better take a villager with you otherwise its little tough to locate.  Vehicle cannot go inside, but it's not very far may be 1 or 2 km.  Sindursi is about 4 km from Rupnath where latter is a well known pilgrimage site located on Sindursi-Ranital road.
References:
Mishra, S N (1992). Gupta Art and Architecture. Agam Kala Prakashan. New Delhi.
Web References:
http://katni.nic.in/history.htm
http://www.mparchaeology.org/155-Jogiya%20Ke%20Sthan%20Main.html