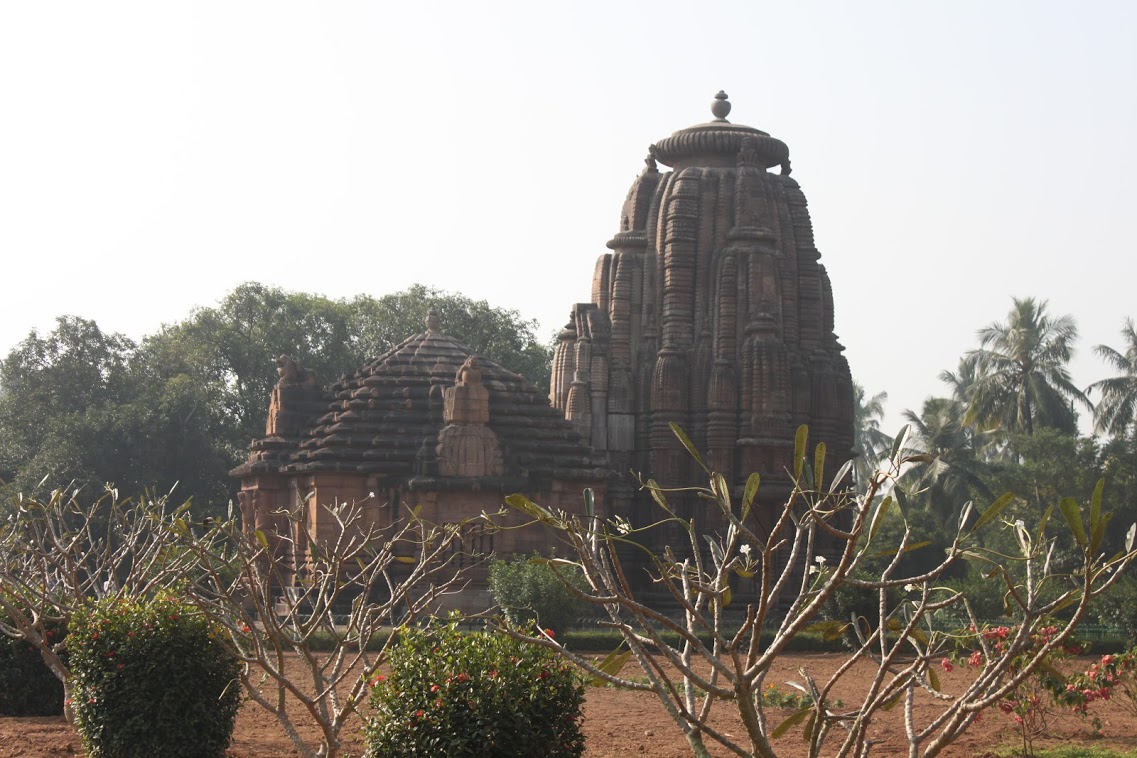 Rajarani temple is situated little away from the old temple town of Bhubaneswar. The name of the temple does not reflect upon its presiding deity or donor but named so as it was assumed to be used as a pleasure garden of an Odishan king (raja) and his queen (rani). Another tradition tells that the temple was dedicated to a queen therefore this name. Ganguly1 suggests that the name was derived due to a peculiar stone, rajarania, used in construction of the temple. However, this theory of naming temple after the type of stone used, does not hold much credit. Panigrahi2 may be right stating that the original name of the temple would be Indresvara, which finds mention in Ekamra Purana, said to be situated east of Siddheshvara Temple. The name Indresvara suggests that the temple was built by the Somavamshi king Indranatha. Panigrahi's theory seems to be most plausible among all.
Rajarani temple introduced many new paradigms in the Odishan temple architecture. Much emphasis was put upon the increased height and monumentality of a temple. Donaldson3 is of opinion that this trend was assisted with new motifs and architectural features introduced primarily from Central India, specially Khajuraho. This trend was also motivated with the continuous evolution and innovations in indigenous idiom. However, Parida4 believes that there was no influence from Central India and these new features are the result of native innovations and experimentation.
To increase the height of the temple, pitha or platform was introduced. Pabhaga mouldings were increased to five from four. Height of the jangha portion was increased and it got divided into two coherent units, upper and lower jangha. These two parts were treated as separate units for decoration. Baranda started having multiple mouldings instead of single moluding. Gandi also saw increase in number of bhumis. With all these changes, the overall height of the temple attained a significant improvement.
Another new feature is the introduction of anga-shikharas, miniature rekha-style temples decorating the tower of the temple. With the arrangement of the anga-shikharas over the pagas around the shikhara, the result was a round appearance of deul. However, this style did not find much popularity in Odisha art and Panigrahi suggests that it was discontinued as it was liable to develop cracks or breakage.
Rajarani Temple is situated amidst a well-manicured garden maintained by ASI (Archaeological Survey of India). Mitra5 visited this temple in late 19th century and found it in complete ruins. The temple has been looted for its images, majority of which were carried off by General Stewart and Colonel Mackenzie. The main deity of the temple was removed when its jagamohana collapsed. The temple was completely repaired in 1903.
The temple is built on a raised platform of about 3 feet in height. The platform follows the contours of the temple. The deul is in pancha-ratha plan and faces east. Bada is made of three parts , pabhaga, jangha and baranda. Jangha is further divided into two. Pabhaga consists five mouldings, the bottom-most is decorated with mini-shrines housing a deity. Rest of the mouldings have floral designs, except the middle one which is left plain. Jangha is divided into two parts separated by a frieze (madhya-bandhana).
The overall decoration program of the deul is highly appreciated by scholars and critics. Various figures and motifs are carved filling almost all the available area. Kanika-paga in lower jangha storey has dikpalas in their respective position. These dikpalas are Indra; Agni; Yama; Nrrtti; Vayu; Varuna; Kubera & Ishana. They are shown standing over their respective vahanas. Ishana is shown with urdhvalinga. Kanika-paga on the upper story has erotic or mithuna figures.
Anuratha-paga, on lower and upper storeys, has female figures such as alasa-kanyas and nayikas. Unlike to Mukteshvara Temple, where the recess space is filled with naga-nagini pilasters, the treatment here is different. On the lower storey, the recess is filled with virala motif, a lion-looking monster standing on its hind legs above an elephant or a dwarf. As this recess space is very slim and limited, the virala motif fits very nicely in its composition within the available space. In the upper story, the recess is filled with female or mithuna figures.
Pabhaga portion below the raha-paga is consisted of seven mouldings. Niches on the upper moulding of the pabhaga are carved, these depict marriage of Shiva on the west, Shiva with Parvati on the south and a damaged figure holding a sword on the north. Niches on raha-paga are now empty suggesting that the images were carved in separate stones and fitted later.

Like Mukteshvara, Rajarani temple is also famous for its female image, largely of alasa-kanyas. Apart from the regular themes, various new themes are found here, some of these are, lady applying paste to her hair while looking in the mirror, lady holding a child in her uplifted hands, parrot picking a pearl from the coiffure of a lady etc. Upper portion of the jangha has few erotic themes including explicit and provocative ones.
Baranda is built in seven mouldings. Above it rises the gandi and other regular components. Gandi does not have any vajra-mastaka which is a departure from earlier temples. Instead it has mini or anga-shikharas which in turn are the terminating elements of various pagas. Such an arrangement gives a roundish appearance to the deul.
Jagamohana is built on a square plan. Its pabhaga has five mouldings, bereft of any decoration. Bada is built in pancha-ratha fashion, similar to the deul. Decoration on bada was planned however it is left incomplete due to unknown reasons. Its north and south walls have windows which do not follow the jali pattern but has balusters. This window is flanked with two large naga-pilasters, base of which is carved with gaja-kranta motifs. The pidha roof is built in thirteen tiers.

The jagamohana entrance flanked with two naga-stambhas (naga-pillars), one having a male naga and another a female naga. These are carved with their tails coiling down suggesting upward movement. Presence of these naga-pillars are also one of the said reason behind the name of the temple, suggesting that these represent a king and a queen. A large architrave supported upon these pillars is decorated with a nava-ghra panel. The entrance has dvarpalas on the jambs. Below the jambs, on either side of udumbara, are placed two tri-ratha shrines. The lintel lalata-bimba has a figure of Lakulisa in dharma-chakra-pravartana mudra, accompanied with his four disciples.
Baumer6 quoting Shilparatnakosa, tells that Rajarani temple was constructed in Manjusri style which reflects a Sricakra or Sriyantra. It was dedicated to Rajarajesvari, also known as goddess Sri of Srividya tradition. The female image over the shikhara are representation of associated goddesses assigned to the parts of the Sriyantra.
The texts quoted by Baumer as well as Boner7 are late period texts. There are many deviations in the temple when compared with a Sriyantra. Baumer tried to explain these difference however her theory is not very convincing. A big deterrent to overall theory is that Sriyantra puts Lakshmi as main deity, suggesting its Vaishnava influence, and Bhubaneswar is predominantly a Shaiva-kshetra.
Notes:
1 Ganguly, M M (1912). Orissa and her Remains. Thacker Spink & Co. Kolkata. p 313
2 Panigrahi, K C (1961). Archaeological Remains in Bhubaneswar. Kitab Mahal. Cuttack. p 94-95
3 Donaldson, T E (1985). Hindu Temple Art of Orissa. Brill. Leiden. ISBN 9789004071742. p 309
4 Parida, A N (1989). The Angasikharas of Rajarani Temple, Bhubaneswar (Orissa) published in Proceedings of the Indian History Congress Vol. 50, Golden Jubilee Session (1989). pp. 873-874
5 Mitra, Rajendra Lal (1880). The Antiquities of Orissa vol. II. Indian Studies. Calcutta. p 155
6 Baumer, Bettina (1994). The Rajarani Temple Re-indentified published in India International Centre Quarterly Vol. 21, No. 1, Exploring India: Utkaldhvani. pp. 125-132
7 Boner, Alice & Sarma, S R (1966). Silpa Prakasa. E J Brill, Leiden. p 6