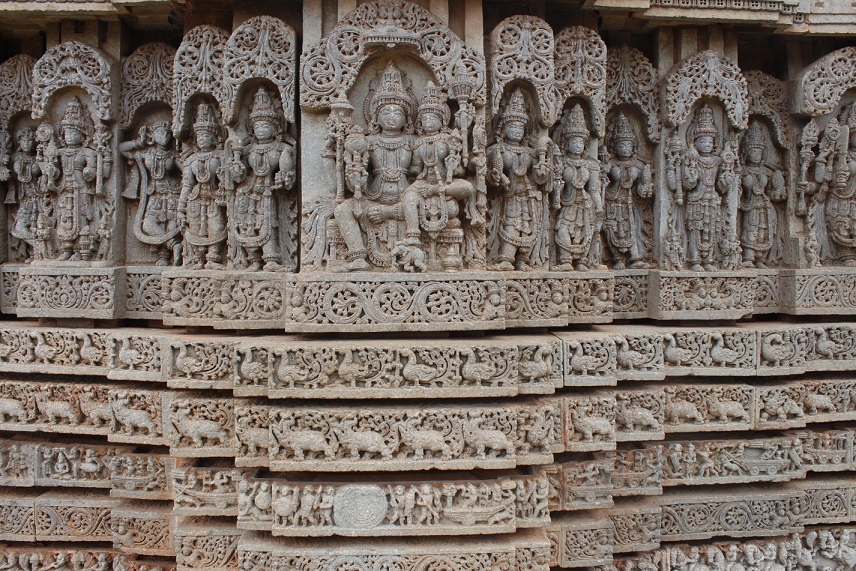 Introduction – Hosaholalu is a village in Mandya district of Karnataka. Not much is gleamed about this village from old gazetteers. The earliest inscription found here is dated from twelfth century CE which suggests that it was under the rule of the Hoysala Vishnuvardhana.
By this time the village had acquired a reputation that a Jain temple was erected by the merchant chief of Halebid (Dorasamudra). About two hundred years later, a Vaishnava temple was also erected in the village.
Inscriptions –  Three inscriptions from this village are reported in Epigraphia Carnatica vol IV. These are provided in brief below.
On a stone to the south of the Parshvanatha Basti – No 3 of Krishnarajapet of Epigraphia Carnatica vol IV – dated about 1125 CE – refers to the reign of Vira-Ganga-Hoysala-Deva ruling over Gangavadi-96000. On his lotus feet was dwelling Nolabi-setti, the pattana-svami of Dorasamudra, the Poysala-settti going with second name Chavundadi,  and a disciple of Subhachandra-siddhantadeva. His wife, Demikabbe-settiti,erected the Trikuta-Jinalaya and bestowed that basti to her guru Subhachandra-siddhanta-deva, disciple of Kukkutasana-Maladhari-deva of Mula-samgha, Desiga-gana, Postaka-gachchha and Kondakundanvaya – endowed it with Arhanahalli, together with a fine tank and a street with a hall for the gifts in middle, two oil-mills and two gardens. Ganda-Narayana-setti, the son of Betta-nayaka, also made some grants.
On a stone lying to the south of Virabhadra Temple – No 4 of Krishnarajapet of Epigraphia Carnatica vol IV – dated about 1150 CE – mentions a grant in the time of maha-mandaleshvara, Tribhuvana-malla, capturer of Talakad, the strong armed Vira-Ganga Narasinga-deva.
On a stone lying to the north of Virabhadra Temple – No 5 of Krishnarajapet of Epigraphia Carnatica vol IV – dated about 1306 CE – A grant by Nandinatha-Virabhadra-deva and other chiefs of Komnad and eighteen countries to the Huligere deva Somayya.
Lakshminarayana Temple – This east facing temple is built on a platform of about 4.5 feet high. The temple is constructed on a sixteen-pointed star plan, contours of which are followed by the platform below. On the star points were placed stone elephants, five of which are still seen at the site. It is a trikuta temple as it consists three cells, one each at west, south and north. These three cells are connected to a common navaranga (hall). The cells on south and north are connected to the navaranga without any antarala (vestibule), while the main cell on the west is connected through an antarala.
This temple may be assigned to the matured Hoysala architectural phase. The characteristics features of this phase are profuse decoration over the external walls, eaves over the external statues and the multiple bands on adhishthana. All these deatures are evident in this temple. The temple cannot be placed in the full-star category and the reason is that the middle section on the each wall, north, south and west, is not a star point but a sala like wide section. This wide section matches with the projections of the main cell on three sides. On this wide middle section, we find a projected mini-shrine attached. These mini-shrines follow the style of the main temple however they only display four bands instead of six.
The characteristic Hoysala band series consists of six horizontal friezes. From below, elephants in a row interrupted by men fighting with them, horsemen with few horses wearing proper armor, scroll work, scenes from Ramayana, Mahabharata and Puranas, makaras with riders interrupted with lions and swans as the last frieze. To the right and left of the navaranga entrance, above the Hoysala bands is a row of miniature temples with various styles of shikharas (towers). Each miniature temple either has a Yaksha or Yakshi seated inside. Above this row is another row of stone railings, slanting forward and carved with scenes from Krishna stories as narrated in Bhagavata Purana.
Among these different epic scenes, some noticeable are the Ahalya episode, Svayamprabha-Hanumana episode and Rameshvara linga episode from Ramayana, Abhimanyu in chakravyuha, Bhishma on arrow-bed, Kiratarjuniya episode, Duryodhana's last fight with Bhima, Ashvathama's revenge on Pandava's children, Arjuna pinning the heads of the Sama-saptakas into their mouths from Mahabharata and Vasudeva-donkey episode, Prahalada's story in details, Vamana story, Varaha story, Tripura story.
Only one shikhara (tower), above the main cell, has survived. The tower is a four story structure topped with a dome and kalasa. The dome is a sixteen-pointed star structure in line with the shape of the garbha-grha. Various images inside kirtimukhas adorn these four stories of the tower. Noticeable are Krishna and Surya on south and Lakshmi dancing and seated on the west. There is a projection of this tower forming a sukanasi. The Hoysala crest is missing on this sukanasi. Various sculptures on it are Lakshminarayana, Kaliyamardana, Amaranarayana, Krishna and Hayagriva.
The mukha-mandapa is a modern structure built probably two centuries before. This mandapa is supported on pillars dividing it into twelve compartments. Navaranga has nine compartments, divided by the four central lathe-turned pillars supporting the central ceiling. The navaranga is extended with an extra section on its eastern side to provide space for a porch which has not survived.  On the western side of the navaranga, two niches are provided, one each on either side of the antarala doorway. The south niche contains an image of Ganesha while the north niche has an image of Mahishasuramardini. The niches has turrets on top, five in numbers.
Southern cell doorframe is adorned with dvarpalas. Venugopala is present on the doorway lintel. Above the lintel is a cornice depicting seven turrets. Mysore Archaeological Report of 1936 mentions that the original image of Venugopala was removed to Kannambadi and its place had been taken by the utsavamurtis made of metal. However at present there is a Venugopala statue inside the cell, not sure of it is original one. The roof of the cell is a flat structure. The northern cell is very similar to the southern one. Lakshminarayana is found on the lintel. A Hoysala workmanship image of Lakshminarayana is placed inside the cell.
The main cell is a square room with projections on south, west and north. Due to these projections, this cell appears to be the main or prominent one. An image of Narayana is carved on its doorway lintel. An image of Narayana holding shankha, chakra, padma and gada is placed inside the sanctum. Vishnu's ten incarnations are also engraved on this image.
As there is no foundation inscription found, therefore the dating of the temple is decided based upon the similarities in its architecture and style. Mysore Archaeological Report of 1915 assigns the temple to 1118 CE, however the report of 1936 assigns 1250 CE which is also the view of R Narasimhachar and other scholars.
How to Reach – Hosaholalu is about 57 km from Mysore, 63 km from Mandya, 35 km from Channarayapatna, 71 km from Hassan. The temple is tagged on Google map therefore you can get navigation route from there. Mysore is the nearest big city which is connected with rail and air from other major stations.
References:
Annual Report of the Mysore Archaeological Department for the year 1936. Government Branch Press. Mysore.
Foekema, Gerard (1996). A Complete Guide to Hoysala Temples. Abhinav Publications. New Delhi. ISBN 9788170173458.
Foekema, Gerard (1994). Hoysala Architecture: Medieval Temples of Southern Karnataka built during Hoysala Rule. Books & Books. New Delhi. ISBN 9788185016412
Settar, S (1992). The Hoysala Temples. Kala Yatra Publications. Bangalore. ISBN 9788190017213