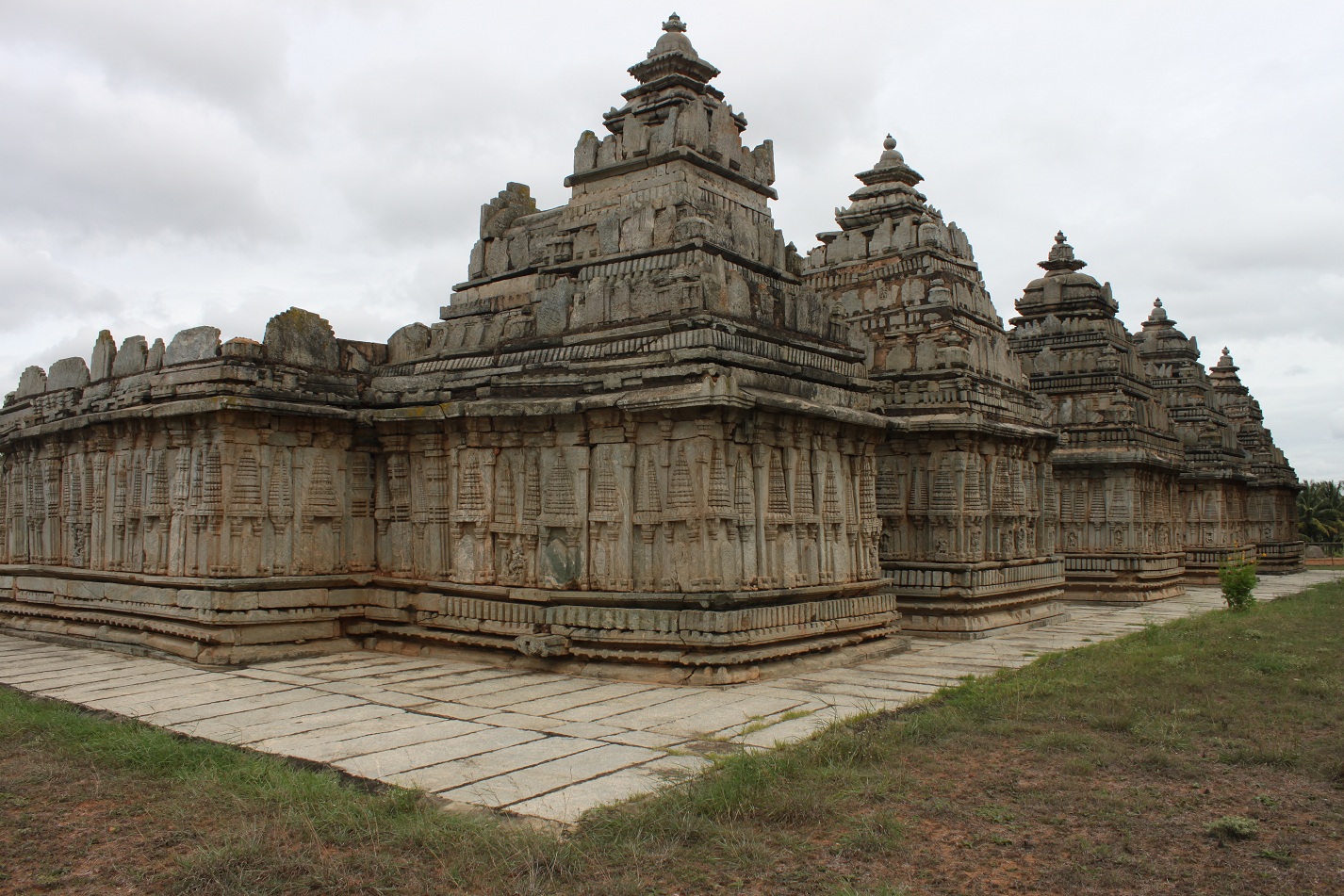 Introduction – Govindanahalli is a village in Mandya district of Karnataka. The town was once famous for its breed of milk-cows.
Inscriptions –
On a stone in Panchalingeshvara Temple – Epigraphia Carnatica vol VI, no 39 – refers to the reign of the Hoysala king Someshwara – dated Saka 1159, corresponding 1237 CE – the inscription starts with obeisance to Ganadhipati, Shambhu, Varaha and describes the Chandra vamsha starting from Brahma. Brahma begot Atri, Atri begot Chandra (Moon). In this lineage of Chandra was born Yadu, mentioned in epics. In this Yadava lineage was born Sala. Story of Sala slaying tiger with a danda is described in detailed. Once Sala went to see goddess Vasanti whose adobe was in forest near Shashapura and who was the guardian deity of the kings of his lineage. In this forest he met a sage, who was deep immersed in his tapa. There came a tiger, and the sage directed Sala to kill the tiger in his own language as 'hoy Sala'. Thus kings in his lineage came to be known as Hoysala. From Sala was born Vinayaditya, and from him was born Ereyanga. Ereyanga begot Vishnu, the latter begore Narasimha (I). Narasimha's son was Ballala. Ballala's queen was Padmala. From this queen, Ballala begot Narasimha (II) and a daughter named Somala. Narasimha's son was Soyideva (Someshwara) who was ruling at Dvaravati. Then starts the family of Bogayya, father of Ketana, grand-father of Bhoganna and Mallanna. Bhoganna and Mallanna served as the danda-nayaka (ministers) under the Hoysala king Someshwara. This king Someshwara, while residing at Pandya-mandala, which he subdued with his extensive mighty prowess, made a grant of the great village Tenginaghatta to his army chiefs Bhoganna and Mallanna. Village Tenginaghatta with his eleven hamlets was turned into an agrahara. Bhoganna and Mallanna forwarded this grant of Tenginaghatta agrahara to several Brahmans of different gotras in presence of Sri Ramanatha at Setu. The same grant is also notified in Kannada language.
On the pedestals of the dvarpalas of the Panchalingeshvara Temple – Epigraphia Carnatica vol VI, no 40 – on the right dvarpala is inscribed 'ruvari Malitama' and on the left dvarapala is inscribed 'ruvari Malitamma'.
Below the images on the outer wall of the Panchalingeshvara Temple – Epigraphia Carnatica vol VI, no 41 – the inscribed labels are Keshava, Narayana, Madhava, Govinda, Vishnu, Madhusudana, Trivikrama, Vamana, Sridhara, Rishikeshi, Padumanabha, Damodara
Panchalingeshwara Temple – This temple is constructed in pancha-kuta (quintuple) style. The temple belongs to the Hoysala period and probably the only surviving example of its kind from their period. The temple consists of five garbha-grhas (sanctum) connected with a common and long navaranga (hall). All the garbha-grhas are provided with their own shikhara (tower) and are connected with the navaranga via suknasi (vestibule).
The whole structure faces east and entrance is provided via two porches facing each other. Each entrance is guarded by its own set of dvarpalas (guardians). These dvarpalas bear Shaiva attributes signifying that the temple is dedicated to Shiva. Each one is holding a damaru, khatvanga (trident) and a gada (club). All are shown with protruding teeth. Hoysala workmanship is quite evident in their style and execution. At the base of these dvarpala, a label inscription reads 'ruvari Malitamma'.
Malitamma was a well-known Hoysala artist whose work is also found at various other Hoysala sites. His name is found at six places, Amruteshwara temple at Amruthapura, Lakshmi-Narasimha temple at Haranahalli, Lakshmi-Narasimha temple at Nuggehalli, Keshava temple at Somanathapura, Lakshmi-Narasimha temple at Javagal and our Panchalingeshwara temple. His first work was at Amruteshwara temple at Amruthapura which was constructed in about 1196 CE. His last work was at the Keshava temple at Somanathapura which was constructed in 1269 CE. His career spanned for about 73 long years. Govindanahalli would have been his second assignment after Amruteshwara temple.
Each garbha-grha is provided with its set of low-relief dvarapalas. These five garbha-grhas house five different aspects or manifestations of Shiva which are Sadyojata, Tatpurusha, Vamadeva, Aghora and Ishana. On lalata-bimba are depicted Shiva-Parvati sometimes accompanied with Nandi and sometimes with Ganesha and Kartikeya.
On the exterior are found various images both from Shaiva and Vaishnava pantheon. From Vaishnava pantheon we have Vishnu over Shehsa, Vamana, Trivikrama, Narasimha, Varaha, Lakshmi-narayana on Garuda, Venugopal, Vithoba or Vitthala and in miniature forms Matsya and Kurma. From Shaiva pantheon we have Shiva, Ganesha, Kartikeya, Bhairava and Mahishasura-mardini. Other images include Brahma, Indra and Arjun.
A unique sculpture of Vithoba or Vitthala is found in this temple. This suggest that Vithoba sect had penetrated till this territory and had influence over the Hoysala artists. Vithoba sect was a popular sect in Maharashtra, Karnataka, Goa and Andhra Pradesh. However this image suggests that its penetration was quite deep south in Karnataka. But this should also be kept in mind that we do not have other similar examples in this and nearby region, therefore this solitary example does not suggest popularity of the sect.
How to Reach – Govindanahalli is about 6 km from Kikkeri. Kikkeri is on Srirangapatna-Channarayapatna road. It is located 161 km from Bangalore, 75 km from Mysore and 60 km from Hassan. Hassan is the nearest railway station and Mysore is the nearest airport.
References:
Epigraphia Carnatica vol VI. University of Mysore. Mysore.
Abhishankar, K (1967). Mandya District Gazetteer. Karnataka Government Press.
Collyer, Kelleson (1990). The Hoysala Artists – Their Identity and Styles. Directorate of Archaeology and Museums. Mysore.