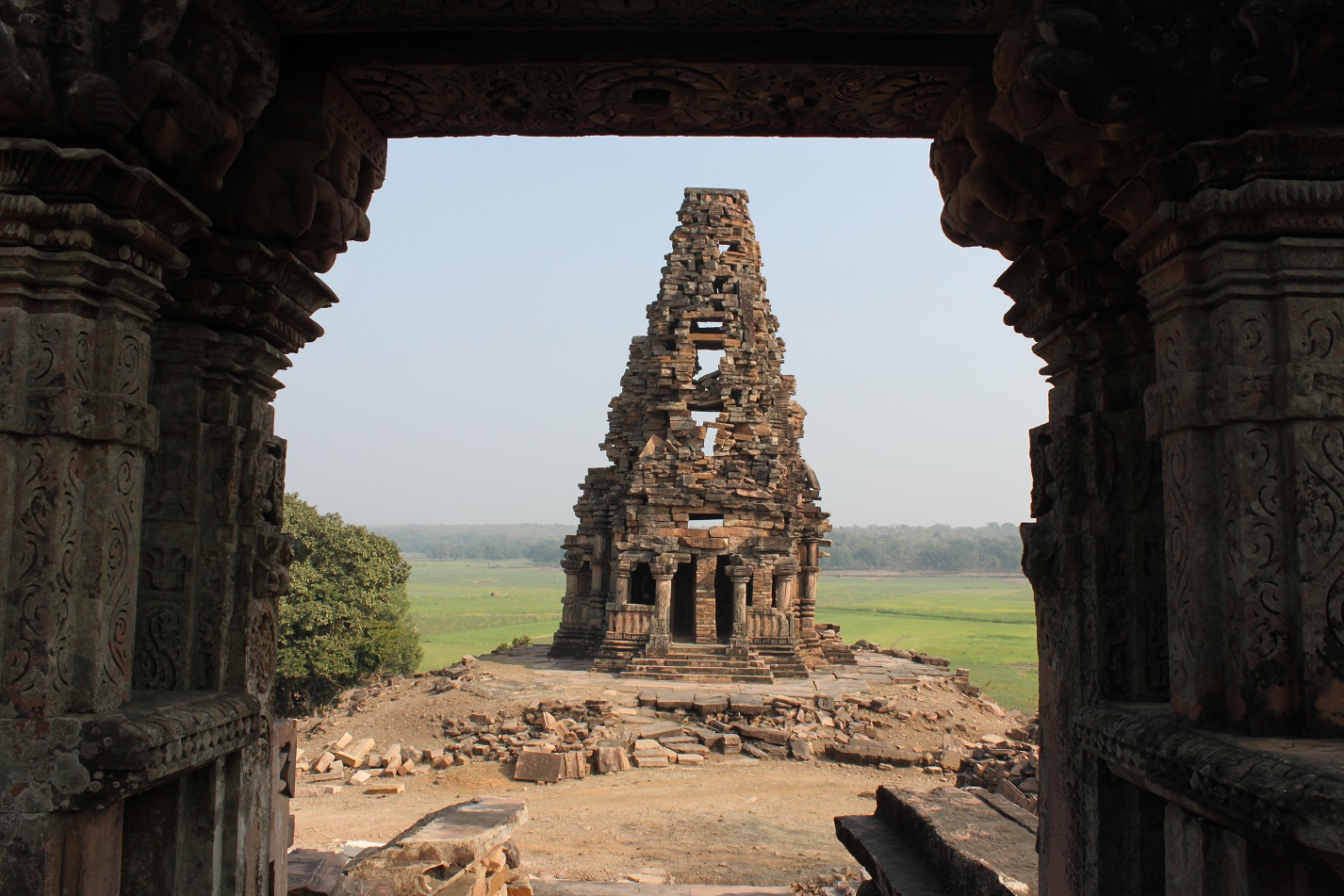 Introduction – Dudhai is a small village in the Lalitpur district of Uttar Pradesh. Though now reduce to a small village, Dudhai was once a significant and important town. It was the capital of the southern half of the present Lalitpur. According to a tradition, the district of Lalitpur was divided between two chiefdom, the middle boundary of which passed through the Lalitpur town. These two regions were referred as Haraspuri and Dudhai.
Ruchira Shrivastav, in her PhD report, mentions that during the end of twelfth century and start of thirteenth century, two brothers Devpat and Khovpat were residing at Devgadh. As per legends, they had access to the philosopher's stone (paras mani), which made them very rich. They constructed various temples in and around Devgadh, including Dudhai. As per a legend, the Badi and Choti Barat temples at Dudhai were constructed by them.
She further tells that the old name of Dudhai was Maholi (as mentioned in "Bharat ke Digambar Jain Tirth") & Dugdhakupya (as mentioned in "Epigraphia Indica vol I, page 214"). I do not have the first book in my possession, however I checked the volume of Epigraphia Indica. The editor of that inscription does not mention any identification of the name Dugdhakupya, therefore identification by Ruchira might be a later thought.
The definitive history of the town can be traced from the Mughal period when it attained certain importance. Abul Fazl mentions that Lalitpur and Dudhai were parganas under the Chanderi Sarkar which in turn was one of the Sarkar under the Malwa suba.
The first scholarly reference of Dudhai comes from Alexander Cunningham in his survey reports. He visited the town in 1874-75 and described its monuments in details. He tells that the village was situated on the ridge to the north of the Ram Sagar, a large artificial lake. He further tells that with construction of roads connecting with other villages, the people of Dudhai who earlier emigrated had started to return. He also touched upon the legends and traditions on the history of the place.
The next reference is from A Fuhrer however he merely repeated what was mentioned in Cunningham's reports. In 1889, Keilhorn, in Indian Antiquary vol. XVIIII, edited the inscriptions at a temple in Dudhai. However he remained silent on the monuments of the place.
1889 also sees an attempt from P C Mukherji who described the antiquities of Lalitpur in great details. This was an important work from the scholar as it contained a good number of plates providing plans and sketchings of the monuments and ruins.
The Imperial Gazetteer of India for United Provinces of Agra and Oudh, prepared in 1905, refers Dudhai as a ruined town standing on the bank of an artificial tank. The same position is taken in the Jhansi Gazetteer, prepared in 1909, where Dudhai is referred as a decayed village. The Gazetteer of the North-Western Provinces ascribed these monuments to the ancient Gonds however the people were unanimous in referring them to Raja Jalandhar Chandel.
Monuments – The ASI (Archaeological Survey of India) website mentions thirteen protected monuments at Dudhai village. These can be put into three different regions around the village. The first region is where we find larger and lesser Surang with few other temples including Jain temples. The second region is where rock-cut Narasimha is found and the third region is where are found Bania ki Barat and few other ruins.
Lesser Surang (Choti Sarai) – It is called lesser surang as its spire does not reach very high in comparison to the other temple, known as larger surang. However in plan and dimensions, it would be a larger temple than the latter. Cunningham mentions that this was a Brahma temple however it is a tri-kuta (triple shrines) temple consisting of three cells, dedicated to Brahma, Shiva and Vishnu. Only two cells have survived, the one dedicated to Vishnu is no more intact. The temple would have been dedicated to Shiva in most probability as evident from its design and orientation.
The three cells (garbha-grhas) were connected to a common mandapa, roof of which has not survived the toll of time. There is no antarala (vestibule) in front of these cells as these all open directly to the common mandapa. The lintel of the garbha-grha doorways are adorned with various images including Nava-grhas (nine planets) and Sapta-matrikas (seven mothers) along with the images of dedicatory deity. The lintel of the grabha-grha of Brahma shows Brahma on the lalata-bimba while Gayatri and Savitri on its terminals. The lintel of the Shiva cell shows dancing Shiva at lalata-bimba with Vishnu and Brahma on its terminals.
A Shivalinga is placed inside the cell dedicated to Shiva while the cell dedicated to Brahma is empty. There would have been individual towers above three individual cells however only the tower above the Brahma cell has survived but in very bad shape of preservation. The temple would have been raised above a high rising jagati (platform) which was approached through a flight of steps. Six inscriptions are found in this temple and from these it can be fairly stated that the temple was constructed during the Chandela period of first decade of the eleventh century, under the reign of prince Devalabdhi, nephew of the Chandela king Yashoverman.
Larger Surang (Badi Sarai) – This temple is built on a jagati (platform) and is a twin temple consisting of two back to back shrines. These shrines face opposite directions, east and west. Both these shrines share a common tower which is now in very bad state of preservation. The temple can be entered through its two entrances, from east and west. The temple is consisted of a mandapa, maha-mandapa and garbha-grhas.
The central portion consists of two rooms with a doorway between them, so that there is no back wall against which a statue could be placed. In the absence of any large figure or any other distinguishing feature, it is very hard to determine to whom this elegant temple was dedicated. Also this peculiar plan of back to back shrines is indeed a rare design.
Linga or Mahadev Temple – Only the garbha-grha of this temple remains now. It houses a Shivalinga inside.
Varaha – This large Varaha is installed near the large and lesser Surang. This Varaha is carved on the very similar lines as of the famous Varaha image at Khajuraho. All the body of the animal is carved with multitude of images. Among the other images, we find the dashavatara (ten incarnations) of Vishnu on its back.
Shantinatha Temple – Only sanctum of this temple has survived. Inside it is a twelve feet high Shantinath image in padmasana mudra. On either side of him is placed Parshvanatha in kayotsarga mudra.
Adinatha Temple – Only sanctum and mandapa has survived. The mandapa is supported on four pillars. Though the pillars are simple however the architraves above the pillars are ornamented with various stories and symbols. On one face is shown the sixteen dream symbols announcing birth of a Jina. These sixteen symbols are white elephant, bull, lion, goddess Sri being bathed by two elephants, pair of garlands, moon, sun, pair of fishes, pair of vases with lotuses, celestial lakes, rough ocean, golden lion footed throne, celestial palace, palace of king of snakes, heap of jewels and smokeless fire.
The lintel above the sanctum doorway has Adinath in padmasana. A 13 feet high Adinath image in Kayotsarga mudra. A bull and a deer is engraved on the base pitha of the image. On the left side of this image is an image of Adinatha in dhyan mudra. On his side is Parshvanatha in kayotsarga mudra. There is also an image of Parshvanatha in dhyana mudra.
Baniya ki Barat – This temple complex has Badi and Choti Barat temple. As per a legend, the marriage party of the two brothers, Devpat and Khovpat, stayed here for a night. Due to god's will, all the people of the party transformed into stones. These temples are fully ruined except few images strewn around.
Rock-cut Narasimha – This famous rock-cut image is the trademark image for Dudhai tourism and been used by various tourist agencies. It is located little far from the main town. This 34 feet high image may be dated to the Gupta period.
Inscriptions – Alexander Cunningham found six inscriptions at a temple in Dudhai. He published five of these in his reports, however he did not mention the exact location of the inscriptions inside the temple. Kielhorn edited these in Indian Antiquary vol XVIII and H V Trivedi edited these in the Corpus Inscriptionum Indicarum vol VII. These inscriptions are very short ranging from one line to eleven lines. Language is Sanskrit, characters are Nagari of eleventh century CE and written in prose style.
The nature and theme of all the inscriptions seem to be the same however not all contain the same information. Consolidating the information from all these six inscription, we can arrive at the conclusion that the Chandella king Devalabdhi, son of Krishnapa and Asarva and grandson of Yashoverman, erected a temple (kirtana) where these inscriptions are engraved. These inscriptions are not dated, however these can be safely placed in the eleventh century CE as the period of Yashoverman is well known.
How to Reach – Lalitpur is the nearest rail-head and major town. From here, you can take a local transport to reach Dudhai. Hiring your own conveyance would be highly recommended as frequency of the local buses is very low. To reach to the Narasimha image will require little excursion as it is located little far from the village through a jungle route. Lalitpur has various options for accommodation and lodging.
References:
Imperial Gazetteer of India for United Provinces of Agra and Oudh vol II. Government Printing. Calcutta.
Fuhrer, A (1891). The Monumental Antiquities and Inscriptions in the North-Western Provinces and Oudh. Government Press. Allahabad.
Kielhorn, F (1889). Dudhai Stone Inscriptions of Devalabdhi, a grandson of Yasovarman published in Indian Antiquary vol XVIII.
Trivedi, H V (1989). Corpus Inscriptionum Indicarum vol VII. Archaeological Survey of India. New Delhi.
Ali, Ahmed (2005). Kachchhapaghata Art and Architecture. Publication Scheme. Jaipur. ISBN 8181820142.
Mukherji, P C (1889). Report on the Antiquities in the District of Lalitpur. Thomason Engineering College Press. Roorkee.