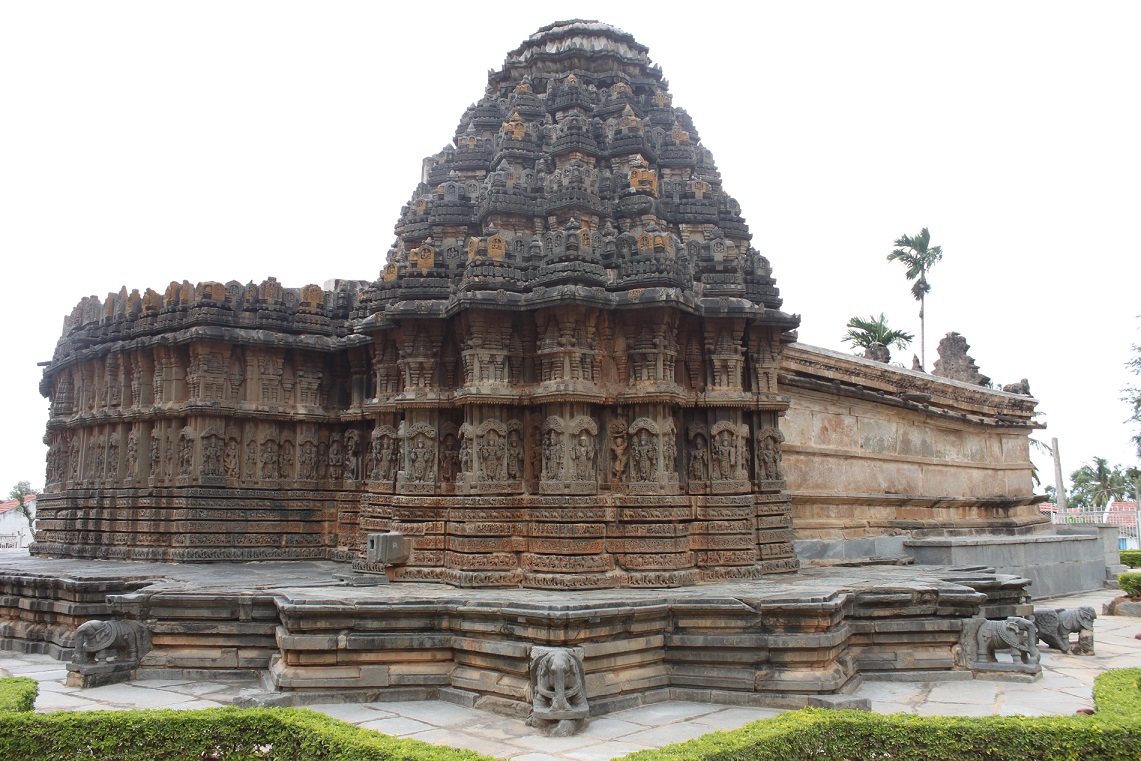 Introduction – Aralaguppe is situated in Tiptur taluk, in Tumkur district of Karnakata. Not much  is known about the early history or legends associated with this village. In its inscription, the village is referred as Alariguppe which later got changed to Aralaguppe. From its inscriptions, it is evident that the village was under the Gangas during the ninth century CE.
From Gangas, it would have moved to the Kalayana Chalukyas and later to the Hoysalas. The town would have enjoyed considerable importance during that period as we find a Ganga and a Hoysala temple here.
Inscriptions:
On a virakal in a field behind Chavukt-matha – No 55 of Tiptur, Epigraphia Carnatica vol XII – dated about 880 CE – refers to the reign of the Ganga king Rachamalla II, referred in inscription as Satyavakya-Rachamalla-Permmanadi – it mentions that Nanniya-Ganga's raiders coming and entering Belgere and Kundur, were going off, when Dorabbe's son Malluga, fought and released the cows. He attained the world of gods.
On another virakal in a field behind Chavukt-matha – No 56 of Tiptur, Epigraphia Carnatica vol XII – dated about 961 CE – Hearing that Manaldur Rajavanduka was coming to demand Belgere as his, the brave Chettiga slew him. The stone was prepared by Nagavarmma and set up by Chettimayya's son.
On the sluice of a tank – No 57 of Tiptur, Epigraphia Carnatica vol XII – dated in the sixteenth Chalukya Vikrama year, corresponding 1091 CE – refers to the rule of the Hoysala king Vinayaditya – it mentions that Dora-Gaunda and Jakkamara had a new stone tank built in Alariguppe, and had a sluice fixed, made few grants to god Mahadeva. The record was written by senabova Muddayya.
Monuments – The village has two temple complexes, the older one belonging to the Ganga period and the other from the Hoysala period. The former is a live temple, while the latter is a protected ,monument under ASI.
Kalleshvara Temple – A group of temples known as Panchalingas is the primary live temple of the village. These are all located within one compound. The largest among these is the Kalleshvara Temple. This temple consists of a garbha-grha, sukanasi and a navaranga.
Though the temple walls and towers have undergone reconstruction at a later time, this temple is the most ancient in the village. Though there are various opinions on its dynastic association, but all scholars agree on that the original temple can be assigned it to ninth-tenth century CE.
The most remarkable and splendid feature of this temple is it's central ceiling of navaranga, otherwise the temple is very ordinary in its sculptural art. This important sculptural ceiling is divided into nine panels,one central and eight panels at its periphery. The central panel shows Shiva in a dancing pose while the eight subsidiary panels are occupied by ashta-dikpalas (eight directional guardians).
Four flying gandharvas are placed at the cardinal point if the central panel. These gandarvas are suspended from the panel and holding a garland each. Scholars unanimously agree that this is one of the finest specimen of sculptural art in Karnataka, if not in India.
Shiva in the central panel is almost executed in round and shown with four hands. In both of his hind hands, he carries trishula. Left forearm posture is variously identified as lamba-hasta by M H Krishna, gaja-hasta by M Seshadri and lola-hasta by I K Sarma. There is a big difference between lola-hasta and gaja-hasta postures as the former explains dangling of hand on the side while the latter suggests that hand is stretched across the chest. Right forearm posture is identified as simha-karna by M H Krishna & I K Sarma and kapiddha (the thumb and the fore-finger are brought together and one is placed on the other) by M Seshadri. Both the terms in fact explains the same posture.
M H Krishna identifies Shiva's dance as Tandava, however M Seshadri identified it with Sandhya Tandava. Seshadri explains that Pradosa Nrittya (Twilight Dance) is performed by Shiva at the Kailasha mountain and it is witnessed by all god including ashta-dikpalas. Sarasvati plays veena, Indra plays flute, Brahma plays cymbals while Vishnu plays drums. The drum in the panel is a very interesting instrument as it has three drums attached. I K Sarma identifies it with trighata.
In this sculpture, we find attendants playing flute, cymbal and drums though these cannot be identified with Indra, Brahma and Vishnu respectively. Sarasvati is missing in the panel. But Seshadri also mentions that it is difficult to find the proper identification of this dance form.
The other eight panels have ashta-dikpalas with their respective consorts riding together over the mounts. These ashta-dikpalas are Indra, Agni, Yama, Nrrtti, Vayu, Varun, Kubera and Ishana. Indra's Airavata is shown as a four tusked elephant roaming in the clouds. Ishana is shown with his musician retinue. Two unusual features are that Nrrtti is not shown riding on a nara (man) but on an ass and Kubera is shown riding a ram rather than horse.
Based upon the style of sculptures and other features, this temple can be safely dated to ninth century CE, if not earlier. While I K Sarma assigns it to the Gangas, Aschwin Lippe assigns it to late ninth century the Nolambas. Seshadri mentions that a inscribed stone of the period of the Ganga king Rachamalla II suggests that this temple would have constructed during the Ganga period and can be dated to second half of the tenth century CE.
Chennakeshava Temple – This ekakuta (single sanctum) temple faces east and constructed on a raised platform of about 4 feet high. The temple is dedicated to Vishnu (Keshava). As per the plan, it consists of a garbhagrha (sanctum), sukanasi (vestibule) and a navaranga (closed hall). An entrance porch is attached to the navaranga. The entrance to the raised platform is flanked with two mini pavilions, on either side, at its lower level. Similar pavilions would have been placed on the upper level however those have not survived.
Above the platform is the jagati (basement) of the temple. This jagati is in shape of a sixteen-pointed star, contours of which are followed by the platform below. Every alternate point of the star shape of the platform seems to have an sculpture of an elephant, only four have survived. On this jagati are found the characteristic Hoysala series of bands. The arrangement of the bands can be differentiated into two styles, one style is found on the jagati parapet of the entrance porch and the other one is found over the remaining parapet wall around the temple.
The style found on the porch wall has five bands in total, starting from below we find, caparisoned elephants with riders moving forth to a battle, horsemen with swords and lances along with camels here and threr breaking the monotony, a long creeper scroll, mythological scenes from Ramayana and Bhagavata Purana and miniatures temples with a seated Yaksha. This band series is topped with a frieze of panels displaying armed soldiers and worriers. The another style which covers the rest of the parapet wall has six bands in total, the upper most band of the previous style, miniature temples, is replaced with two bands, makaras and swans in this arrangement. Above this arrangement of bands runs a frieze of large size statues.
This arrangement of large size statues is quite regular in the Hoysala temples. We find here about ninety such images which are visible now, as other are concealed behind the Narasimha shrine which is a later addition of this complex. Out of these ninety images, forty-seven represents a male deity and rest represent a female deity.
Out of these forty-seven male deities, forty-four represent Vishnu in his various forms, few of the forms are Yoga-Narayana, Lakshminarayana, Venugopala, Paravasudeva, Lakshminarasimha, Kaliyamardana etc. The rest represent Ganesha, Garuda etc. Vishnu is depicted with unusual attributes such as sugercane, musala, noose, sword, shield etc.
Among the female images, most of these represent some attendant to the male deities, except Sarasvati and Mohini. An interesting feature of these images would be to study some attributes held by Vaishnava image which are not seen otherwise. Some of those attributes are a noose, a trident, a lute, a bow, an arrow, a snake, a book, a sugarcane etc. Fifteen out of these ninety images are signed by its sculptor. We find name Honoja or his initial Ho at some places. Most of the signed images are of Vaishnava character.
The navaranga hall is a square with its central ceiling supported on four lathe-turned pillars. Tis divides the hall into nine equal compartments. On its eastern side, the hall is extended to accommodate a porch. Only this extension is provided with pierced windows to admit light, all other walls of the navaranga do not have any windows.
On the western wall of the navaranga, there are two niches, one housing Ganesha and one Mahishasuramardini. A loose Keshava image is also placed in this navaranga, this image might be the original image placed in the garbha-grha. All the nine ceilings of this hall are executed in different styles.
The antarala doorway has pierced screens on either side. Narayana over Adi-Shesha is present on the lintel. The garbha-grha doorway has dvarpalas on either side and Lakshmi-Narayana on its lintel. The tower of the temple is a four storey (tala) elevation. The projection over the sukanasi has lost its Hoysala emblem.
The vimana of this temple is constructed in a full star deign. Its navaranga is the only sapta-ratha hall among the Hoysala creations. The vimana measures 4.8m while the temple as a whole measures about 20 m. With its attributes like series of bands, double eaves on external walls and profuse embellishments, the temple would be assigned to the matures Hoysala architectural phase.
No foundation inscription has been found for this temple. Based upon its resemblances with the Kedareshvara Temple at Halebid and the Lakshmi-Narasimha temple at Nuggehalli, this temple can be placed in the first half of the thirteenth century, 1250 CE.
How to Reach – Aralaguppe is 65 km from Tumkur, 90 km from Kadur. It is well connected via roads to the major towns of Karnataka. It also has a small railway station having train connections to Tumkur, Shimoga and Bangalore. The nearest airport would be Bangalore. Aralaguppe is small village however you will get snacks and light food. For accommodation, Tumkur would be the most convenient option.
References:
Annual Report of the Mysore Archaeological Department for the year 1918. The Government Press. Bangalore.
Annual Report of the Mysore Archaeological Department for the year 1935. The Government Press. Bangalore.
Annual Report of the Mysore Archaeological Department for the years 1947-1956. The Government Text Book Press. Mysore.
Collyer, Kelleson (1990). The Hoysala Artists, their Identity and Style. Directorate of Archaeology and Museums. Mysore.
Foekema, Gerard (1994). Hoysala Architecture: Medieval Temples of Southern Karnataka built during Hoysala Rule. Books & Books. New Delhi. ISBN 9788185016412
Foekema, Gerard (1996). A Complete Guide to Hoysala Temples. Abhinav Publications. New Delhi. ISBN 9788170173458.
Seshadri, M (1955). Sandhya Tandava published in Artibus Asiae vol 18, no 2. Zurich.
Sarma, I K (1992). Temples of the Gangas of Karnataka. Archaeological Survey of India. New Delhi.
Settar, S (1992). The Hoysala Temples. Kala Yatra Publications. Bangalore. ISBN 9788190017213